Image needed

This article is missing an image. You can help

Nukapedia

by

uploading

it.
| | |
| --- | --- |
| | This is an overview article, focusing on background information and cross-game comparisons. |
Fog crawlers are mutated saltwater crustaceans in the Fallout 4 add-on Far Harbor and Fallout 76.
Biology
Fog crawlers are large, mutated crustaceans, named for their presence in foggy or cloudy coastal regions and islands, where they use the environment to hunt.[1] The Far Harbor fog crawlers are the result of the radioactive fog altering the local shrimp population.[2] The exact species from which fog crawlers mutated is not immediately apparent, but they are most likely a form of mutated mantis shrimp (specifically the Squilla mantis) based on the anatomy of their forelimbs and the presence of a distinctive neck which most crustaceans lack. Another potential candidate is the crayfish.
The different types of tail "fans" on different types of fog crawlers could determine their gender, as crayfish carry eggs under the tails or as courtship during mating to avoid injury. The smaller legs (swimmerets) on the underside of the fog crawler are a holdover from when it remained an aquatic creature, assuming it isn't still largely amphibious. It seems that at some point the creature's head had evolved a mobile neck similar to terrestrial insects, as well as morphed into a kind of arrowhead shape. They seem to have eight eyes, four in a straight line on each side of the head, with the one second from the front being the largest. They also seem to lack any sort of visible mouth.
They live in the deep Fog for which they are named, and are seldom encountered outside the island's deadly mist.[2] Fog crawlers are known to make deep, booming vocalizations as an indicator of their presence. They are also among the strongest and most tenacious foes encountered in their respective areas, combining excellent protection with a generous health pool and the ability to attack at range.
Variants
Fog crawler

The average crustaceans, this is the base variant of the fog crawler.
Alpha fog crawler
A dominant creature, the alpha fog crawler is extremely powerful at Level 100, unmatched by any other variant.
Diseased fog crawler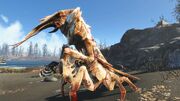 These sickening creatures have become stricken with an unknown disease. Direct contact with them should be avoided if possible.
Enraged fog crawler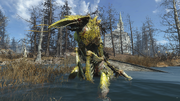 These mutated crustaceans show a high level of aggression, and their anger is reflected in their name. They have a yellow-green color in their appearance.
Ghostly fog crawler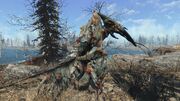 These mutated crustaceans appear darker and more unnatural than other variants.
Glowing fog crawler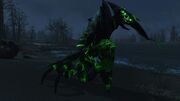 These mutated crustaceans have absorbed so much radiation that they glow.
Noxious fog crawler
These mutated crustaceans are the poisonous kind.
Pale fog crawler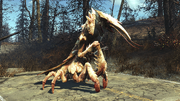 These mutated crustaceans seem to be the albino variant.
Prime fog crawler
A fog crawler variant that appears only in the Primal Cuts event.
Scorched fog crawler
These mutated crustaceans were further mutated, becoming one with the Scorched Plague.
Skulking fog crawler
These mutated crustaceans are the ones that prefer stealth.
Shipbreaker
A unique named fog crawler who has haunted Mount Desert Island for decades.
Behind the scenes
The fog crawler largely resembles one of the older concepts of the mirelurk queen.[3]
Gallery
References
↑ Creatures: Fog Crawler: "Fog crawlers are aptly named. They inhabit coastal regions and islands, predominantly with low cloud and fog banks that they use to hunt. Their crawling, shambling gait when not enraged lets them move through the surf or into woods with ease, but swiftly accelerate to pounce on prey and enemies. Woe betide the unwary hunter who thinks they are safe because of the Fog Crawler's apparent grazing; their explosive bouts of speed will put them in danger before they have time to realise the threat.
These monsters tend to be solitary beasts, stalking isolated but verdant regions as apex predators. Even the mighty Deathclaw keeps its distance. The Fog Crawler's speed and dexterity mean it is more than a match for anything in its path, leaping and slashing at what will soon become its next meal…"
↑ 2.0 2.1 Far Harbor loading screen hints: "The Fog Crawler has been mutated by the radioactive Fog surrounding Far Harbor, and is seldom encountered outside the deadly mist."
↑ The Art of Fallout 4, p. 193
West Coast
(Fallout, Fallout 2, Fallout: New Vegas)
Alien

 ·

Bighorner (Bighorner bull, Bighorner calf)

 ·

Bird

 ·

Bloatfly (Legendary bloatfly)

 ·

Brahmin

 ·

Cazador (Young cazador, Legendary cazador)

 ·

Centaur (Evolved centaur)

 ·

Coyote (Coyote alpha male, Coyote den mother, Coyote pup)

 ·

Deathclaw (Baby deathclaw, Young deathclaw, Blind deathclaw, Deathclaw alpha, Mother deathclaw, Intelligent deathclaw, Legendary deathclaw)

 ·

Dog (Cyberdog, Legion Mongrel, Vicious dog)

 ·

Fire ant (Fire ant worker, Fire ant soldier, Ant queen)

 ·

Floater

 ·

Fly

 ·

Gecko (Hunter gecko, Fire gecko, Golden gecko, Little gecko)

 ·

Ghost people (Ghost harvester, Ghost seeker, Ghost trapper)

 ·

Ghoul (Feral ghoul roamer, Feral ghoul reaver, Glowing one, Feral trooper ghoul)

 ·

Giant ant (Giant worker ant, Giant soldier ant, Giant ant queen)

 ·

Giant catfish

 ·

Giant rat (Mole rat, Pig rat)

 ·

Human (Dwarf

 ·

Lobotomite)

 ·

Lakelurk

 ·

Mantis (Giant mantis, Giant mantis nymph, Giant mantis female)

 ·

Marked man

 ·

Night stalker (Young night stalker, Den mother, Legendary night stalker)

 ·

Radroach

 ·

Radscorpion (Bark scorpion, Bark scorpion hunter, Small radscorpion, Giant radscorpion, Radscorpion queen)

 ·

Raven

 ·

Slags

 ·

Spore carrier (Spore carrier savage, Spore carrier brute, Spore carrier runt)

 ·

Spore plant

 ·

Super mutant (Mariposa) (Super mutant master, Nightkin)

 ·

Wanamingo

 ·

Tunneler (Tunneler queen)

 ·

Wolf

 ·

Yao guai
East Coast
(Fallout 3, Fallout 4, Fallout 76, Fallout Tactics 2)
Abomination

 ·

Alien

 ·

Alien squid

 ·

Alien worm

 ·

Angler

 ·

Beaver

 ·

Bee swarm

 ·

Bird

 ·

Bloatfly

 ·

Bloodbug

 ·

Bloodworm

 ·

Brahmin

 ·

Brahmiluff

 ·

House cat

 ·

Cave cricket

 ·

Centaur

 ·

Chicken

 ·

Crow

 ·

Deathclaw

 ·

Dog (Mongrel)

 ·

Fire ant

 ·

Firefly

 ·

Flatwoods monster

 ·

Fly

 ·

Fog crawler

 ·

Fox

 ·

Frog

 ·

Gatorclaw

 ·

Gazelle

 ·

Ghoul (Feral ghoul, Feral ghoul reaver, Feral ghoul roamer, Glowing one, Swamp ghoul)

 ·

Appalachian Floater

 ·

Ghoulrilla

 ·

Giant ant (Giant ant queen)

 ·

Giant catfish

 ·

Gorilla

 ·

Grafton monster

 ·

Gulper

 ·

Hermit crab

 ·

Honey beast

 ·

Human

 ·

Lamprey floater

 ·

Manowar tendril floater

 ·

Mega sloth

 ·

Mirelurk (Mirelurk hunter, Mirelurk king, Nukalurk, Swamplurk, Swamplurk queen)

 ·

Mole rat

 ·

Mole miner

 ·

Mothman

 ·

Mutant crocodile

 ·

Mutant hound

 ·

Mutant wanamingo

 ·

Needle tooth floater

 ·

Opossum

 ·

Rad chicken

 ·

Radgull

 ·

Rad rabbit

 ·

Rad-rat

 ·

Radtoad

 ·

Radroach

 ·

Radscorpion (Albino radscorpion, Giant radscorpion)

 ·

Radstag

 ·

Scorched

 ·

Scorchbeast

 ·

Sea creature

 ·

Snallygaster

 ·

Squirrel

 ·

Stingwing

 ·

Tick

 ·

Super mutant (Vault 87) (Super mutant behemoth, Super mutant brute, Super mutant master, Super mutant overlord)

 ·

Super mutant (Institute)

 ·

Super mutant (Huntersville)

 ·

Swampfolk

 ·

Trog

 ·

Wendigo

 ·

Wolf

 ·

Yao guai
Midwest
(Fallout Tactics, Van Buren)
Badger

 ·

Boom bug

 ·

House cat

 ·

Brahmin

 ·

Dog

 ·

Electro-beetle

 ·

Endless walker

 ·

Gehenna

 ·

Ghoul (Born ghoul, Feral ghoul, Glowing one)

 ·

Giant albino ant (Giant albino ant queen)

 ·

Giant leech

 ·

Giant rat

 ·

Giant wasp

 ·

Hairy deathclaw (Baby hairy deathclaw)

 ·

Human

 ·

Komodo dragon

 ·

Molech

 ·

Mountain lion

 ·

Mutant cannibal

 ·

Raccoon

 ·

Radroach

 ·

Radscorpion

 ·

Radtoad

 ·

Trog

 ·

Super mutant (Mariposa)

 ·

Wolf
Texas
(Fallout: BoS, Fallout: BoS 2)
Brahmin

 ·

Coyote

 ·

Dog

 ·

Experimental deathclaw (Baby experimental deathclaw)

 ·

Ghoul (Glowing one)

 ·

Giant rat (Mole rat)

 ·

Human

 ·

Radbug

 ·

Radscorpion (glowing radscorpion, spitting radscorpion, large giant radscorpion)

 ·

Small rat

 ·

Giant rat

 ·

Super mutant (Mariposa)
Project V13
Ghoul

 ·

Human

 ·

Mutant mantis shrimp

 ·

Super mutant (Project V13)
Fallout Shelter
Deathclaw

 ·

Feral ghoul

 ·

Ghoul

 ·

Human

 ·

Mole rat

 ·

Cat

 ·

Dog

 ·

Parrot

 ·

Radroach

 ·

Radscorpion

 ·

Super mutant