| | |
| --- | --- |
| | For floaters as they appear in other Fallout games, see floater. |
| | |
| --- | --- |
| | The following is based on Fallout 3 cut content and has not been confirmed by canon sources. |
The floater is a creature cut from the final version of Fallout 3. Three variants appear in concept art only.
Background
Edit
Floaters are hostile mutant creatures that likely originated from the FEV-infected flatworms mentioned in the FEV experiment disk, and were later further enhanced by the Master's experiments.
Characteristics
Edit
Through producing and storing noxious gases in their floatation bladders, floaters are able to hover above the ground.
Lamprey floater
Edit

This is a new version of floater much like the basic version but the mouth is only on one side and has teeth, and it possesses an eye above it.
Manowar tendril floater
Edit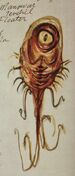 This new version of a floater possesses an eye in the place of a regular floater's mouth.
Needletooth floater
Edit
This is a new version of a floater that is notably different from the basic version. It resembles a spider, but with a human head.
West Coast
(Fallout, Fallout 2, Fallout: New Vegas)
Alien

 ·

Bighorner (Bighorner bull, Bighorner calf)

 ·

Bird

 ·

Bloatfly (Legendary bloatfly)

 ·

Brahmin

 ·

Cazador (Young cazador, Legendary cazador)

 ·

Centaur (Evolved centaur)

 ·

Coyote (Coyote alpha male, Coyote den mother, Coyote pup)

 ·

Deathclaw (Baby deathclaw, Young deathclaw, Blind deathclaw, Deathclaw alpha, Mother deathclaw, Talking deathclaw, Legendary deathclaw)

 ·

Dog (Cyberdog, Legion Mongrel, Vicious dog)

 ·

Fire ant (Fire ant worker, Fire ant soldier, Ant queen)

 ·

Floater

 ·

Fly

 ·

Gecko (Hunter gecko, Fire gecko, Golden gecko, Little gecko)

 ·

Ghost people (Ghost harvester, Ghost seeker, Ghost trapper)

 ·

Ghoul (Feral ghoul roamer, Feral ghoul reaver, Glowing one, Feral trooper ghoul)

 ·

Giant ant (Giant worker ant, Giant soldier ant, Giant ant queen)

 ·

Giant catfish

 ·

Giant rat (Mole rat, Pig rat)

 ·

Human (Dwarf

 ·

Lobotomite)

 ·

Lakelurk

 ·

Mantis (Giant mantis, Giant mantis nymph, Giant mantis female)

 ·

Marked man

 ·

Night stalker (Young night stalker, Den mother, Legendary night stalker)

 ·

Radroach

 ·

Radscorpion (Bark scorpion, Bark scorpion hunter, Small radscorpion, Giant radscorpion, Radscorpion queen)

 ·

Raven

 ·

Slags

 ·

Spore carrier (Spore carrier savage, Spore carrier brute, Spore carrier runt)

 ·

Spore plant

 ·

Super mutant (Mariposa) (Super mutant master, Nightkin)

 ·

Wanamingo

 ·

Tunneler (Tunneler queen)

 ·

Wolf

 ·

Yao guai
East Coast
(Fallout 3, Fallout 4, Fallout 76, Fallout Tactics 2)
Abomination

 ·

Alien

 ·

Alien squid

 ·

Alien worm

 ·

Angler

 ·

Ant

 ·

Beaver

 ·

Bee swarm

 ·

Bird

 ·

Bloatfly

 ·

Bloodbug

 ·

Bloodworm

 ·

Brahmin

 ·

Brahmiluff

 ·

Cat

 ·

Cave cricket

 ·

Centaur

 ·

Crow

 ·

Deathclaw

 ·

Dog (Mongrel)

 ·

Fire ant

 ·

Firefly

 ·

Flatwoods monster

 ·

Fly

 ·

Fog crawler

 ·

Fox

 ·

Frog

 ·

Gatorclaw

 ·

Gazelle

 ·

Ghoul (Feral ghoul, Feral ghoul reaver, Feral ghoul roamer, Glowing one, Swamp ghoul)

 ·

Ghoulrilla

 ·

Giant ant (Giant ant queen)

 ·

Giant catfish

 ·

Gorilla

 ·

Grafton monster

 ·

Gulper

 ·

Hermit crab

 ·

Honey beast

 ·

Human

 ·

Lamprey floater

 ·

Manowar tendril floater

 ·

Mega sloth

 ·

Mirelurk (Mirelurk hunter, Mirelurk king, Nukalurk, Swamplurk, Swamplurk Queen)

 ·

Mole rat

 ·

Mole miner

 ·

Mothman

 ·

Mutant crocodile

 ·

Mutant hound

 ·

Mutant wanamingo

 ·

Needle tooth floater

 ·

Opossum

 ·

Rad chicken

 ·

Radgull

 ·

Rad rabbit

 ·

Rad-rat

 ·

Radtoad

 ·

Radroach

 ·

Radscorpion (Albino radscorpion, Giant radscorpion)

 ·

Radstag

 ·

Scorched

 ·

Scorchbeast

 ·

Sea creature

 ·

Snallygaster

 ·

Squirrel

 ·

Stingwing

 ·

Tick

 ·

Super mutant (Vault 87) (Super mutant behemoth, Super mutant brute, Super mutant master, Super mutant overlord)

 ·

Super mutant (Institute)

 ·

Super mutant (Huntersville)

 ·

Swampfolk

 ·

Trog

 ·

Wendigo

 ·

Wolf

 ·

Yao guai
Midwest
(Fallout Tactics, Van Buren)
Boom bug

 ·

Cat

 ·

Brahmin

 ·

Dog

 ·

Electro-beetle

 ·

Endless walker

 ·

Gehenna

 ·

Ghoul (Born ghoul, Feral ghoul, Glowing one)

 ·

Giant albino ant (Giant albino ant queen)

 ·

Giant leech

 ·

Giant rat

 ·

Giant wasp

 ·

Hairy deathclaw (Baby hairy deathclaw)

 ·

Human

 ·

Komodo dragon

 ·

Molech

 ·

Mutant cannibal

 ·

Raccoon

 ·

Radroach

 ·

Radscorpion

 ·

Radtoad

 ·

Trog

 ·

Super mutant (Mariposa)

 ·

Wolf
Texas
(Fallout: BoS, Fallout: BoS 2)
Brahmin

 ·

Coyote

 ·

Dog

 ·

Experimental deathclaw (Baby experimental deathclaw)

 ·

Ghoul (Glowing one)

 ·

Giant rat (Mole rat)

 ·

Human

 ·

Radbug

 ·

Radscorpion (glowing radscorpion, spitting radscorpion, large giant radscorpion)

 ·

Small rat

 ·

Giant rat

 ·

Super mutant (Mariposa)
Project V13
Ghoul

 ·

Human

 ·

Mutant mantis shrimp

 ·

Super mutant (Project V13)
Fallout Shelter
Deathclaw

 ·

Feral ghoul

 ·

Ghoul

 ·

Human

 ·

Mole rat

 ·

Cat

 ·

Dog

 ·

Parrot

 ·

Radroach

 ·

Radscorpion

 ·

Super mutant