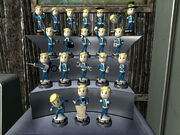 The
Vault-Tec bobblehead
figures were promotional
Vault-Tec
items. Each of the Vault Boy bobbleheads in
Fallout 3
permanently increases one of the 7
statistics
(
S.P.E.C.I.A.L.
) or one of the 13
skills
of the
player character
. Players can store the bobbleheads they have found in their house in
Megaton
or in their
Tenpenny Tower suite
. Two of the
achievements
involve collecting Vault Boy bobbleheads. The first achievement is awarded for collecting 10 of them, and players earn the second for finding all 20 of them.