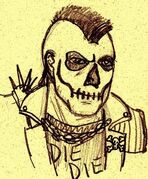 The Skulz
- A gang in
Junktown
. They do
Gizmo
's dirty work and basically anything else they want, legal or not.
Vinnie
has a deal with
Killian Darkwater
- the Skulz don't bother Killian and he doesn't bother them as long as they keep it low-key. The
Vault Dweller
puts a stop to their activities for good in a quest given by
Lars
. The leader of the gang is Vinnie and other members are
Victor
,
Shark
and
Sherry
.