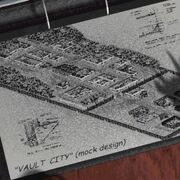 Vault City
is a high-tech settlement in West Nevada, established by the inhabitants of
Vault 8
after the Great War. The Vault opened in
2091
after receiving the all-clear signal (the origin of which remains unknown). The city was built around the Vault, using its fusion generator as a power source and knowledge contained in the
G.E.C.K.
to establish the first structures.
First Citizen Lynette
runs Vault City with cold hands and an iron grip. The city is bureaucratic, sleek and antiseptic, with a lot of technology, rules, regulations and guards. The population is antipathic to all outsiders, and pro-
slavers
in policy, although they prefer the term "servants". They claim that it is legitimate because they give the servants shelter, food and protection, but people like
Thomas Moore
object to this heavily, and call it hypocrisy since they frown at those who openly call it slaves and do slaving (
The Den
, for instance). They won't share their technology with the outside world, either, because they view at everyone else as "thieves and baggarts" of
the wasteland
.