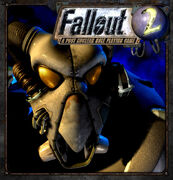 Fallout 2: A Post Nuclear Role Playing Game
is the sequel to
the original Fallout game
. Released in 1998, it was officially developed by
Black Isle Studios
, which by that point had become a full-fledged design outfit. The game's overall theme matter was more R-rated, with drugs and prostitution becoming major elements of the setting and the drug
Jet
is one of major subplots. Profanities are also encountered more often. During the course of the game, players can join the Mafia, become a porn star, get married and subsequently divorced, and nearly every town in the game features some sort of prostitute that can be slept with.
Slavery
also becomes an important subplot, and players can either side with the Slavers or join their opponents (such as
New California Rangers
) who try to stamp slavery out. NPCs can be bought and sold as slaves during the course of the game.