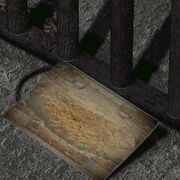 The Den
is a dangerous place and is a safe haven for drug and slave trading.
You'll be able to bust a slaver ring and a small gang here. In some ways, the Den might be considered a "mini-New Reno." They are both semi-stable anarchies with no central authority: while the Den is more focused on slaving, and New Reno is more focused on prostitution, they both share an economy dependent on gambling, prostitution, drugs, and slavery.
Gambling is under the control of
Rebecca Dyer
, who also sells the cheapest alcohol in the Den, as she has her own still, rather than importing it from New Reno. Uncharacteristically given both her location and her business, she is an scrupulous and decent woman, and a passionate opponent of the slave trade that underpins the Den's economy.