An infobox is the area in the upper right hand corner of a page that gives an overview of the content, based on what kind of article it describes. In this lesson we will learn about different kinds of infoboxes, and how to keep them tidy and consistent.
Infoboxes
An infobox is a type of template. They present important points in an organized and quickly readable format, and each type of article has its own type of infobox. A character infobox has different fields than a location infobox, for example. It is preferable to have an infobox of some sort on each article in the main space, but not required.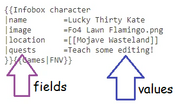 A piece of information that is added to an infobox is called a "value" and the section you enter it into is called a "field." Any field without a value will automatically be hidden, but only values that the template has included can appear.
For example, if we were to delete "Mojave Wasteland" value from the infobox, the location field would disappear as well. If we were to add a field called "donut types" it would not show up, even with a value, because it is not a part of the template.
We won't go too deep into infoboxes in the general editing program, but just know that the best way to learn them is to look at how they are used on similar articles. That is how you can learn what fields are in each one, and how they are used.
A lot of users put the character infobox on their user page, I have included mine here as an example. Feel free to do the same for your own page if you'd like.
Community content is available under
CC-BY-SA
unless otherwise noted.