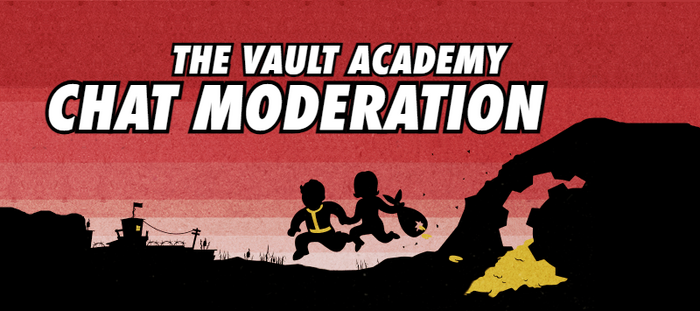 Following total atomic annihilation, the rebuilding of this great wiki of ours may fall to you. That's why Kate-Tec has prepared this educational series for you to better understand the several defining attributes that make you S.P.E.C.I.A.L!
Introduction
The Vault Academy chat moderation program will allow you to develop competencies revolving around Discord permissions as well as skills necessary to maintain a positive and productive environment among your peers. This series is designed for anyone who is interested in learning more, and running for chat moderator is not required or expected in any way. After the course is complete, mentees will be awarded a diploma and a place of honor in the esteemed Vault Academy Graduation Hall.
My name is
Kdarrow
, or Kate, and I am excited to help facilitate your progress. I serve Nukapedia as a bureaucrat, lead the Vault Academy, and provide mentorship in each of its programs. All lessons will take place in the Discord server, found
here
. The #tva-lecture-hall is where you will find all the lessons, given by yours truly over the course of a week. You do not have to be present, the tasks will be outlined for you to accomplish at your leisure. I am available to assist at any time, as are chat moderators and other staff. We are here to support you and are happy for the opportunity.
Curriculum
Although the lessons will be facilitated on Discord, the curriculum for the chat moderation program is outlined below. In practice, the lessons may be presented in a different order, depending on how many mentees are in each cohort and how we progress. In any case, on behalf of myself and the Vault Academy, welcome!