The Vault Academy (TVA)

Welcome, fellow Vault Dwellers, to The Vault Academy; a re-branding of the now-retired New User Network. At the Academy, wiki users, both new and veteran, will have the opportunity to form bonds with each other and learn valuable skills at the same time.
If you've got the passion and drive, training programs are also available through the Academy, which will award certifications to those that pass, and can open the doors to additional tools.
How to join
Interested in receiving Academy-approved training? Just contact a mentor listed below or, if you're a bit shy, add yourself to the mentee table and a mentor will contact you instead.
If you already have the know-how, you can sign up to be a wagoner or mentor below. There will be a short audit, but once you've been cleared the Academy will set you right up.
Welcome Wagon
After a new user has made their first edit, they will automatically receive a welcome message on their talk page, providing various helpful links and bits of information to push them in the right direction. But the wiki is a massive encyclopedia, controlled by extensive regulation and community consensus, which can be incredibly confusing and even frightening to users that have just joined.
So what is a new user's incentive to figure out what tools they have at their disposal, or who to even talk to for help? For a large portion of our new users, the welcome message simply isn't enough to keep members of our community from being too intimidated to continue contributing.
To alleviate this issue with a more personal touch, the Academy consists of the Welcome Wagon, a team of knowledgeable users that will seek out new users with this tool. Haven't been contacted yet by a member of our Welcome Wagon? Please feel free to contact a wagoner using the chart found below.
| Welcome Wagon Team | Times available | Specializations | Active |
| --- | --- | --- | --- |
| Old Man Leon (talk · contribs) | EST 11:00-4:00 (Tue, Thu-Sun) / All day Mon & Wed | Editing, Policies & Guidelines, Community Content | |
| Devastating Dave (talk · contribs) | Varies, but can chat most times of the day | Editing, Content Creation, Referencing, templates | |
| DankalorYT (talk · contribs) | Usually on. If not, im dead (or sleeping). Im on EST and can go from 10 AM - 2 AM on average. | Editing, Content Creation, Media, Formatting | |
| Jgrsoto (talk · contribs) | GMT -4:00 San Juan | Disponabilty varies. | Editing, Policies & Guidelines, Discord | |
Specialized Training Programs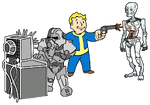 Just like in Fallout with your Psycho-ingesting cowboys or your beer-swilling super sledge berserkers, our users are going to have different approaches to the wiki, and will prefer certain aspects over others. Some users are going to prefer editing, while others are going to prefer commenting on and even creating social content, while some will even participate in every little thing that they can stick their radioactive thumbs into.
The Academy recognizes all aspects of contributing, and as such, our training programs will cater to each facet of the wiki with trainers specializing in one or even multiple different schools of training.
Discussions: /d is a quickly-growing social medium found across the Fandom network, instilling a casual and fast-paced environment for those looking to meet fellow Fallout fans. Trainers for this aspect of the wiki will teach our /d users how to create high-quality posts, how to prepare for upcoming changes to the /d platform, and the knowledge they'll need should they ever wish to help moderate and lead their newly acquired friends as a Discussions Moderator.
Discord: Another social medium for the Fallout wiki, our official Discord servers are where our users can gather around and talk freely, without the normal constraints of the main-space wiki. Trainers for this aspect of the wiki are tasked with making chatters feel welcome, helping set up monthly meetings to gain feedback from the Discord community on how to improve upon the experience, and to help train those looking to become a Chat Moderator.
General Editing: A new user's first few days of editing are going to be some of their most intimidating. Between all of the rules that help keep this wiki functioning, and the recent changes being well-scrutinized by more veteran editors, it can be easy to become discouraged.
As such, our general editing trainers will be tasked with seeking out potential editors and providing a training regiment that will set them up for future success by learning the fundamentals:

Article formatting
Capitalization and point of view
Article and image categorization
Basic templates
Proper linkage and typography
Notable loot and bugs

Technical Editing: Similar to our general editing trainers, our wiki is consistently in dire need of more technical-minded users that can understand and efficiently create and/or modify existing templates and portals. Upon recognizing such a user, it is imperative to introduce them to an environment that allows them to freely experiment and suggest changes. Technical fundamentals include:

Creating and maintaining both a template and its respective /doc page
Successfully creating a new portal page
Proper template categorization
Creating a multi-faceted template that requires calling upon sub-templates
Learning how to modify the existing wiki CSS/JS, as well as learning how to create your own personal CSS/JS

Leadership: Many users seek our various janitorial roles with preconceived notions that are fairly often inaccurate, and then become discouraged when they are either are denied by the community, or find themselves struggling with the new tools given to them.
But leadership is more than just meeting a few arbitrary requirements - it's also about knowing the community that you wish to represent, and being able to foster a healthy and friendly environment. Leadership fundamentals include:

Successfully defusing and resolving a domestic dispute.
Participating as either a project lead or as a TVA trainer.
Creating and successfully seeing through both discussions and voting fora for changes around the wiki.
Using edit summaries consistently to succinctly explain your actions, and reliably using the Minor Edit option for maintenance/minimal edits.
Reliably instructing users, without condescension, on how to improve upon their editorial or social contributions in a non-trainer environment.
| Mentor | Mentee | Program Specializations | Active |
| --- | --- | --- | --- |
| Old Man Leon (talk · contribs) | Looking for mentee | General editing, Discord, Leadership | |
| Chris the Saiyan (talk · contribs) | Looking for mentee | General editing, Discord, Discussions, Leadership | |
| DankalorYT (talk · contribs) | Looking for mentee | General editing, Discord | |
| FDekker (talk · contribs) | Mentoring Kdarrow (talk · contribs) (Technical Editing) | Technical editing, General editing, Leadership | |
| TheLaatSurvivor (talk · contribs) | Looking for mentee | Discord, Discussions, Leadership | |
Asking for the Rights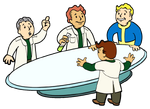 As it currently stands, users may run for various rights positions once the pre-requisites have been met, as noted in the admin policy. These requirements are fairly arbitrary, however, in ascertaining quality within the leadership ranks. As such, TVA offers certifications of completion for any training course that is completed to fruition, which in turn can be used as a referral during rights requests.
Patroller - Upon earning your certification of completion for general editing, present your certificate to a bureaucrat who will in turn decide as to whether or not you could use the Patroller tools.
Content Moderator - Gaining access to tools such as protecting pages and gaining access to protected pages, aspiring Content Moderators should seek out our general and technical editing programs for certifications that can be used during their rights requests.
Chat Moderator - Gaining access to moderation tools within our official Discord server, Chat Moderators should seek out our Discord and discussions programs for certifications that can be used during their rights requests.
Discussion Moderator - Gaining access to moderation tools within the /d community, aspiring Discussion Moderators should seek out our discussions program for certification that can be used during their rights requests.
Administrator - Seen as the face of the wiki, Administrators have the heavy-duty of overseeing every aspect of the wiki, and making beneficial decisions for its community by gathering consensus from their fellow peers. These rights holders must show a certain level of knowledge and respect towards the users that they represent.
As such, aspiring Administrators should seek to obtain certifications from at least one of each of both the editorial and social training programs, as well as completing the leadership program.
Bureaucrat - Head administrators trusted with leading the wiki as its figureheads, Bureaucrats are given a lot of trust and power by their community, such as with the ability to demote and create fellow Administrators.
Therefore, Bureaucrats should have knowledge of all aspects of the wiki, and should seek to earn all of the certifications before creating a rights request. Regardless of whether the Bureaucrat position is sought or not, once all certifications are earned, a doctorate will be awarded for the monumental effort put forth.
SNM Incentives (WIP)
The Strategic Nuclear Moose is a wiki feature tailored towards improving community relations, and offers rewards for those that put forth the effort. Simply contribute to TVA, and you will progressively unlock new milestones and rewards, recognizing all contributions to both the Academy and the wiki it represents.
Community content is available under
CC-BY-SA
unless otherwise noted.