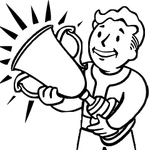 Nukapedian of the Year or NotY is an award granted on an annual basis to the user who had the greatest positive influence on the wiki over the previous year.
About
As of 2020, there are two categories for Nukapedian of the Year, a winner chosen for both editing and discussion boards. Awards will also be granted to the runners-up in both categories. An additional award for Best Newcomer will be chosen by board members.
Process
The process will take place at the end of each calendar year, decided by community vote following nominations and overseen by a group of rotating board members, customarily comprised of previous award winners. The nomination and vote process takes place on the Discussion Boards and winners are announced via the host's blog. All users are eligible to win the award including previous runners-up. Past winners, current hosts, and board members are not eligible.
Past awards