This Fallout Wiki, named "Nukapedia," is an encyclopedia by - and for - the fans of Fallout. Based on the wiki concept, it allows anyone to edit and contribute to any article. The history of Nukapedia / the Vault is briefly cataloged below.
History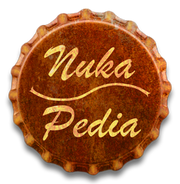 In the Spring of 2005, a Fallout Wiki was set up by Ausir and DarkUnderlord, and was originally hosted by Duck and Cover, a Fallout fansite at the address wiki.duckandcover.cx (then vault.duckandcover.cx) under the name "The Vault". It was later moved to a different server but remained hosted by Taluntain - the host of Duck and Cover - at falloutvault.com. As can be seen from Wikia talk pages and user contributions, there were also another nine users involved in shaping the wiki that were active in the early 2005 period, including Fez, Dan, Spazmo, Thinkpad, Mr. Teatime, Ekarderif, Mimir, Octotron and Senornacho.
In 2006, The Vault moved to Wikia (now Fandom). Through the release of Fallout 3, Fallout: New Vegas and Fallout 4, a robust, complex codebase and sizable community developed.
In 2011, The Vault was one of the first wikis to move to Curse's Gamepedia platform, helmed by Ausir. The move divided the wiki community into those who moved onto the new platform, retaining The Vault name and brand, and those who remained at Wikia, reorganizing into Nukapedia under new leadership.
In 2018, Wikia/Fandom announced that it had acquired Curse's media assets, including its gaming community websites and Gamepedia, including the Vault. This brought both Fallout wikis under the same roof, no longer in competition with one another. In response, in late August 2019, the re-merging of the Vault and Nukapedia was proposed by Tagaziel, a bureaucrat from the Vault. After due consideration, the Vault proposed that its content be merged into the Nukapedia.
What followed was a thorough proposal and discussion process undertaken between users and rights holders of both sites to determine the best course of action. Nukapedia bureaucrat Jspoelstra opened the conversation, presenting Tagaziel's proposal to the larger group via blog post, following positive responses from fellow bureaucrats and administrators of the two sites.
An extensive discussion followed, outlining all of the benefits, challenges, and implications of the proposed merge. The communities then participated in a formal vote. The voting window ended on November 1, 2019, which passed with 70% in favor, and the two communities began the merge process, becoming one wiki once again.
Administrators
The bureaucrats are currently Jspoelstra, Kdarrow and Richie9999. For the full list of Nukapedia's administrators, see administrators and moderators.