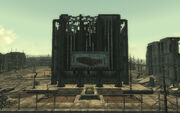 The
Chryslus Building
is a ruin of a large office building located in the
Capital Wasteland
, on the outskirts of
Washington, D.C.
. It was the main office of
Chryslus Motors
, which manufactured automobiles before the
Great War
of
2077
. At the time, Chryslus were promoting the $199,999.99
Corvega
, which was produced at the
Corvega factory
, located south west of
Vault 108
. In the years since the war, it has become a stronghold for
super mutants
and
centaurs
. On the ground floor there are at least 6 super mutants, and are a little tricky because they patrol in pairs. They have quite low perception, so one can sneak up quite close and V.A.T.S a few shotgun cartridges their way. If in trouble one can evacuate the building, as they do not seem to follow.