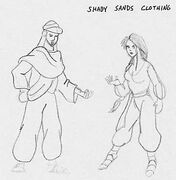 Some people in
Shady Sands
say that they are the followers of
Dharma
. In Indian religions, such as Hinduism, Buddhism, Jainism and Sikhism, Dharma (sanskrit, roughly
law
or
way
) is the way of the higher Truths. Beings that live in harmony with Dharma proceed quicker towards moksha, or personal liberation. For practicing Buddhists, references to "dharma" or dhamma in the singular, particularly as "the" Dharma, is used to mean the teachings of the Buddha, and is sometimes referred to as the Buddha-Dharma. (
see the Wikipedia article on Dharma for more
).
Aradesh
says that Dharma was a great, religious man. It is unknown whether he means Buddha or some other, pre-
war
or post-war religious leader of some new dharmic religion. Characters who reference Dharma in the game are
Aradesh
,
Agatha
,
Seth
and
Katrina
, although other people of Shady Sands (and outside of it) might also be dharmists.