Fallout Interactive Experience
Play Sound
"
Right at the start, we recognized the importance of developing decent in-house tools and invested a substantial amount of time very early in the project to producing them.
"
— Tony Oakden, [1]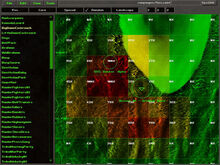 Fallout Tactics Tools is the official editor for Fallout Tactics. The package includes some tools created by Micro Forté and used for development of the game. The package consists of Campaign Editor, Level Editor, Entity Editor and PNG-to-ZAR converter. It was included in patch 1.27.
Campaign Editor
Campaign Editor is used for creating and editing the game's campaign. It allows to create a world map, place missions and bunkers, set probabilities for random and special encounters as well as for landscape maps. It's also possible to import the list of prefarb characters, recruiting pool, quartermasters and more.
Level Editor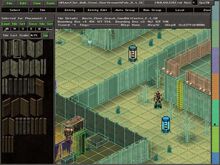 Level Editor is a powerful tool which allows to create fully playable maps for missions, bunkers and encounters from scratch. Starting with creating a terrain, placing tiles, light sources and world objects and ending with creating zones and events, placing characters, setting their behavior, speech, level, inventory etc.
Entity Editor
Entity Editor allows to create and edit all types of in-game entities such as characters, vehicles, items etc. Characters created with Entity Editor can later be modified in Level Editor - it is possible to change character level and inventory. This feature can be used to represent character's progress during the campaign.
PNG-to-ZAR converter
This tool can convert PNG images into in-game ZAR format. ZAR images are mostly used as elements of GUI and character portraits. It is possible to convert a single file or a whole directory with or without subdirectories.
External links
References