This page lists all cards in Fallout Shelter.
Cards can be acquired by opening lunchboxes. These can either be purchased in game via selecting the lunchbox icon and making a selection or by completing in-game objectives. There are three card types. Common, rare and legendary. The way to distinguish each card type is by the color of the Vault-Tec symbol in the middle of the card. White is common, blue is rare and yellow is legendary.
Consumables cards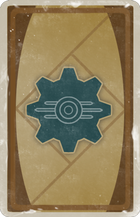 Vault dwellers
Pets
Resource cards
Junk items
Weapon cards
Guns
Pistols
Rifles
Shotguns
Energy weapons
Pistols
Rifles
Heavy weapons
Melee weapons
Outfit cards
Tiered outfits
Rare outfits
Legendary dweller outfits
Exclusive lunchbox outfits
Festive outfits
Pet carriers and Mister Handies
Upon opening a pet carrier or a Mister Handy box, a card will appear in place of it. Unlike a lunchbox, there will be only one card instead of five.
Gallery
Lunchbox
Mister Handy