This page lists all weapon mods in Fallout 76.
The content is not described in full detail on this page. For details, please see the respective articles.
For weapon mods in other Fallout games, please see "Weapon mod".
For an overview of Fallout 76 content, please refer to "Portal:Fallout 76."
Weapon mods can be distinguished into two main types, craftable and loose mods. What both types have in common is that they decrease the maximum condition of the weapon they are attached to.
Craftable mods are always created at a weapons workbench and are directly added to the selected weapon's mod slot (the technical term being "attach point"). Note that newly created modifications will always overwrite an existing mod in the same slot, which is different from Fallout 4, where replaced mods were stored in one's inventory.
Craftable mods may have up to three prerequisites, depending on the individual mod and the weapon it is attached to:
A certain amount of components - Varying amounts of components are required for the majority of craftable mods, the exception being a small number of standard mods for some weapons, which require none.
Knowledge of how to craft the mod - Knowledge is gained in different ways. Basic mods tend to be either known by default or become unlocked when picking up a weapon for the first time. Another common way for a majority of mods to be learned is unlocking via weapon scrapping. During the disassembling process, there is a chance ranging from high (25%) to very low (10%) to unlock a particular mod for the weapon scrapped. The last method of unlocking mods is by learning plans, which can be acquired by various means.
Intelligence-based perks related to crafting - The third possible requirement is different kinds and ranks of perks, which are usually required for more advanced mods. In particular, these perks are: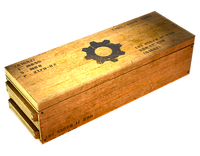 Loose mods, colloquially referred to as mod boxes, differ from craftable mods in several ways, including:
Requiring neither components nor perks to be attached to their associated weapon.
They can be scrapped for a small number of components.
They can be picked up and are stored in one's inventory by default. They have both a value in caps and weight.
Some weapon modifications can only be acquired in the form of a loose mod, such as mods for the Enclave plasma gun.
The Forest
Location
Location description
Aaronholt homestead
Inside the granary shed, next to the weapon workbench, on a cabinet shelf.
Arktos Pharma
Behind a security gate in the loading bay, next to the fusion generator, on a cabinet shelf.
Loose mods are usually tied to one or several of the six regions of Appalachia. In those regions, they may randomly be found in various locations, obtained as a reward for completing quests and events or sold by vendors. There is no guarantee to find a particular mod by any of the aforementioned methods. Known ways of acquiring a mod are listed on each individual mod page, found in the tables below.
Legend:


A weapon mod cut from the game before its initial release.

A weapon mod found in the game files, but not in the game itself.

A weapon mod removed from the game, and is now legacy.
Ranged weapon mods by attach point
[
edit
|
edit source
]
Melee weapon mods by attach point
[
edit
|
edit source
]
The following mods are not learnable from a plan or via weapon scrapping and therfore can't be crafted at a workbench. There are no loose mods for them found in the game, they can only be found already attached to weapon.
Community content is available under
CC-BY-SA
unless otherwise noted.