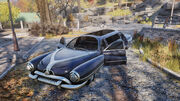 This page lists all vehicles in Fallout 76.
The content is not described in full detail on this page. For details, please see the respective articles.
For vehicles in other Fallout games, please see "Vehicle."
For an overview of Fallout 76 content, please refer to "Portal:Fallout 76."
General information
Edit
In Fallout 76, a large number of pre-War vehicles can be found scattered around the wasteland. Many seemingly inert vehicles that take sufficient damage will explode quite violently - similar in sound and appearance to a mini nuke - doing considerable damage to anyone nearby. Vehicles may also catch fire after taking some damage, starting a process by which they will then detonate after the fire burns for a brief period. Vehicles that explode leave an irradiated area for a brief period of time afterward.
Automobiles and motorcycles:

Utility and heavy equipment:

Rail transports:

Aircraft:

Watercraft:
Community content is available under
CC-BY-SA
unless otherwise noted.