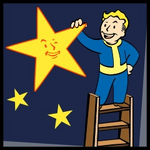 In Fallout 76, weapons, armor, and power armor can have special modifiers applied to them. These are called legendary effects, and they turn regular items into legendary items. Legendary items are identified by one or several stars (★) after their name.
Overview
Legendary items have one or more randomly determined special modifications, affecting combat or character stats. They may be earned as quest or Daily Ops rewards, looted from legendary enemies, bought from Purveyor Murmrgh or crafted with legendary modules.
Portal
For detailed information on the legendary effects applicable to each type of item, see the portal below:
Legendary enemies
Occasionally, certain foes with powerful buffs will appear. These legendary enemies will be identifiable by a star (★) and the nameplate prefix  "Legendary". When killed, legendary enemies will drop a randomly generated legendary item with at least one effect. For each star an enemy has, the randomly generated item they drop may have an equal number of legendary effects. When legendary enemies spawn, there is a brief window before they gain their stars. This process is initiated when the enemy becomes veiled with a temporary green fog. If the enemy is killed before the stars appear on its nameplate, then it will not yield any legendary items.
# Stars
Legendary drop
★
★ (100%)
★ ★
★ (50%)
★ ★ (50%)
★ ★ ★
★ (33.33%)
★ ★ (33.33%)
★ ★ ★ (33.33%)
Characteristics
Three tiers of legendary modifiers exist for both weapons and armor. A Tier 1 modifier appears on all legendary items, taking up the first "star." The modifier will be added to legendary weapon's dynamic naming as a prefix. Tier 2 modifiers comprise the second star of a legendary item and Tier 3 modifiers comprise the third. In general, Tier 2 and Tier 3 modifiers do not affect a legendary item's name. legendary weapons and armor use different sets of modifiers and cannot use modifiers from the other's item type.
Although additional legendary modifier slots exist (Tier 4 and Tier 5 modifiers, respectively), 4 and 5-star legendary items are disabled. However, the Tier 4 and Tier 5 legendary effects are used in many of the quest-specific unique legendary weapons and armors, such as Perfect Storm or All Rise.
Legendary items can have a maximum of one modifier per category, based on the number of stars:
A 1-star legendary will have a Tier 1 modifier.
A 2-star legendary will have a Tier 1 modifier and a Tier 2 modifier.
A 3-star legendary will have a Tier 1 modifier, a Tier 2 modifier, and a Tier 3 modifier.
Legendary effects are randomly generated upon crafting or dropping. They cannot be found as loose mods.
Legendary items cannot be scrapped at a workbench, but they may be placed in a legendary exchange machine for legendary scrip ( ).
Aside from their provided effects, legendary items otherwise have the same statistics as regular items, and can be equipped with the same mods.
Almost every legendary item may be dropped, traded to other players or sold to vendors for caps.
Availability
A majority of the weapons in Fallout 76 can be obtained as legendary items, however, there are a great many restrictions on what can and cannot appear as a legendary item.
Plans required
Some items cannot be obtained as legendary versions without knowing the relevant plan. These items cannot drop from legendary enemies, but can still be obtained via crafting, Purveyor, Daily Ops rewards or rewarded by Scorched Earth and season events, such as Fasnacht Day. The following lists contain items that may only appear as legendary items after learning the prerequisite plan.
Cannot drop from legendary enemies
Any item that was added since the initial release of Fallout 76 is bugged to never drop from legendary enemies.
Crafting only
Some items cannot spawn as legendary items, but may be turned into one by players using the legendary crafting system, or may be crafted as legendary items from scratch.
Legendary crafting
Other sources
The following items may only drop as 1-star legendaries from the SMART choice machine within Watoga High School, purchased for 5000 halloween candy.
Fully excluded
The following armor and weapons cannot exist as legendary items.
Notes
Bugs
Behind the scenes