Fallout Interactive Experience
Play Sound
This page lists all keys in Fallout 76.
The content is not described in full detail on this page. For details, please see the respective articles.
For keys in other Fallout games, please see "Key".
For an overview of Fallout 76 content, please refer to "Portal:Fallout 76."
General information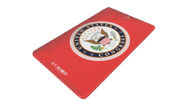 Keys in Fallout 76 open specific doors or containers, some of which are inaccessible otherwise. Keys and key cards are found in the open in the game world or in containers, or on corpses. Passwords are found on notes, on computer terminals, or given in prerecorded messages or on holotapes heard during quests. Quest related keys will typically not spawn unless the quest is active, for instance, the Dyer Chemical ID card for the quest Tracking Unknowns. Keys, once collected cannot be removed from inventory or placed in stash and weigh nothing.
Legend
| | |
| --- | --- |
| | Only found if the NPC in question is dead. |
| | Received through dialogue or as part of a quest; not in the NPC's normal or death inventory. |
| () | In the NPC's inventory but can also be received through dialogue or as part of a quest. |
| | Name is spelled as it is in-game regardless of misspelling. |
Base game
Img
Name
(Editor ID)
Opens
Found / in possession of
Related quest
Form ID
Aaronholt granary shed key


LC005_Granary_Shed_Key

Granary shed
On Lowell Aaronholt's body at the Aaronholt homestead, in a bathtub south of the windmill.

003BA080

Abandoned bunker safe key


POI273_FreeStatesBunker06_SafeKey

A wall safe in the room with the washer and dryer.
Abandoned bunker, in the bathroom sink.

004F54A8

ATLAS director's password


LC112_DirectorsPassword

Accesses several terminals.
ATLAS Observatory, next to a skeleton in the basement.

00223B9C

ATLAS utility key


LC112_AtlasUtilityKey

Door to the basement of ATLAS Observatory, near where it is found.
ATLAS Observatory, on a table in the basement by a section of collapsed roof. Also two other keys.

00291AF3

Bathroom key


LC117_BathroomKey

Bathroom at the Mothman Museum
Found on a metal desk in the Mothman Museum next to a poster, another in the house, on a desk, up the hill from Wilson Brother's Auto Repair.

003B9630

Bed and Breakfast key


LC102_HouseKey

Locked doors at the bed and breakfast
Two keys, on the top floor of Mountainside Bed & Breakfast, one on a coffee table.

003C5E30

Big Bend Tunnel door key


LC012_BigBendTunnelKey

Doors in the Big Bend Tunnel
On a corpse sitting on an excavation machine in Big Bend Tunnel. Go south from the cavern with many buildings and the locked doors.

00091DC7

Big rig trailer key


LC199_bigrig_trailer_key

Trailer door
On a corpse at the Crevasse Dam.

003B755C

Biometric data


MSilo_Residential_BiometricData

Used to fabricate Biometric ID card in Site Alpha, Site Bravo, and Site Charlie
Collected at body scanner in Site Alpha, Site Bravo, and Site Charlie
Mission: Countdown

003DE794

Biometric ID card


MSilo_Residential_AuthorizedPlayerIDCard

Actually authorizes access to first laser grid in Site Alpha, Site Bravo, and Site Charlie
Fabricated at security terminal in Site Alpha, Site Bravo, and Site Charlie
Mission: Countdown

003DE7AC




003DE793

Blacksite guard key


SugarGroveGuardKey

Security gate and doors.
Sugar Grove, inside the building downstairs, in the server room in the very back to the left on top of the computer inside a shelf door.

0013B753

Blank biometric ID card


MSilo_Residential_BlankIDCard

Used to fabricate Biometric ID card
Erasing Old biometric ID card in Site Alpha, Site Bravo, and Site Charlie
Mission: Countdown

003DE792

Boat house key


ToxicDriedLakeBedBoatHouseKey

The boat house at the toxic dried lakebed.
In the diner at the toxic dried lakebed, near a bubblegum bear in a cooking pot.

0033C99E

Bootlegger's shack key


LC015_BootleggersShackKey

"Secret" basement under shack
Under a pillow on second floor at Bootlegger's shack

003BB27A

Brittle key


MTR09_BrittleKey

0017EF38

Broadcast station key


BroadcastStationKey

Front door of the building
On top of the trailer in the back of KMAX Transmission

00530E23

Brody's password


MoM03_BrodysPassword

Brody's terminal
Pleasant Valley cabins
Seeker of Mysteries

00357FF6

Brody's room key


MoM03_BrodysRoomKey

Brody's room
Pleasant Valley cabins motel
Seeker of Mysteries

00357FF7

Cabin 3 safe key


LC074_LakesideCabinsSafeKey

Safe in cabin 3 (north of workshop, behind trailer)
Lakeside Cabins, on the jetski beside the red boat

003DF81E

Camden Park badge


MTR04_BadgeKey

Mistaken Identity

002963B1

Camp Venture weapons room key


SurvivalTrainingCenter_Qmaster_Key

Weapons room at Camp Venture
Fort Defiance, on the fourth floor, on the bottom row of a surgical cart in the southwest room.

00491F3A

Cargobot terminal passcode


SFL02_Track_CargobotTerminalCode

Tracking Unknowns

003EB392

Cell key A6-KH


SugarGrove_CellKey_A6-KH

Cell door
Sugar Grove, past a door in the back of the facility, then downstairs to the room with TVs. Go through a hole in the wall to a table in the next room.

003BB1CC

Cell key B2-RS


SugarGrove_CellKey_B2-RS

Cell door
Sugar Grove, past a door in the back of the facility, then downstairs to the room with TVs. B2-RS will be on a metal bookshelf just on the other side of a hole in the wall.

003BB1CD

Cell key B9-AX


SugarGrove_CellKey_B9-AX

Cell door
Sugar Grove, past a door in the back of the facility, then downstairs to the room with TVs. Go through a hole in the wall to a table in the next room.

003BB1CE

Cell key G3-KP


SugarGrove_CellKey_G3-KP

003BB1D1

Cell key R1-TT


SugarGrove_CellKey_R1-TT

003BB1CF

Cell key V5-XF


SugarGrove_CellKey_V5-XF

Cell door
Sugar Grove, past a door in the back of the facility, then downstairs to the room with TVs. Go through a hole in the wall to a table in the next room.

003BB1D0

Cell key W9-FZ


SugarGrove_CellKey_W9-FZ

Cell door at Sugar Grove.
Huntersville, in the frame of a bed in the two-story house with a fallen tree in the backyard.

003BB1D2

Charleston train luggage key


LC028_LuggageKey

Green steamer trunk inside a building at the trainyard
Charleston Trainyard, on top of the left side of some shelves with a drawer in the office hallways upstairs

004357BE

Civic Center booth key


GarrahanVIPBoothKey

Watoga Civic Center booth
Under the CEO's desk at Garrahan Mining Headquarters

003E7A1A

Clarksburg p.o. box 12


TW007_POBoxKey

Post office box 12 on the public records terminal at Clarksburg
Mailbox at Wavy Willard's Water Park
Cold Case

0023D330

Congressional access card


ENB_CongressionalID

Entry door into the Whitespring bunker
Sam Blackwell's bunker, found after entering the code 021584 on the keypad and reaching behind the painting in Blackwell's office.
Bunker Buster

0027DB2F

Delbert's password


CUT_RSVP02_Key_DelbertPassword

0052ECA7

Duchess's stash key


MTR15_Stash_Key

004F8E49

Dyer Chemical ID card


SFL02_Track_DyerChemIDCard

ID card readers at Dyer Chemical on doors to enter sewers
Found on the body of Nari Samir during the side quest Tracking Unknowns. The keycard is not on the body until the quest is started.
Tracking Unknowns

00029058

East Bridge key


NewRiverGorgeBridgeKey0

Catwalk access door below New River Gorge Bridge - East
Big Bend Tunnel, found in a lunch pail, on a desk, in a flooded side room near the tunnel's east exit/entrance.

003EB699

Fire Breather's schematics code: Rifles


MTR06_SchematicCode_Holstein

Rifle schematics
Fire Breathers master terminal at Charleston Fire Department. Needs Holstein's code
Into the Fire

0050FD9B

Fire Breather's schematics code: Shotguns


MTR06_SchematicCode_Cominsky

Shotgun schematics
Fire Breathers master terminal at Charleston Fire Department. Needs Cominsky's code
Into the Fire

0050FD99

Fire Breather's schematics code: Support


MTR06_SchematicCode_Allemane

Support schematics
Fire Breathers master terminal at Charleston Fire Department. Needs Allemane's code
Into the Fire

0050FD9A

Foreman's key


POI275_BrimQuarry_ForemanKey

Desk, file cabinet and safe in the building with an armor workbench outside in Brim Quarry.
To the southwest of Brim Quarry, in a tower building with a cooking station.

003C69F8

Fortifications key


LC062_FortificationKey

Several doors at Harpers Ferry
Harpers Ferry, it's on a table in the middle of the church

003E5B92

Fortney's furnace key


LC052_GraftonBlastFurnaceKey

Doors to the smelter building
Grafton Steel, in a cooler on the top of the smelter chimney.

00433488

Fujiniya Base security ID card


LC089_PRCFacilitySecurityIDCard

ID card readers at Mama Dolce's Food Processing
In the doctor's bag of a scientist corpse.
Random encounter

003DAA92

Fujiniya facility password


EN07_MamaDolcePassword

Fujiniya Intelligence Base
The Whitespring bunker - Once having gained access to the elevators, take them down, turn left and go down the stairs. Then towards the Military Wing going into the Command Wing. Go to the armory and access the archival terminal computer.

00518950

Garrahan Estate access keycard


GarrahanEstateAccessKeycard

Garrahan Estate, Garrahan Mining Headquarters back exit
Garrahan Mining Headquarters, on the second floor (three keycards).
Wolf in Sheep's Clothing

0033FBD1

Gorge junkyard storage key


LC050_gorgejunkyard_storage_key

003BE7EC

Grafton Dam keys


LC197_GraftonDamKeys

All exterior doors of the main building.
Grafton Dam, on Otis Pike's corpse on the first floor catwalk.

0029AE7A

Granny Davis' safe key


SkeletonFactorySafeKey

Safe at Sunken church / Braxson's Quality Medical Supplies
Berkeley Springs. Behind the delicatessen is a trailer. Go up the nearby stairs to the roof, cross over to the other roof and enter a door to the kitchen's dishwasher machine.

004FE03C

Gregs Mine Supply keys


LC082_GregsMineSupplyKeys

Doors to the supply
Greg's Mine Supply, on the desk next to the terminal on the second floor.

0029AE6B

Headmistress Shannon Rivers' login


MoM04_ShannonRiversPassword

Cryptos terminal
On Shannon Rivers at Seneca Rocks
The Mistress of Mystery

0035800F

Helvetia post office key


LC042_PostOfficeKey

The doors to the post office locked room. (Skill 2)
Helvetia, in a doghouse to the east of the post office, on the floor.

003B60C6

Honey Haus key


LC042_HoneyHausKey

Doors to the Honey Haus
Helvetia, under a flower pot on a barrel by the western door.

003B61B7

Horizon's Rest armory key


POI151_ArmoryKey

A locked door to the lowest shack on the tower
Horizon's Rest underneath a flower pot in the middle shack on the cliff.

0042FF5B

Horizon's Rest jail cell key


POI151_JailKey

A locked door to a shack on the cliff
Horizon's Rest on the highest shack next to a locked safe.

0042FF44

Hornwright bunker card Alpha


MTR10KeycardAlpha

Bunker keycard reader, with Alpha card activates Master shutdown button
Mister Gutsy at the Mount Blair Trainyard
Battle Bot

004E7216

Hornwright bunker card Beta


MTR10KeycardBeta

Bunker keycard reader, with Beta card activates Master shutdown button
Mister Gutsy at the Mount Blair Trainyard
Battle Bot

004E7217

Hornwright Estate access keycard


HornwrightEstateAccessKeycard

Accesses the elevator to Hornwright Estate
In the basement of the Hornwright summer villa on a cart. Or on the CEO's desk on the top floor executive level of the Hornwright Industrial headquarters.

0033FBD4

Hornwright HQ - key to R. Vargas safe


LC097_R_Vargas_key_to_safe

R. Vargas's safe
Adjacent to the safe on a shelf in the desk

003BAE55

Hornwright HQ sub-level 1 safe key


RE_ObjectCMB06_safekey

The Motherlode dept. safe at Hornwright Industrial headquarters
On a dead Hornwright miner.
Random encounter Dead Miner

003E1DD2

Hornwright HR password


MTR05_HRPassword

Several terminals/keypad at Hornwright Industrial headquarters
?
The Motherlode

000682ED

Hornwright R&D clearance


MTR05_RDClearance

000683EB

Hornwright senior executive ID


MTR05_SeniorExecID

Doors at Hornwright Industrial headquarters, several priority collection containers at Hornwright testing site 2, Hornwright testing site 3 and Hornwright testing site 4
Hornwright Industrial headquarters, HR department
Breach and Clear
The Motherlode

002C3EAE

ID card


V63_Access_IDCard

00335501

Jimmy's terminal password


EN05_Patriotism_JimmyTerminalPassword

Jimmy's terminal
Reading Jimmy's diary - May 2nd
Patriotism Training

0018215F

Kerwood Mine key


LC046_KerwoodMineKey

Various doors throughout the mine, including the foreman's office
Kerwood Mine, in the recreation room

00051924

Key to Clara's box


BMO_BunkerKey03_NukaCola_02

Wooden crate inside of the doghouse in Sutton, next to Clara's note to mom. The crate contains the Nuka-Cola locker key
Locked toolbox located just east of Watoga and not far from the little river there. Must be opened with the toolbox key.

00041C3E

Key to Holbrooke's stash


LC024_HolbrookesKey

Security gate to Holbrooke's stash in a flooded basement generator room
Holbrooke's third floor office in the Charleston Capitol Building

0050EF4A

Lieutenant Elizabeth Taggerdy's ID


BoS03TaggerdyID

Accesses her locked computer terminal in Fort Defiance
On Elizabeth Taggerdy's corpse in the Glassed cavern
Belly of the Beast

0026B2E0

Loading dock storage key‎


RadioArrayStorageKey

A locked door at the back of the warehouse building
National Isolated Radio Array, behind the chained door in the office building

0043048A

Lucky Hole key‎


LuckyHoleKey

Various locks throughout the Lucky Hole Mine
On a shelf of the wooden lectern by the coffin altar in the Lucky Hole Mine, opposite His Priestess.

00129DE7

M. Greene access code


BMO_BunkerKey02_Cabin_Password_01

Able to obtain a one-time keycode (for access to TNT dome #2 at Black Mountain Ordnance Works) from a terminal at the Pleasant Valley cabins. Terminal is in the large house at the end of the road.
From terminal at the top floor of Shadowbreeze Apartments, requires Stolen terminal passcode to obtain.

00377F22

Mama Dolce's manager ID card


LC089_PRCFacilityIDCard

The entry door to Fujiniya Intelligence Base, located underneath Mama Dolce's
Sitting on a table in the upper area of Mama Dolce's Food Processing
I Am Become Death

002C478B

Manager's key


TestTractorSupplyManagersKey

00521FA0

Military ID card


BoS02MilitaryIDCard

Artillery battery terminal, entry past the laser grids on the top floor of Fort Defiance. Brotherhood personnel terminal.
Obtained at the Charleston Capitol Building DMV
Recruitment Blues

0033C77D

Miner's key


MTRZ01_Key

Many lockers found in mines throughout Appalachia such as AMS testing site, Belching Betty, Blackwater Mine, Brim Quarry, The Burning Mine, Lucky Hole Mine, Mount Blair, Rollins labor camp.
On a dead mole miner.
Lost and Found

00053EE6

Mistress Natasha Hunt's login


MoM01_MentorLogin

Infirmary terminal and Council chamber terminal at Riverside Manor
On the corpse of Natasha Hunt in Lewisburg
Initiate of Mysteries

00358019

Mistress Olivia Rivers' login


MoM03_OliviaRiversLogin

Olivia's terminal, Headmistress' terminal at Riverside Manor
Brody's terminal at Pleasant Valley Ski Resort
Seeker of Mysteries

00358017

Monongah Mine safe key


LC090_SafeKey

The safe next to the mining supervisor's terminal at Monongah Mine.
On the roof of a trailer at Monongah Mine, surrounded by blue garden gnomes.

004F8524

Morgantown Airport security keycard


LC096_MorgantownAirport_Keycard

ID card reader.
Held by the Responder corpse in the Morgantown Airport terminal's security room.
Final Departure

0041F4CA

Mothman Museum key


LC117_MuseumKey

Doors to the museum
Outside the Mothman Museum, inside the southern apartment, underneath the left pillow of a bed.

003B9603

New Gad safe key


LC142_SafeKey

A safe in a shed built on top of a tug boat at the south end of the area.
New Gad, on a small table in a metal RV with a chem station at the south side of the town.

004357C1

Niraj's password


FS03_MQ_Fruition_NirajPassword

?
Coming to Fruition

00240B78

Nuka-Cola locker key


BMO_BunkerKey03_NukaCola_01

A locker lying on the floor at the end of the hall in "Snackability Research and Development" in the Kanawha Nuka-Cola plant. The locker contains the TNT dome key 3
Found in a locked wooden crate in a doghouse in Sutton. The crate must be opened with the key to Clara's box

00094FC1

Official Responders volunteer card


RSVP02_Key_VolunteerCard

Safe
Quest reward
Second Helpings

003BD562

Old biometric ID card


MSilo_Residential_PrewarIDCard

Can be wiped to produce Blank biometric ID card in Site Alpha, Site Bravo, and Site Charlie
Several are randomly scattered around in Site Alpha, Site Bravo, and Site Charlie
Mission: Countdown

003DE791

Order of Mysteries login


MoM00_PlayersLogin

Certain terminal entries at Riverside Manor
From the Cryptos terminal at Riverside Manor
Initiate of Mysteries

00358018

Penitentiary key


LC043_SecurityKey

Jail doors and security gates
Eastern Regional Penitentiary, security room
Falsely Accused

0012B934

Penitentiary security password


TW002SecurityStationPassword

Security system terminals
Eastern Regional Penitentiary, given by the Warden
Falsely Accused

00312281

Police jail key


LC001_PoliceCellKey

Security gate in the police station in the abandoned Bog Town.
On the front counter of the police station in the abandoned Bog Town.

003DAFAB

Poseidon hazmat storage key


LC006_StorageRoomKey

A door and security gate
Poseidon Energy Plant WV-06

002D8F47

Poseidon plant access codes


LC006_PoseidonAccessCodes

Grants access to all terminal locked doors in the facility.
Poseidon Energy Plant WV-06, obtained by selecting "Issue Security Credentials" on the plant security terminal in the facility.

002D8FB3

Poseidon plant manager's password


LC006_GeneralManagersPassword

Plant manager's terminal at the plant
Poseidon Energy Plant WV-06, on a shelf

0013F07F

Presidential cottage password


MoM02B_PresidentialCottagePassword

Staff access section on the presidential cottage & museum terminal
The Whitespring Resort presidential cottage, in the shower. Also on the nearby Whitespring docent
Forging a Legend

004EB9C6

Principal's office key‎


MorgantownHSPrincipalsOfficeKey

The red door to the principal's office
Morgantown High School, in a southwestern locker in the bathrooms attached to the gymnasium

00430488

Principal's safe key‎


MorgantownHSSafeKey

The safe behind a shelf in the principal's office
Morgantown High School, on top of a table inside the principal's office

002C3D9E

Raider cache keycard


MTNL01_RaiderCacheKeycard

ID card reader to the raider cache
At the Pleasant Valley Ski Resort, under the doormat accessing the cache room.
Key to the Past

0027E58A

Raleigh's password


FS01_MQ_Warn_RaleighPassword

Accesses terminal to open Raleigh Clay's bunker
Given by Abigayle Singh
Early Warnings

0009EE62

Reaperbot daily code


FF09_DailyCode

Fertile Soil

0019BDC6

Remote team report password


ENB_RemoteTeamPassword

Launch bay terminal at Mama Dolce's Food Processing
Front desk terminal at West Tek research center
Military work station at the Whitespring bunker

003CFB46

Research Center key


RadioResearchCenterKey

Unlocks a room on the first floor of the National Radio Astronomy Research Center
On a desk on the second floor of the same building. The holotape Something's up is found on the same desk.

000074A1

Responders Bravo Station key‎


RSVP04_Key_Safe_Beta

Unlocks the second safe at the airport
It is found on Responder Rocky's corpse at Morgantown Airport
Safe for Work

0050A301

RobCo research facility keycard


CB04_Keycard

ID card reader at RobCo Research Center
On Scott Turner's corpse in his abandoned Bog Town hideout.
Mayor for a Day

00222790

RobCo terminal password


CB04_Password_Key

Terminal at RobCo Research Center
Abandoned Bog Town, obtained after reading Saboteur's work password

004E99F2

Rusted key


BMO_BunkerKey02_BasementKey_03

Unlocks the shack on the roof of Freddy Fear's House of Scares
At the toxic pond and wreckage, inside a submerged broken safe in a ruined house (can be hard to see). The safe also contains the alien blaster.

00377F25

Safe key


LookoutTower02_SafeKey

Safe at the top of north Kanawha lookout
On top of a port-a-potty to the west of the tower

0038F8E8

Safety inspector's key


BurningMineEntranceKey

0003EA52

Sam's password


FS03_MQ_Fruition_SamPassword

00298AA4

Sam's password - Judith


FS03_MQ_Fruition_SamPassword

003E84C3

Sam's safe password - 561159


EN01_BlackwellCredentialTerminalPW

002B5505

Secure storage key


EN01_SafePassword

Secure storage
Camp Venture, in a level 0 locked locker in the barracks.
Defiance Has Fallen

003A0BAB

Silo Alpha launch code


TEMP_EN07_LaunchAlphaAccessCode

002D112F

Silo Beta access code


TEMP_EN07_SiloBetaAccessCode

002D112D

Silo Beta launch code


TEMP_EN07_LaunchBetaAccessCode

002D1130

Silo Gamma access code


TEMP_EN07_SiloGammaAccessCode

002D112E

Silo Gamma launch code


TEMP_EN07_LaunchGammaAccessCode

002D1131

Stolen terminal passcode


BMO_BunkerKey02_MorgantownApt_Password_02

Allows M. Greene access code to be obtained from terminal on the top floor at the Shadowbreeze Apartments
Freddy Fear's House of Scares, on the floor in the locked room on the roof that can only be opened with the rusted key. On the floor near the desk.

00377F24

Sugar Grove agent access keycard


SugarGroveAgentAccessKeycard

0003AE14

Sunnytop Ski Lanes room 6 key


LC144_SunnytopRoomKey

Room 6
Sunnytop Ski Lanes, on the wall behind the reception desk.

0031FAE5

Supervisor's safe key


FF20_SupervisorSafe_Key

0050EAFC

TNT dome key 2


BMO_BunkerKey02_MountBlairTrainyard_final

TNT dome #2 at Black Mountain Ordnance Works
Pleasant Valley cabins, in a hidden wall safe in the cliffside under the house

00295C55

TNT dome key 3


BMO_BunkerKey03_NukaCola_final

A storage unit at Black Mountain Ordnance Works
Kanawha Nuka-Cola plant, in a locker lying on the floor at the end of the hall in "Snackability Research and Development". Locker must be opened with the Nuka-Cola locker key.

00295C58

Toolbox key


BMO_BunkerKey03_NukaCola_03

Toolbox, located on the rocks at the creek bank just off the Watoga sidewalk near Drumlin Diner. The toolbox contains the Key to Clara's box.
In a duffle bag located near Pylon V-13 in Cranberry Bog, just NW of it you will find a wooden stump with the note Rich Taylor's testament on it.

00181BF9

Trainmaster's key


SuttonTrainStationKey

002B8543

Utility key


POI061_UtilityKey

House of Scares doors
Freddy Fear's House of Scares, near a corpse on the roof.

0050FA2F

Vault 63 maintainence ID card


V63_2_MaintenanceIDCard

Future DLC, area inside Vault 63

003355B2

Vault 63 resident ID card


V63_3_ResidentIDCard

Future DLC, area inside Vault 63

0033553C

Vault 94 administrator password


V94_AdministratorPassword

Vault 94 was reworked and this was scrapped

0030C9F1

Vault 94 engineering wing key


V94_1_EngineeringKey

Vault 94 was reworked and this was scrapped

0012157D

Vault 94 maintainence access code


V94_1_MaintainenceAccessCode

Vault 94 was reworked and this was scrapped

0030C9F0

Vault 94 maintenance ID card


V94_3_MaintainenceIDCard

Vault 94 was reworked and this was scrapped

0013D399

Warehouse basement keycard


OverseerPersonalMineKeycard

ID card reader warehouse basement
Mount Blair
Personal Matters

0052EE0A

Watoga mayor safe combination


CB04_Reward_CombinationSafeKey

Safe at the Watoga Municipal Center
Quest reward
Mayor for a Day

004ECF0A

West Bridge key


NewRiverGorgeBridgeKey1

Catwalk access door below New River Gorge Bridge - West
Inside a backpack in a roller coaster car in Camden Park

003EB69A

West Tek research wing access code


LC184_ResearchWingPassword

Research wing access terminal
West Tek research center
Learn the Secrets of West Tek

002E14F9

Whitespring room 201 card


ENz09_Room201Keycard

Room 201 in the resort
The Whitespring Resort, front desk
Room Service

00073CD2

Whitespring room 202 card


ENz09_Room202Keycard

Room 202 in the resort
The Whitespring Resort, front desk
Room Service

00081501

Whitespring room 203 card


ENz09_Room203Keycard

Room 203 in the resort
The Whitespring Resort, front desk
Room Service

00081503

Whitespring room 204 card


ENz09_Room204Keycard

Room 204 in the resort
The Whitespring Resort, front desk
Room Service

0009ADA2

Whitespring room 205 card


ENz09_Room205Keycard

Room 205 in the resort
The Whitespring Resort, front desk
Room Service

0009ADA4

Whitespring room 206 card


ENz09_Room206Keycard

Room 206 in the resort
The Whitespring Resort, front desk
Room Service

0009ADBC
Wild Appalachia
Img
Name
(Editor ID)
Opens
Found / in possession of
Related quest
Form ID
Assaultron recall keycard


P01B_Wolf_RecallKey

Accesses Bysshe remote robotics terminal at the Pylon ambush site, starting the Encryptid event
Garrahan Estate - in the Wolf's cache on the top floor. (Additional copies may also be fabricated using a recipe.)
Wolf in Sheep's Clothing
Encryptid

003FBF36

Assembly password


P01B_Lying_02_Password

Assembly platform terminal at Van Lowe Taxidermy
Van Lowe Taxidermy, in a tool chest near a tinker's workbench.
The Lowe-Down

003F073F

Burrows old tunnel key


UD002_OldTunnelKey

Jail door in the Burrows
The Burrows, on a nightstand in the Burrows Boys' throne room
Waste Management

00453AA7

Cage key


P03L_Cage_Key

Jail door. Is from a development test quest.
Making the Cut

00427589

Cindy's diary key


CUT_P01B_Mini_Squatch01_CindysKey

Cindy's diary
A Perfect Getaway

003F1861

Colin van Lowe's password


P01B_Lying_OfficeTerminalKey

Office terminal
Obtained during quest
Unsolved: Tracking Terror

00478DE4

Distillery supply password


P01A_Nukashine_DistillerySupplyPassword

Distillery supply terminal to open door in the Nukashine speakeasy.
Given after reading a terminal entry at Eta Psi House.
Wasted on Nukashine

0046ECF3

Nuka Cola marketing access code


BMO_BunkerKey07_Ingram_Password_01

Terminal at the Ingram Mansion
Underneath the crashed plane, in a suitcase underneath the fuselage.

003F1BD5

Paired keycard 01


BMO_BunkerKey07_Keycard01

ID card reader at the Overlook cabin
Kanawha Nuka-Cola plant, on the floor behind the door of a bathroom stall marked "out of order."

003F1B6C

Paired keycard 02


BMO_BunkerKey07_Keycard02

ID card reader at the Overlook cabin
Tanagra Town, under a trifold flag on the second floor of a ruined house

003F1B84

Room 123


BMO_BunkerKey07_MotelKey

003F1BAB

Safe key


P01b_Robot_Key

Level 2 safe in Welch's post office, first floor.
Inside Welch's post office, second floor, against the wall, available while Baa Baa Black Sheep is active and has not yet been completed.

003F269D

TNT dome key 7


BMO_BunkerKey07_BraxtonKey_final

TNT dome 7 at Black Mountain Ordnance Works
Overlook cabin basement, requires paired keycard 01 and 02, plus a code generated at a terminal at Ingram Mansion which in turn required Nuka Cola marketing access code.

003F1B6F

Spare operative keycard


P01B_Lying_Master_Keycard

Deactivates laser grid in Van Lowe Taxidermy
Lewisburg
The Lowe-Down

003F0740




Taxidermy storage key


UD003_TaxidermyStorageKey

Door in the taxidermy
Van Lowe Taxidermy in Lewisburg, on top of the bureau on the second floor.

00478D43
Nuclear Winter
Released
Img
Name
(Editor ID)
Opens
Found / in possession of
Related quest
Form ID

Reactor interlock control key


V94_ReactorInterlockKey

Reactor interlock panels. No longer accessible after Vault raids were removed.
Vault 94
Vault Mission: Dead in the Water

0046547A

Tyrone Hayes' password


V94_1_AccessPuzzle_TyronesPassword




V94_2_Utility_MaintenancePassword

Tyrone Hayes' terminal.
Utility room terminal in Vault 94. No longer accessible after Vault raids were removed.
Vault 94
Vault Mission: Dead in the Water
Vault Mission: Meltdown

0045AECC




003F87A0

Utility interlock key


V94_ReactorInterlockKey

Utility interlock panel in Vault 94. No longer accessible after Vault raids were removed.
Vault 94
Vault Mission: Meltdown
Vault Mission: Washout

003EE34A

Vault 94 Community Council recording key


V94_1_AccessPuzzle_CommunityCouncilKey

Sliding door to Community Council chamber. No longer accessible after Vault raids were removed.
Vault 94
Vault Mission: Dead in the Water

00459959

Vault 94 ID card


V94_2_ResidentIDCard

Vault 94 voting stations. No longer accessible after Vault raids were removed.
Agriculture wing
Vault Mission: Meltdown

0005A2D0

Vault 94 maintenance engineer's ID card


V94_1_AccessPuzzle_TyronesIDCard

ID card reader to Maintenance engineer's room. No longer accessible after Vault raids were removed.
Vault 94
Vault Mission: Dead in the Water

0045995A

Vault 94 maintenance key


V94_2_Robot_MaintenanceKey

Sliding door. No longer accessible after Vault raids were removed.
Vault 94
Vault Mission: Meltdown

003F7881

Vault 94 nursery key


V94_2_Robot_NurseryKey




V94_1_AccessPuzzle_NurseryKey

Sliding door to nursery in Vault 94. No longer accessible after Vault raids were removed.
Vault 94
Vault Mission: Dead in the Water
Vault Mission: Meltdown

003F787E




00459957

Vault 94 security ID card


V94_3_SecurityIDCard

ID card reader. No longer accessible after Vault raids were removed.
Vault 94
Vault Mission: Meltdown
Vault Mission: Washout

003EC365

Vault 94 storage room key


V94_2_Robot_StorageKey

Sliding door to storage room in Vault 94. No longer accessible after Vault raids were removed.
Vault 94
Vault Mission: Meltdown

003F7880

Vault 94 workroom key


V94_2_Robot_WorkroomKey




V94_1_AccessPuzzle_WorkroomKey

Sliding door to workroom in Vault 94. No longer accessible after Vault raids were removed.
Vault 94
Vault Mission: Dead in the Water
Vault Mission: Meltdown

003F787F




00459958
Cut
Img
Name
(Editor ID)
Opens
Found / in possession of
Related quest
Form ID
Decontamination station 2 password


V96_1_Engineering_DeconStationPassword2

Decontamination station 2 terminal in Vault 96
Vault 96
Vault Mission: Creature Feature

00547920

Decontamination station 3 password


V96_1_Engineering_DeconStationPassword3

Decontamination station 3 terminal in Vault 96
Vault 96
Vault Mission: Creature Feature

00547921

Decontamination station 4 password


V96_1_Engineering_DeconStationPassword4

Decontamination station 4 terminal in Vault 96
Vault 96
Vault Mission: Creature Feature

00547922

Decontamination station 5 password


V96_1_Engineering_DeconStationPassword5

Decontamination station 5 terminal in Vault 96
Vault 96
Vault Mission: Creature Feature

00547923

Decontamination station 6 password


V96_1_Engineering_DeconStationPassword6

Decontamination station 6 terminal in Vault 96
Vault 96
Vault Mission: Creature Feature

00547924

Decontamination station 7 password


V96_1_Engineering_DeconStationPassword7

Decontamination station 7 terminal in Vault 96
Vault 96
Vault Mission: Creature Feature

00547925

Nina Valaya's password


V96_2_Access_Password01

Overseer's office access terminal in Vault 96
Vault 96
Vault Mission: Gone Viral

00422B99

Molly Cooper's password


V96_2_Access_Password02

Overseer's office access terminal in Vault 96
Vault 96
Vault Mission: Gone Viral

00422B9A

Jeanette Higgins' password


V96_2_Access_Password03

Overseer's office access terminal in Vault 96
Vault 96
Vault Mission: Gone Viral

00422B9B

Hans Memling's password


V96_2_Access_Password04

Overseer's office access terminal in Vault 96
Vault 96
Vault Mission: Gone Viral

00422B9C

Vault 96 databank


V96_2_Analysis_Databank

Vault 96
Vault Mission: Gone Viral

004273A4

Vault 96 ID card


V96_2_ResidentIDCard

ID card reader
Vault 96
Vault Mission: Gone Viral

0041F8B5
Wastelanders
Steel Dawn
Steel Reign
Invaders from Beyond
Gallery