Overview
Events are shared quests that spawn around the world and are only available to be completed for a limited amount of time before they despawn and go back on cooldown. Every 20 minutes, a random public event will be available, although they will not occur twice in a row.
Any player character can participate in these event quests, regardless of level, and some event quests encourage player characters to team up to complete the objective. These quests are displayed under the section "EVENT" of the Pip-Boy.
Rewards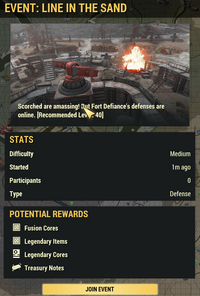 Events will typically grant a Mystery Pick legendary item. Mystery Picks are special legendary drops with pools expanded to include unlockable weapons and armor, such as Covert scout armor or the Gauss pistol.
Legendary item reward odds
100% chance of Mystery Pick
15% chance of Mystery Pick
Events
Some events are triggered by any player character approaching an event's location. Each event has a time limit to complete. Any player characters can participate by traveling to the location or refuse to by avoiding or leaving the area. These quests can be repeated every 1 hour and 12 minutes.
Public events
Public events appear in rotation with an alert on the HUD. They have automatic respawning enabled and junk is not lost upon death. All public events award Treasury Notes upon completion.
Seasonal events
Seasonal events are periodically available for a short period of time (e.g. two weeks), such as during the Fasnacht and Meat Week community events.
Public challenges
Public challenges are a new form of public events that will be introduced in 2022. While similar to seasonal events, public challenges will be of a global range to the World, encouraging players to rely on each other to succeed.[1]
Cut content
Gallery
References
↑ 2021 Bethesda AMA Mark Tucker: "We've been talking (internally) about doing something fun with the Zetans since before we launched the game, so we are excited to finally have the chance to do something with them. We are working on a new feature we call Public Challenges that will be similar to Seasonal Events, but will be global to the World and encourage players to work together to succeed. We will showcase the Zetans in our first one and plan to add more in the future."