Fallout Interactive Experience
Play Sound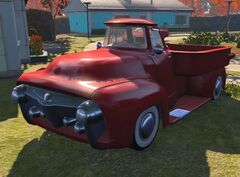 This page lists all vehicles in Fallout 4.
The content is not described in full detail on this page. For details, please see the respective articles.
For vehicles in other Fallout games, please see "Vehicle".
For an overview of Fallout 4 content, please refer to "Portal:Fallout 4."
General information
Commonly used before the Great War, a large number of vehicles can be found scattered around the wastelands. If struck, vehicles may catch fire, starting a process by which they will then detonate shortly thereafter. Vehicles that explode leave an irradiated area for a brief period of time.
These vehicles can be scrapped for resources if within the boundaries of a workshop. Depending on gameplay choices, the Sole Survivor is able to call in a Vertibird to transport them to another discovered location.
Variants
Automobiles
Vehicle
Image
Description
Form IDs
Atomic V-8
A Corvega brand vehicle that utilizes a fusion engine.

See all:

000A9774

(prewar)

0021DBB1

(cheap01)

0021DBB2

(cheap02)

0021DBB3

(cheap03)

0021DBB4

(cheap04)

002485E3

(GREYGARDEN)

0019B425

(01_static)

0019B426

(02_static)

0019B427

(03_static)

0019B428

(04_static)

00194634

(Sedan01)

00194638

(Sedan02)

00194639

(Sedan03)

00194635

(Sedan04)

0019463A

(Sedan05)

0019463B

(Sedan06)

00194636

(Sedan07)

0019463C

(Sedan08)

0019463D

(Sedan09)

00194637

(Sedan10)

0019463E

(Sedan11)

00194634

(blue)

00194135

(white)

00194136

(orange)

00194137

(green)

00194638

(light blue)

00194639

(beige)

0019463A

(black)

0019463B

(grey)

0019463C

(red)

0019463D

(pink)

0019463E

(light pink)

Bus
Vehicles found in multiple spots throughout the Commonwealth.
Cherry Bomb
A sports car produced by Chryslus Motors prior to the Great War.

See all:

00137828

001A304B

001A304C

001A304D

001A304E

001A304F

001A3050

001A3051

001A3052

001A3053

001A3054

001A3055

001A3057

001A3058

001A3059

001A305A

0021DBBD

0021DBBE

0021DBBF

0021DBC0

Corvega Blitz
An economical and family-friendly coupe.

See all:

001B237D

0021DBAB

0021DBAC

0021DBAD

0021DBAE

0021DBAF

001B496D

001B496E

001B496F

001B4970

001B4971

001B2DB3

001B2DB4

001B2DB5

001B2DB6

001B2DB7

001B2DB8

001B2DB9

001B2DBA

001B2DBB

001B2DBC

001B2DBD

Fusion Flea
A pre-War compact vehicle designed for one passenger.

001A6395




001A6602

Motorcycle
A type of motorcycle manufactured before the Great War.

00188D4C

Pick-R-Up
A small truck with a flatbed compartment in the rear.

See all:

001B8A9B

001B8A9C

001B8A9D

001B8A9E

001B8A9F

001B8AA0

001B8AA1

001B8AA2

001B8AA3

001B8AA4

001B8AA5

Station wagon
A vehicle found throughout the Commonwealth.

0021DBB5




0021DBB6




0021DBB7




0021DBB8

Van
A type of vehicle.

See all:

000E6CC2

(pre-War)

00063878

(post-War)

0008212E

(post-War chassis)

0008212F

(post-War chassis)

00204814

(post-War blue)

00088107

(post-War white)

000821CC

(post-War white)

00204812

(post-War blue)

00204813

(post-War blue)

Zip
A vehicle found in the Commonwealth.

00054CAD




00054CB0
Utility equipment
Vehicle
Image
Description
Form IDs
Forklift
A moving vehicle used before the war.

001A6DE0

Armored personnel carrier
A vehicle used in military operations before the Great War.

00120921




00152188




0019432F

Megaloader
A heavy-duty construction vehicle.

0007FA91




00027E94

Truck
A pre-War commercial vehicle.

See all:

000A847F

(01 blue)

000A8485

(01 green)

000A8482

(01 red)

0009F947

(01 white)

000A8480

(02 blue)

000A8486

(02 green)

000A8483

(02 red)

000A847D

(02 white)

000A8481

(03 blue)

000A8487

(03 green)

000A8484

(03 red)

000A847E

(03 white)

xx

00C5D0

(cracked 01)

xx

00C5D2

(cracked 02)

xx

00C5CB

(dirt 01)

xx

00C5CE

(dirt 02)

xx

00C5C7

(mud 01)

Street cleaner
A cleaning vehicle used to clear refuse from city streats

00180A4A

Tank
A heavy-duty military vehicle.

0019D2F7




001AB2E7

(random encounter)
Tractor
An agricultural vehicle.

00051CA6
Rail transports
Vehicle
Image
Description
Form IDs
Nuka-Express
A monorail that connects the Commonwealth with Nuka-World.

xx

029B22
Subway train
A vehicle used for transportation by the public under the busy streets of Boston.

See all:

00106A1B

(Cab)

00106A17

(Car)

00106A1A

(Joint)

0019DBAE

(Cab Door)

0019DB89

(Car door)

0019DB8B

(Side door Closed)

0019DB8C

(Side door Open)

Train
A type of vehicle that travels by rail.

001D8835
Aircraft
Vehicle
Image
Description
Form IDs
Airplane
A large commercial aircraft utilized for transport before the Great War.

000EE3F0




000EE3F1




001C7B1B




001C7B1C




000EE415




000FC97A

The Prydwen airship
The flagship of the Brotherhood of Steel

See Ref ID's:

00076A38

0005C92E

(main deck)

0014FC54

(Command deck)

0021630B

(quarters)

Stingray Deluxe
A pre-War vehicle found both on display and crashed throughout the Commonwealth and on the Island.

00178EAA




00178EA9

UFO
A UFO is a small Zetan aircraft found in the Commonwealth.

00156BE2

Vertibird
The Vertibird is an aircraft found throughout the Commonwealth.

0005BCA5




0005BCA6




0005BCA7




000FF991
Watercraft
Vehicle
Image
Description
Form IDs
Barge
A large water platform.

See all:

00112022

(corner left)

00112023

(corner right)

00112024

(middle end piece)

00112025

(middle piece)

00112026

(middle side parts)

FMS Northern Star
A wrecked cargo ship.
MS Azalea
A wrecked cargo ship on The Island
Row boat
A small wooden boat.

000A0F1D

Fishing boat
A medium-sized boat.

See All:

0012735A

(black)

0012735B

(black)

0012735C

(black)

0012735D

(black)

00117ECB

(red)

00118CD0

(red)

00118CD1

(red)

00118CD2

(red)

0011B609

(white)

0011B63A

(white)

0011B63B

(white)

Swan boat
A tourist attraction before the War.

00180556

Tugboat
A heavy-duty work boat.

00118909

USS Constitution
A modified rocket ship.

See Ref IDs:

0000DBBE

0000DBDD

0000DBDE

0003E805

(interior)

USS Democracy
A submarine controlled by the Children of Atom.
USS Riptide
A wrecked tugboat.
Western Bell vessel
A wrecked trawler.
Yangtze
A Chinese submarine.

See Ref IDs:

0000E0D1

0002B12D

(interior)
Notes
Gallery