This page lists all doctors in Fallout 4.
The content is not described in full detail on this page. For details, please see the respective articles.
For doctors in other Fallout games, please see "Character."
For an overview of Fallout 4 content, please refer to "Portal:Fallout 4."
General information
Edit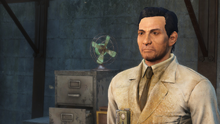 In the Commonwealth, there are few doctors who may restore HP, purge radiation, cure addiction and sell medical supplies. In Survival mode, doctors can also cure diseases when they heal the Sole Survivor's hit points. Note that any settler assigned to a Clinic also offers these same services.
List of doctors
Edit
Community content is available under
CC-BY-SA
unless otherwise noted.