The Fallout 3 soundtrack comprises two main elements:
Background
Composer Inon Zur was brought in to create the score for Fallout "because I could give them the ambience [sic] and the weird decadence plus an almost low-fi sound, but also bring up some more dramatic, orchestral elements with it when needed." The entire composition process took six months, ending with 60–70 minutes and around 40 tracks. These included everything from ambient cues from entering an area to high-intensity battle music.
Inon Zur wanted to ensure that the music was not too loopy, but seamless and interactive in response to the player's actions. In taking the orchestral approach into the post-apocalyptic wasteland, he admits some inspiration from Jerry Goldsmith, but "sought to employ different techniques on the instruments; they don't sound exactly like a traditional orchestra, but still retain the power of one."[1]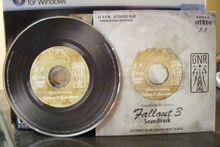 The preorder bonus for Fallout 3 at GameStop included an official soundtrack CD made to look like a vinyl 45 record. It included five songs from the soundtrack: "I Don't Want to Set the World on Fire," "Way Back Home" and "Butcher Pete (Part 1)," as well as two tracks from the orchestra score by Inon Zur.
Concept artist Adam Adamowicz found inspiration in the '50s art style, the incongruity and the charisma of "the sort of Jet-Set Frank Sinatra/Rat Pack and a flying car with a martini in one hand and he's going to a big band concert."[2]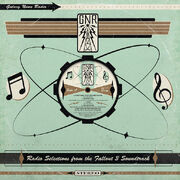 In an interview with Eurogamer, PR and marketing manager Pete Hines admitted that "Maybe" was his favorite song from the soundtrack.[3]
In 2019, Spacelab9[4][5] and Bethesda[6] announced an official physical release of 10 tracks from Galaxy News Radio on a vinyl LP. The tracks included "I Don't Want To Set The World on Fire", "Anything Goes", "Maybe", "Way Back Home", "Into Each Life Some Rain Must Fall", "Crazy He Calls Me", "Butcher Pete", "Mighty Mighty Man", "Easy Living", and "A Wonderful Guy". Due to licensing restrictions, the 1947 version of "Easy Living" was used instead of the in-game 1937 version.
Music supervision and clearance was obtained by Christopher S. Parker and Tim Scanlin of Brandracket, LLC.
Radio songs
Galaxy News Radio
Period songs
I Don't Want to Set the World on Fire
Into Each Life Some Rain Must Fall
Production music
Performers are noted if known
Enclave Radio
Agatha's Station
All violin performances are done by Heather MacArthur
Ambient music
All tracks credited to Inon Zur.
Gameplay
Gallery
References