This page lists all keys in Fallout 3.
For keys in other Fallout games, please see "Key".
For an overview of Fallout 3 content, please refer to "Portal:Fallout 3."
General information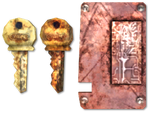 Keys in Fallout 3 open specific doors or containers, some of which are inaccessible otherwise. Some keys can be found in the game world, some are in the possession of non-player characters and can be pickpocketed while a few can only be retrieved if their owner has been killed.
Legend
| | |
| --- | --- |
| | Only found if the NPC in question is dead. |
| | Received through dialogue or as part of a quest; not in the NPC's normal or death inventory. |
| () | In the NPC's inventory but can also be received through dialogue or as part of a quest. |
| | Name is spelled as it is in-game, even if the in-game spelling is grammatically or otherwise wrong. |
Base game
A - F
G - M
N - S
Name (G.E.C.K. ID)
Opens
Found / in possession of
Related quest
Form ID
Ninth Circle supply key


(AhzrukhalVendorKey)

00031946

Overseer's Office key


(Vault101OverseersKey)

Overseer ( )
In the Overseer's/Amata's apartment

Escape!

0002E0B4

Paradise Falls Box key


(PFallsSlavePenKey)

Rescue from Paradise

00031748

Research Dept. safe key


(MS05ResearchSafeKey)

The Nuka-Cola Challenge

000CADD9

Ridgefield gate key


(RidgefieldGateKey)

0006B5B3

Rocksalt's key


(tepidRockSaltsKey)

Storage room, several containers in the storage room as well as a safe in Tepid Sewers

000B5C6B

Roe's storage key


(UncleRoeVendorKey)

00068E88

Roosevelt Library key


(RHSLibraryKey)

00030097

Ryan Brigg's safe key


(LDJuryBossKey)

000ABD06

Safe key


(BethRuinsSafeKey)

000CB55D

Saint Monica's key


(RCSaintMonicaKey)

000A2826

Scavenger's key


(ScavengerBarnKey)

Under the wrecked bus behind the barn

0004589B

Seagrave Holme's key


(SeagraveHolmesKey)

000A1BEB

Seagrave Holme's room key


(SeagraveHolmesRoomKey)

Inside Seagrave Holmes' room

Council Seat

0007CE57

Sector A encryption key


(Forge01KeyCard)

In a safe near the terminal

000A53E7

Shack key


(MS04ShackKey)

Those!

0005F6EF

Shake's liquor cabinet key


(ShakesVendorKey)

000B4222

Sister's key


(RCSisterKey)

000A1BE5

Smiling Jack vendor key


(SmilingJackVendorKey)

000B4204

Springvale basement key


(SpringElemBossKey)

00088326

Springvale library key


(SpringElemMinibossKey)

00088328

Staley's key


(StaleyVendorKey)

Store inventory and refrigerator in Gary's Galley in Rivet City
Refrigerator and footlockers in Staleys' room in Rivet City

000A1BEA

Staley's room key


(StaleyRoomKey)

0007CF3C

Storage room key


(evergreenLootClosetKey)

In a desk on the top floor of the Evergreen Mills Foundry, in a room on the right side

000AAFA0

Storeroom key


(TempleUnionStoreroomKey)

00035E06

Super-Duper pharmacy key


(PharmacyKey)

Inside a metal crate in Super-Duper Mart

Wasteland Survival Guide

0004BDAC

Sydney's ammo case key


(SydneyVendorKey)

000B422E
T - Z
Operation: Anchorage
No keys are added by Operation: Anchorage.
The Pitt
Broken Steel
Point Lookout
Mothership Zeta
No keys are added in Mothership Zeta.
Keycards