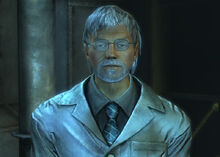 This page lists all doctors in Fallout 3.
The content is not described in full detail on this page. For details, please see the respective articles.
For doctors in other Fallout games, please see "Doctor."
For an overview of Fallout 3 content, please refer to "Portal:Fallout 3."
"
Less'n you're on death's door, I'm busy.
"
Doctors can be encountered in various places within the Capital Wasteland and can restore HP as well as cleanse those with radiation poisoning. Some also offer other services, such as curing addictions, selling chems, or giving special bonuses. When injured, doctors will have different opening dialogues, saying that their patients are hurt. What they say depends on how much HP and the severity of the damage of the limbs are.
Community content is available under
CC-BY-SA
unless otherwise noted.