Fallout Interactive Experience
Play Sound
This page lists all add-ons in Fallout 3.
The content is not described in full detail on this page. For details, please see the respective articles.
For add-ons in other Fallout games, please see "Add-on".
For an overview of Fallout 3 content, please refer to "Portal:Fallout 3."
Publication history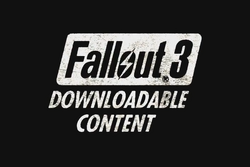 Between January and August 2009, Bethesda Softworks released five add-on or DLC packs for Fallout 3 for all platforms. These add-ons are Operation: Anchorage, The Pitt, Broken Steel, Point Lookout and Mothership Zeta. Each pack adds new quests, items, perks, achievements and other content to Fallout 3.
The add-ons were initially released exclusively as downloadable content on Xbox Live and Games for Windows Live between January and August 2009. They were made available for PlayStation Store starting with Broken Steel in September 2009, followed by the other add-ons in October. For Xbox 360, download codes for Xbox Live are also available in retail. Each add-on costs 800 Microsoft points or $9.99. All five add-ons became available for the PC via the Steam platform on 7/16/2010, for $9.99 each.
In addition, two bundles with disc versions of the add-ons were released for PC and Xbox 360. The first Fallout 3 Game Add-on Pack was made available on May 26, 2009 and consists of Operation: Anchorage, The Pitt and a Vault Boy poster. The second pack was published on August 25, 2009 and contains Broken Steel as well as Point Lookout. Both retail packages cost $19.99 US each. Mothership Zeta is not available on any disc other than the Fallout 3: Game of the Year Edition.
The Fallout 3: Game of the Year Edition, released on October 13, 2009 for all platforms, includes all five add-ons packs.
As a special gift, Microsoft sent out codes for a Fallout 3 Premium Theme to everyone who got all 5 add-ons on the Xbox 360.
All five add-ons were made available for free for a limited time on the PlayStation Network to UK PlayStation Plus Members in October 2010.
List of add-ons
Operation: Anchorage
"
Operation: Anchorage. Enter a military simulation and fight in one of the greatest battles of the Fallout universe – the liberation of Anchorage, Alaska from its Chinese Communist invaders. Gain access to unique armor, weapons, and exotic gadgets while you build and command interactive Strike Teams to win the battle and defeat the Chinese base.
"
— Official description
Operation: Anchorage was released on January 27, 2009 for PC/Xbox 360 and on October 1, 2009 for PS3.
The Pitt
"
The Pitt allows you to travel to the post-apocalyptic remains of Pittsburgh, Pennsylvania and become embroiled in a conflict between slaves and their raider masters. Explore a sprawling settlement ravaged by time, neglect, nuclear radiation, and moral degradation. The Pitt is filled with morally gray choices, shady non-player characters, new enemies, new weapons, and much more.
"
— Official description
The Pitt was released on March 24, 2009 for PC/Xbox 360 and on October 1, 2009 for PS3.
Broken Steel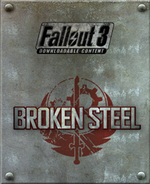 "
Continue your existing Fallout 3 game and finish the fight against the Enclave remnants alongside Liberty Prime. Broken Steel moves the level cap for your character from 20 to 30, allowing you to experience even more of the game, including new perks and achievements.
"
— Official description
Broken Steel was released on May 5, 2009 for PC/Xbox 360 and on September 24, 2009 for PS3.
Point Lookout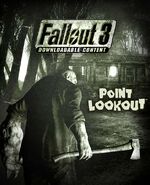 "
Point Lookout opens up a massive new area of the Wasteland – a dark, murky swampland along the coast of Maryland. So hop on the ferry to the seaside town of Point Lookout, for the most mysterious and open-ended Fallout 3 DLC adventure yet.
"
— Official description
Point Lookout was released on June 23, 2009 for PC/Xbox 360 and on October 8, 2009 for PS3.
Mothership Zeta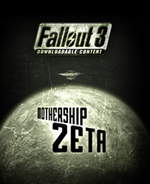 "
Defy hostile alien abductors and fight your way off of the massive Mothership Zeta, orbiting Earth miles above the Capital Wasteland. Mothership Zeta takes Fallout 3 in an entirely new direction – outer space. Meet new characters and join with them in a desperate bid to escape the aliens' clutches. To do so, you'll wield powerful new weapons, like the alien atomizer, alien disintegrator, and drone cannon, and deck yourself out in brand new outfits, like the Gemini-Era spacesuit and even samurai armor.
"
— Official description
Mothership Zeta was released on August 3, 2009 for PC/Xbox 360 and on October 8, 2009 for PS3.
Playing without Windows Live
Important note: Before following the steps, set your Windows search function to search "hidden folders". Otherwise, you will not able to find the folders you need. A safer alternative is by simply open the "Run" application and copy & paste the paths below to directly send you to the folders.
While Games for Windows Live requires you to be online in order to play DLC packs, you can find the DLC files (a main .bsa, a sounds .bsa, and an .esm) in the following folder:
%USERPROFILE%\Local Settings\Application Data\Microsoft\Xlive\DLC (Windows XP)
%USERPROFILE%\AppData\Local\Microsoft\XLive\DLC (Windows Vista, 7, 8(.1) or 10*)
If you move them to your Fallout 3\Data folder, you will be able to play the DLC without activating Games for Windows Live.
Remember to load through the Fallout 3 launcher then click on "Data Files" and check the box next to the add-on names before running the game. Keep in mind that this workaround is not officially supported.
*Windows 8(.1) and 10 require a workaround to use Games for Windows Live, but if you are able to launch Fallout 3, the directions are the same.
Gallery