"
Wargaming in the Wasteland!
"
— Official description
Fallout: Wasteland Warfare is a Fallout-themed miniatures wargame from Modiphius Entertainment. It was released on August 14, 2018, after being announced on April 25, 2017.
The game uses 32mm miniatures and can be played in a variety of ways including solo, cooperative and player-vs-player.[1]
Overview
In Fallout: Wasteland Warfare, players build their own crew from a wide range of factions, allies and iconic characters from the Fallout series, and play in apocalyptic games of 3 - 30 high quality 32mm scale resin miniatures through a huge variety of iconic scenery and settlement buildings, from the Red Rocket to Sanctuary Hills, Nuka-Cola vending machines and wrecked vehicles. Settlements include buildings, defenses and resources that impact the crew's army list and abilities in the wasteland.
Fallout: Wasteland Warfare includes an entire narrative campaign arc as well as unique random missions with narrative-style objectives, and Crew Caps recovered in missions can be used to improve the crew's perks, weapons, gear, and upgrades for the next encounter. In either Player vs. Player, or Tournament mode, players can try to survive the tabletop wasteland.
The game also comes with a customizable solo-play AI deck to control enemies that play to their strengths and replicate a faction's tactics while attempting a narrative mission or perfecting settlement-building strategy. Players can also team up with a friend to defend a larger settlement or explore narrative missions in cooperative games against AI forces or the post-apocalyptic dangers of the wasteland.[2]
In September 2020, after three months of open beta testing, Modiphius released a companion app for the game on Android and iOS. Developed by a third party developer who originally started the app as a hobby project, the app received mixed reviews from fans of the game, mainly due to the pricing strategy, which involves buying card packs for each new wave. However many fans on the Fallout: Wasteland Warfare Facebook group have spoken out in support of the app, rating it favourably against similar efforts from Games Workshop. The app's developer, Jamie Morris, wrote an article explaining the pricing strategy, but it continues to divide opinions. As of launch, the app includes the following features to support the game:
Force builder
Battle tracker
Automated AI
Guided Settlement Tracker
Networked play
Card reference library
Automated stat adjustments based on equipment and perks
Tutorial Scenarios
Features
Characters
Units
Miniatures
Expansions
Characters
Commonwealth Minutemen
Brotherhood of Steel
The Institute
Enclave
Raiders
Super mutants
Miscellaneous
World objects
Armored personnel carrier[3]
Creatures
Robots
Expansions
"
The Fallout: Wasteland Warfare roleplaying game builds on the narrative wargame​ experience of the tabletop miniatures game and will include new rules for character creation and creating adventures in the wasteland.
Delve into abandoned Vaults, ruined cities, strange facilities, and antiquated military bases. Encounter Super Mutants, Raiders, Survivors, Vault Dwellers, the Brotherhood of Steel, the Institute and the Enclave, and many more! Will you roam wide and far, or build up and protect your settlement? For those who want to create your own unique characters or use the faction based Archetype cards to start your own hero and see them grow from adventure to adventure.
"
Gallery
Survivors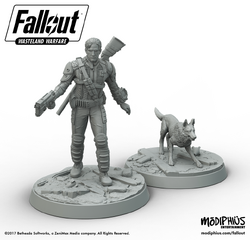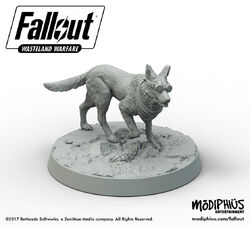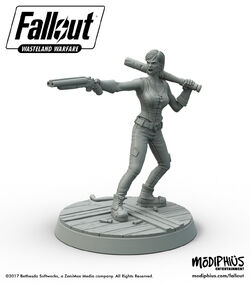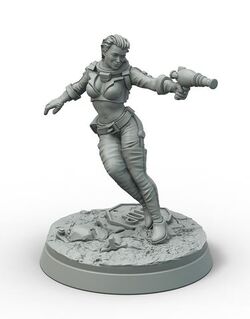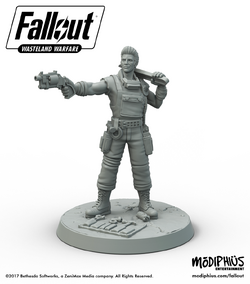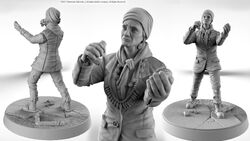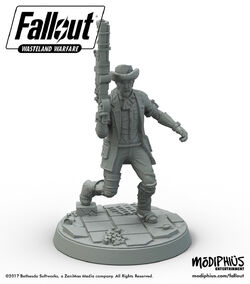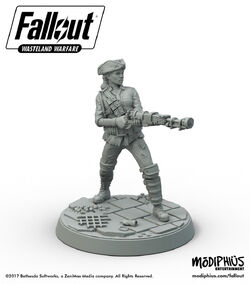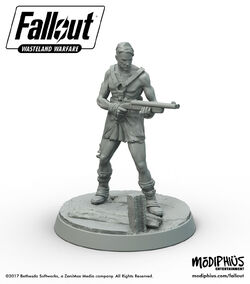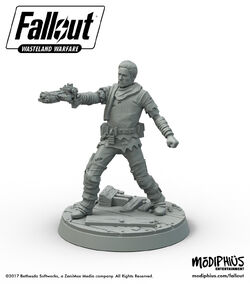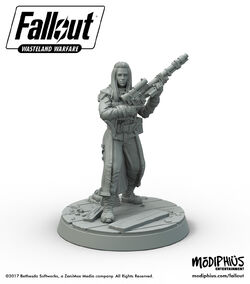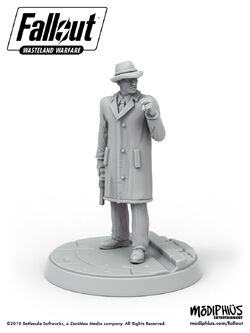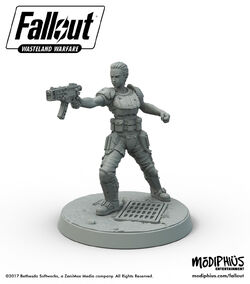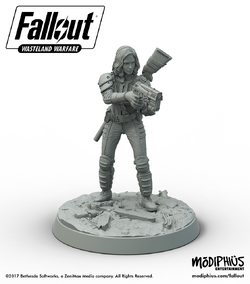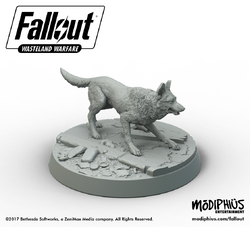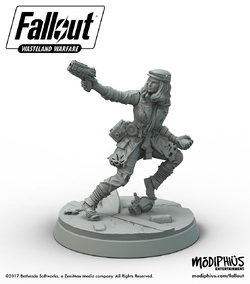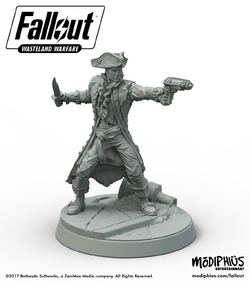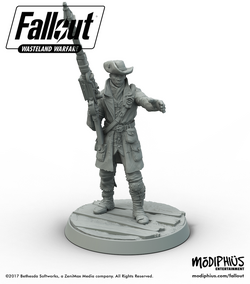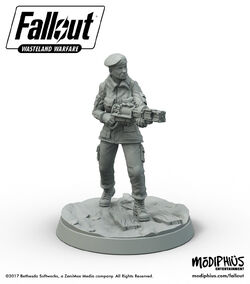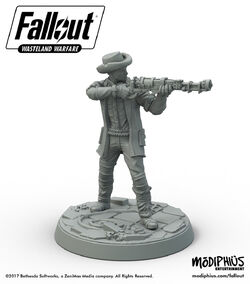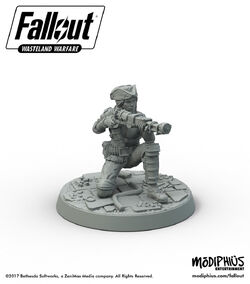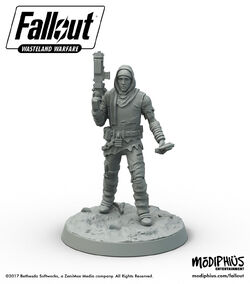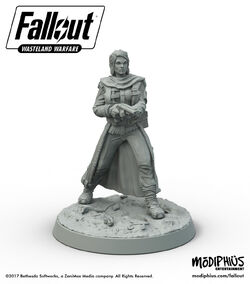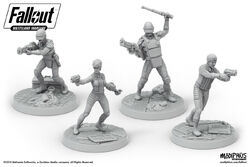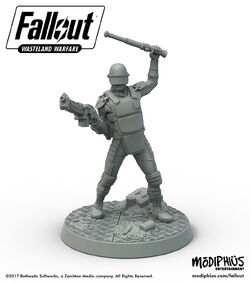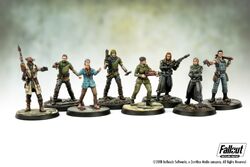 Brotherhood of Steel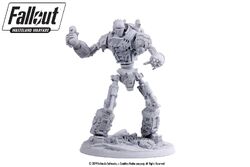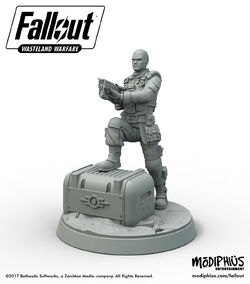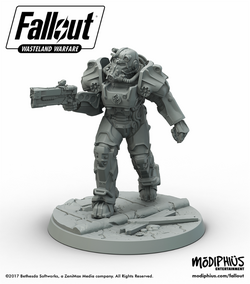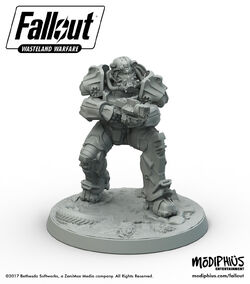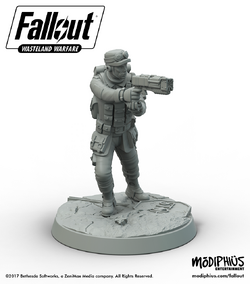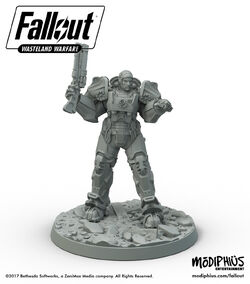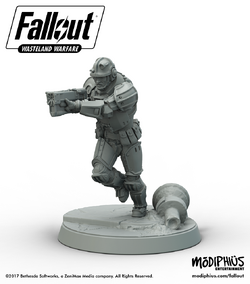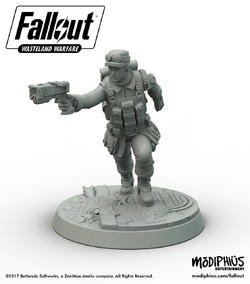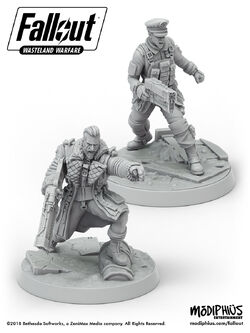 The Institute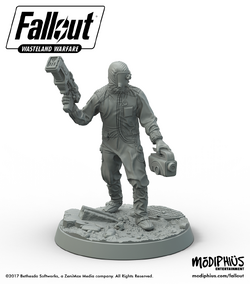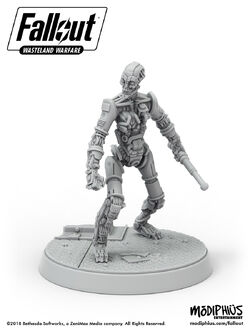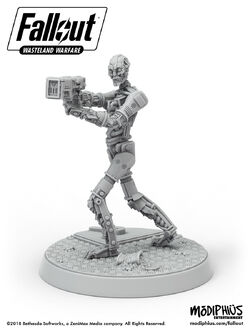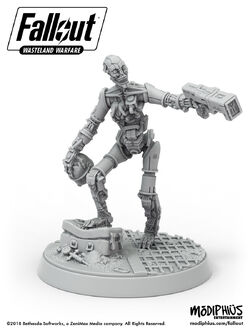 Super mutants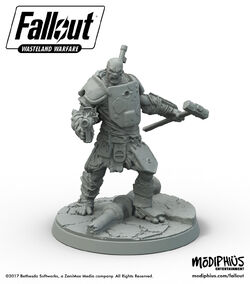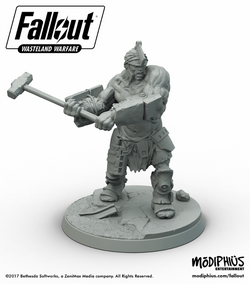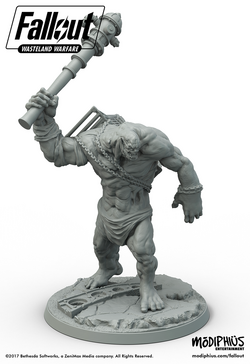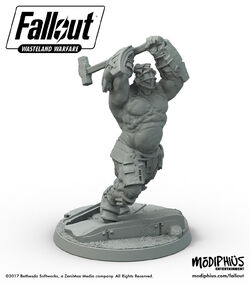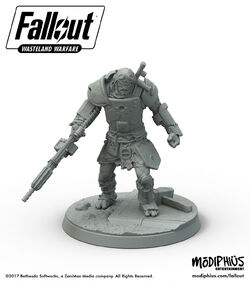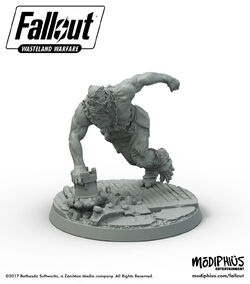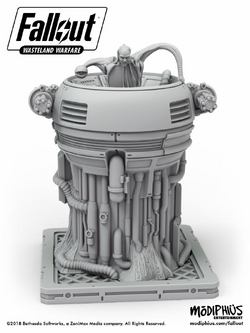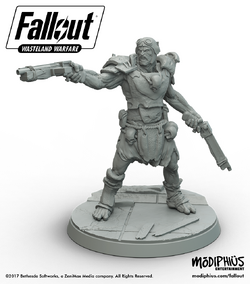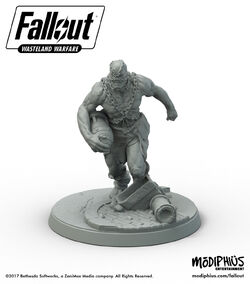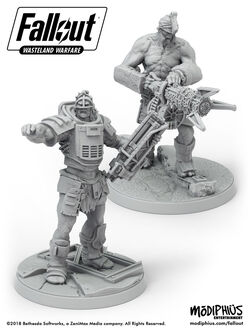 Raiders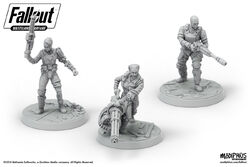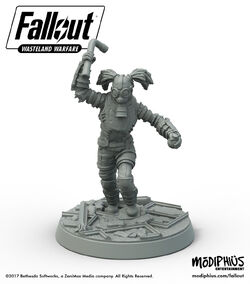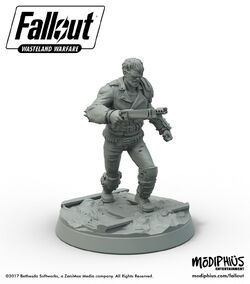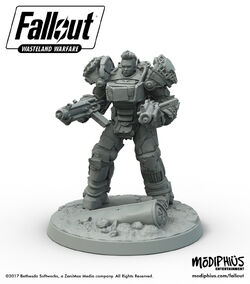 Enclave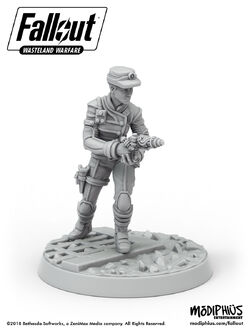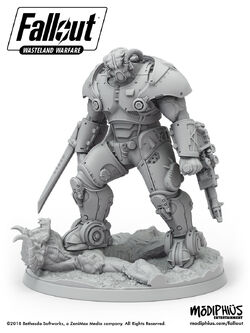 Robots
Power armor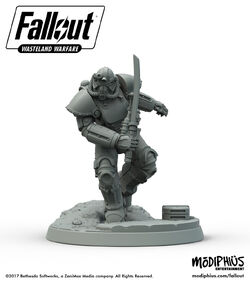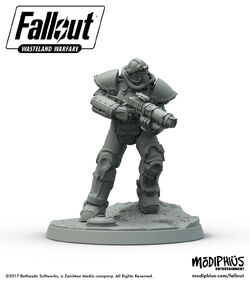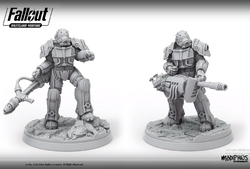 Wasteland creatures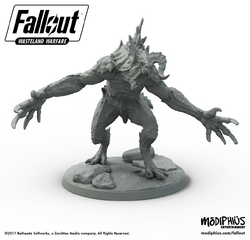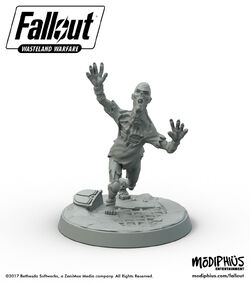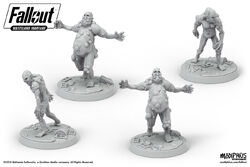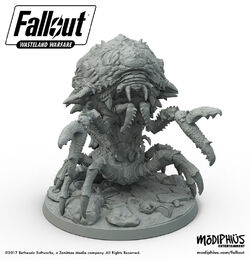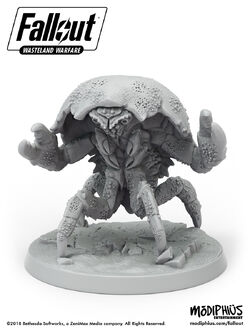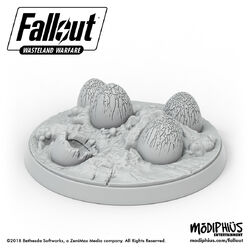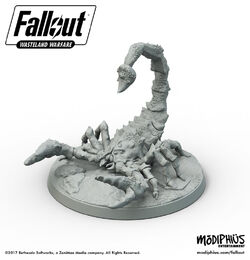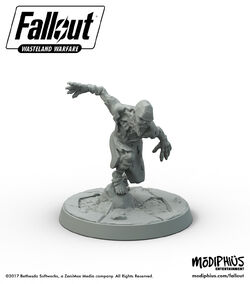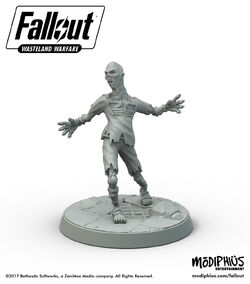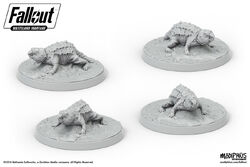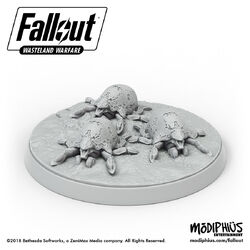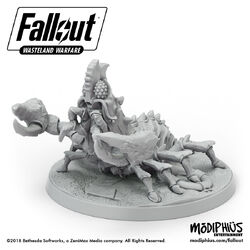 Wasteland scenery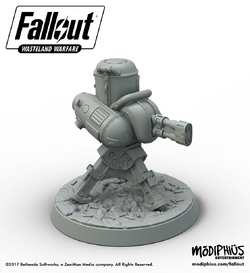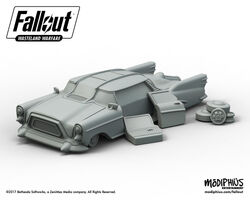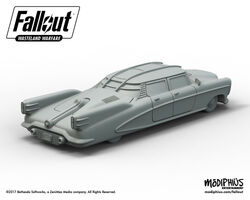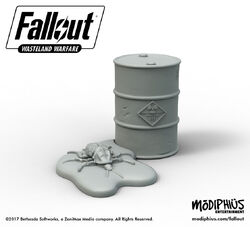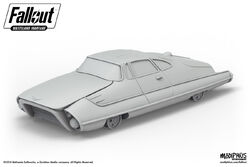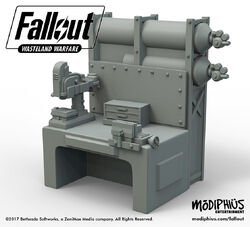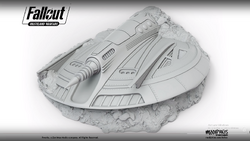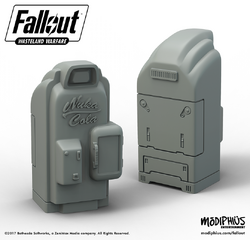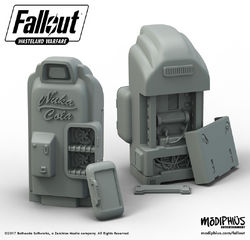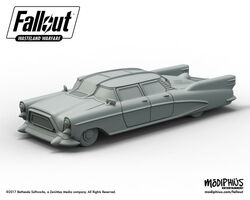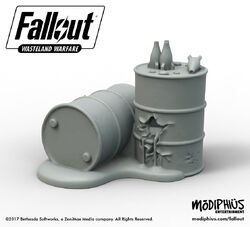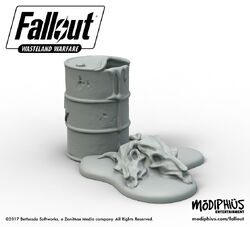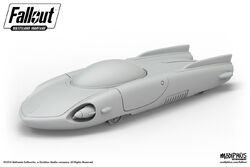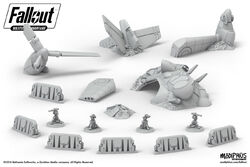 Sets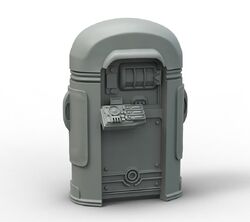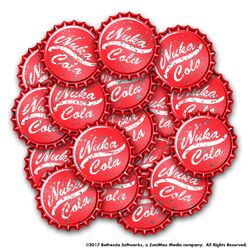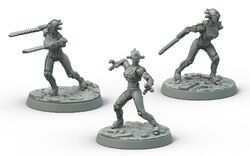 Vehicles
New Vegas
Video
References
↑ "Fallout: Wasteland Warfare - Terrain Expansion: Pre-war APC STL" at Modiphius.net: "APCs are familiar sights for wastelanders across post-war America. They were deployed routinely while the country was on a war footing, and can be found wrecked and looted, in and around key areas such as barracks and railway stations. Its heavy weapons and solid armor made it more akin to an Infantry Fighting Vehicle, and it was used as crowd control and to transport heavy troopers to key hotspots. When functional they were capable of transporting 6 soldiers and 2 power armor suits, making them spacious mobile platforms for deployment. Now they make excellent hiding holes, nesting spaces and barricades. Brave explorers can sometimes find stims or equipment in them, however they are as likely to anger anything lurking inside as they are to find a good haul."