This page lists all radio stations in Fallout: New Vegas.
The content is not described in full detail on this page. For details, please see the respective articles.
For radio stations in other Fallout games, please see "Radio station".
For an overview of Fallout: New Vegas content, please refer to "Portal:Fallout: New Vegas."
Major stations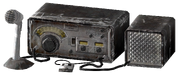 Minor stations
Parentheses () denote cut content, italics denote stations available through add-ons.