This page lists all merchants in Fallout: New Vegas.
The content is not described in full detail on this page. For details, please see the respective articles.
For merchants in other Fallout games, please see "Merchant".
For an overview of Fallout: New Vegas content, please refer to "Portal:Fallout: New Vegas."
"
Hey there. Need anything?
"
Merchants can be found in various locations throughout the Mojave Wasteland in 2281.
Background
Some merchants move from place to place in the wasteland, but most trade from shops in buildings or settlements. In addition to normal traders, there are doctors who can treat various ailments for a fee and certain traders can also repair the player character's equipment.
Prices for goods and services may vary depending on the player character's Barter skill, and their reputation with a particular faction or community.
Merchants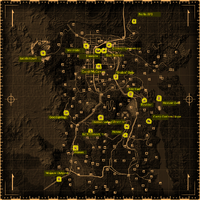 Items sold to merchants will remain in their inventories until they restock if the merchant normally sells the item's category (weapons, apparel, etc.) Selling an item in a category the merchant does not carry usually results in the item disappearing upon completion.
All merchants are available around the clock, with the exception of Cliff Briscoe, who is available between 6:30am and 11:00pm.
Unlike Fallout 3, there are almost no merchants who rent beds. The sole exception are the Garret twins, owners of the Atomic Wrangler Casino, James and Francine Garret.
Notes
Saving in front of a merchant (or more precisely, in the same cell as that merchant), quitting all the way to the desktop, and then reloading that save will result in that merchant and every other merchant in that cell having refreshed inventory. For example, completing this in front of Michelle Kerr will result in all four merchants in the area having their inventories refreshed, including her father.
Bugs
Gloria Van Graff and Torres are affected by this issue.
Most merchant inventories are stocked using external containers stored in a hidden cell which refreshes their contents every three days. However, in some instances merchants will have their container stored in a different cell, often the same cell they are in. If the container is not properly flagged as a quest item it will not refresh its contents unless the player is in the same cell.

The issue occurs because the maximum value for the signed integer variable type used to store the caps value is 32,767, represented in binary as fifteen consecutive 1s. For a signed integer, a 1 in the sixteenth binary digit represents a negative number. When the number of caps exceeds 32,767 it effectively "rolls over." Any engine functions which use signed integers - including cap transfer functions - will view the number as negative. (In computer programming, this issue is called an integer overflow.)

If a merchant accrues more than 32,767 caps then any transfer of currency from the merchant to the Courier will become impossible. Selling items to the merchant will result in the items being removed but no caps changing hands. The only solution is to avoid trading with the merchant for at least 72 hours to give their inventory time to refresh.
See also