This page lists all keys in Fallout: New Vegas.
The content is not described in full detail on this page. For details, please see the respective articles.
For keys in other Fallout games, please see "Key".
For an overview of Fallout: New Vegas content, please refer to "Portal:Fallout: New Vegas."
General information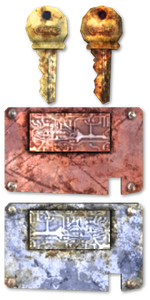 Keys in Fallout: New Vegas open specific doors or containers, some of which are inaccessible otherwise. Most keys can be found in the possession of non-player characters and can be pickpocketed while a few can only be retrieved if their owner has been killed.
Legend
| | |
| --- | --- |
| | Only found if the NPC in question is dead. |
| | Received through dialogue or as part of a quest; not in the NPC's normal or death inventory. |
| () | In the NPC's inventory but can also be received through dialogue or as part of a quest. |
| | Name is spelled as it is in-game, even if the in-game spelling is grammatically or otherwise wrong. |
Base game
A - F
G - M
Name (G.E.C.K. ID)
Opens
Found / in possession of
Related quest
Base ID
Gomorrah office key


(VMS21OfficeKey)

How Little We Know

0011C241

Gomorrah utility room key


(VMS21GunroomKey)

How Little We Know

0011AB0B

Great Khans supply cache key


(VBSSupplyCacheKey)

Climb Ev'ry Mountain

00130D0D

Gun Runner gate key


(GunRunnerGateKey)

0014DDDA

Harland's key


(HarlandKey)

0008F0C1

Head Scribe's Keycard


(HVSelfDestructKeyCard02)

Self-destruct authorization terminal in Hidden Valley bunker with the combination of the two other keycards.

The House Always Wins, For the Republic, Part 2, Render Unto Caesar, Wild Card: Side Bets

001645E4

Hidden Valley bunker key


(HVBunkerKey)

Various paladins throughout the Mojave Wasteland

000A41AE

Hidden Valley depot key


(HVTorresDepotKey)

000E3413

High Roller's suite key


(VTopsPlayersSuiteKey)

Given by casino table manager after enough winnings

Big Winner, The Tops

00151EE1




Hoover Dam key


(VHDKimballVisitKey)

You'll Know It When It Happens, Arizona Killer

00164C56

Hoover Dam saferoom key


(VHDSaferoomKey)

0013F3A0

Investigator's room key


(VMS18InvestigatorKey)

Beyond the Beef

00120331

Jail key


(REPCONJailKey)

Come Fly With Me

00080592

Jeannie May's safe key


(VNovacJeannieMayKey)

One for My Baby

000B83FD

Jenny Millet's security keycard


(REPCONHQKeycard01)

Access Powers

000E7A0F

Key


(VZKeyCleanBloodborne)

00167E0E

Key


(VZKeyDirtyBeerBootleggers)

On the shelf next to cellar door

Strategic Nuclear Moose

00167E06

Key


(VZKeyDirtyBeerBootleggers2)

Strategic Nuclear Moose

00167E07

Key


(VZKeyDirtyCentralSewerProsp)

Cajoling a Cudgel

00167E08

Key


(VZKeyDirtyGSHome2SafeKey)

Under some pre-War money on the bottom shelf of a bookcase in the same home.

00167E04

Key


(VZKeyDirtyJeansSky)

00167E05

Legion safehouse key


(SafehouseLegionKey)

Caesar's Favor, Caesar's Hire

00161270

Lucky 38 VIP keycard


(vHouseVIPKeycard)

00174B48

Luke's Find


(VOVSewerBlindLukeKey)

Cajoling a Cudgel

00147406

Martina's room passcard


(VMartinaRoomKey)

The Finger of Suspicion

0011E6B7
N - S
T - Z
Dead Money
Name (G.E.C.K. ID)
Opens
Found / in possession of
Related quest
Base ID
Backstage key


(NVDLC01VeraPartiturKey)

Right door (when facing the stage) to backstage area in The Tampico

xx

00FFD7
Cashier's key


(NVDLC01CashiersKey)

In the cashier's cage in the casino, inside the filing cabinet

xx

00AE31
Clinic basement key


(NVDLC01ClinicKey)

xx

005233
Dean's Safe Key


(NVDLC01TheaterDeanKey)

Dean's safe in his dressing room

Given in dialogue with Dean

xx

00EF0F
Ennis's key


(NVDLC01Gala02Key)

On a desk just east of Christine's location during the gala event

xx

00EC9B
Entertainer pass key


(NVDLC01EntertainerKey)

xx

006623
Foreman's key


(NVDLC01ForemansKey)

xx

00F3B7
Salida del Sol courtyard key


(NVDLC01ETCourtyardKey)

Found in the courtyard right next to the skeleton in the east corner

xx

00FE8F
Salida del Sol house key


(NVDLC01ETNorthKey)

xx

00F2DF
Sierra Madre emergency maintenance key


(NVDLC01KitchenManagerKey)

xx

010B46
Sierra Madre office key


(NVDLC01CasOff)

Doors from Sierra Madre's entrance to casino area

In the hallway behind the dining room counter on the 2nd floor of the casino. It's in a security guard bag next to a skeleton.

xx

00A5A1
Suites maintenance key


(NVDLC01SuitesKey)

In the storage room on a table next to the emergency network terminal

xx

006622
Vera's backstage key


(NVDLC01TheaterVeraKey)

On the table in Dean's room in the Tampico

xx

004F04
Vera's key


(NVDLC01SuitesVeraKey)

xx

006C17
Vera's master key


(NVDLC01TheaterVera02Key)

South backstage door in the Tampico
Balcony door to gain access to the holotape projector

xx

00E8A5
Honest Hearts
Old World Blues
Lonesome Road
Keycards
Community content is available under
CC-BY-SA
unless otherwise noted.