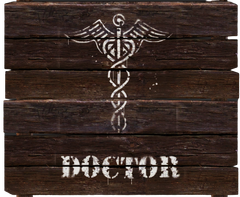 This page lists all doctors in Fallout: New Vegas.
The content is not described in full detail on this page. For details, please see the respective articles.
For doctors in other Fallout games, please see "Doctor".
For an overview of Fallout: New Vegas content, please refer to "Portal:Fallout: New Vegas."
"
Why don't you relax a second? Get your bearings. Let's see what the damage is.
"
— Doc Mitchell
General information
In the Mojave Wasteland, there are 15 doctors who can restore the Courier's HP, purge radiation, cure addiction and sell medical supplies, including: