Fallout Interactive Experience
Play Sound
| | |
| --- | --- |
| | For an overview of eyebots, see eyebot. |
Eyebots are a type of robot found in the Commonwealth and Nuka-World in 2287.
Background
One of the more elegant creations of RobCo Industries, the Eyebot is a hovering robot designed for a variety of purposes.[1] On the surface, it was designed for giving consumers instant access to radio and television on the go. It uses a sophisticated antenna array to deliver the latest news bulletins and presidential addresses even in subterranean areas like subways. However, it was also outfitted with advanced facial and auditory recognition technology, making it a useful tool for surveillance and security.[1][Non-game 1] RALPHIE the Robot's Incredible Odyssey! was a popular Pre-War broadcast about the titular RALPHIE eyebot.
Although the design was compact and quite sophisticated, there was still room for Post-War expansion. The Enclave attempted to create a line of superior Duraframe Eyebots at Adams Air Force Base, but eventually scrapped the program, leaving one survivor.[2] Usually found near settlements or cities, the automated bases of Hopeville and Ashton later reproduced these robots in number, creating dedicated repair and medical variants, showcasing the potential still remaining in the Eyebot.[3]
The variant seen in Fallout 4 appears to be specifically designed for reconnaissance and surveillance, but are still often used to broadcast information and propaganda. Both the Commonwealth Minutemen and Brotherhood of Steel sometimes utilize eyebots for such reasons.[4]
Characteristics
Eyebots are floating, spherical robots with various antennas, a large speaker on their front ends and a small, very weak laser weapon mounted underneath. Encountered throughout the wasteland, they are broadcasting radio stations, pre-War advertisement loops or just static.
Gameplay attributes
Eyebots cannot be "activated" (spoken to or pickpocketed), but they can be killed or hacked via the Robotics Expert perk. They are one of the weakest enemies in the game and can generally be destroyed with a single hit from most weapons. Unlike the eyebots encountered in previous Fallout titles, eyebots in the Commonwealth do not explode upon death. They are also the only robots in ''Fallout 4'' that cannot be created at the robot workbench.
Variants
Eyebot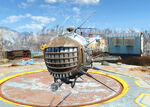 The basic eyebot model. It can be seen roaming Diamond City and random places in the Commonwealth. One particular eyebot has a loudspeaker advertising jobs at Cambridge Polymer Labs.
Name (Form ID)
Statistics
Behavior
Abilities
Items
Eyebot


000EFBB4
Servomech eyebot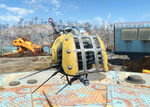 Servomech eyebots serve under the Mechanist and can be distinguished by their yellow paint scheme and additional front armor. They are low leveled and are easy to encounter. Some may carry and play the Mechanist holotape.
Name (Form ID)
Statistics
Behavior
Abilities
Items
Servomech eyebot


xx

00363F
Cybermech eyebot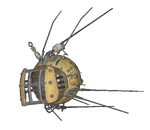 This eyebot also serves the Mechanist and uses a laser gun as a weapon to attack the Sole Survivor. Although it has pretty low health on lower difficulties, it may be hard to hit due to its erratic movement pattern.
Name (Form ID)
Statistics
Behavior
Abilities
Items
Cybermech eyebot


xx

003640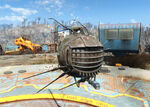 During the final fight of Restoring Order, some variations of the eyebot may appear with the name of "Trashbot." These eyebots resemble the normal eyebot, but have rusted chassis and are significantly weaker.
Name (Form ID)
Statistics
Behavior
Abilities
Items
Trashbot


xx

00CA9F
Nuka-World eyebot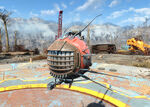 The basic eyebot model with a Nuka-World paint scheme. They can be found roaming Nuka-World, with especially large quantities in Galactic Zone.
Name (Form ID)
Statistics
Behavior
Abilities
Items
Nuka-World eyebot


xx

03298D
Galactic Zone eyebot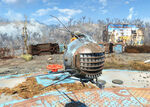 A basic eyebot with a gold and white paint scheme encountered in areas of Nuka-World's Galactic Zone, such as in the RobCo Battlezone.
Name (Form ID)
Statistics
Behavior
Abilities
Items
Galactic Zone eyebot


xx

0EFBB4
Notable eyebots
Notes
With the Automatron add-on installed, the Sole Survivor can have access to their own eyebots, through the eyebot pod, which can find materials (such as adhesive) for their settlements. However, one cannot build their own eyebot with the robot workbench.
Even though many eyebot variants can be seen in the Automatron add-on, the eyebot cannot be customized in any way.
It seems that at some point during the development eyebots had at least one part that could be shot off, much like the other robots. More specifically, their back panel could be "shot off" (and comes with its own separate model), exposing textured "internals." In the finished game though, although their back panel can be targeted and destroyed, it doesn't come off, and neither does any other part of the body.
Eyebots are not as frequently found in the Commonwealth as they are in the Capital Wasteland.
It's one of the few objects that retain its previous design, to the extent of using the reworked Fallout 3 model.
Due south of the southernmost cave, and due west from the Skylanes Flight 1665 wreckage, one will come across a lone eyebot patrolling a small section of ground in a triangular pattern. The eyebot is not hostile, does not broadcast any audible message and cannot be interacted with.
Appearances
Eyebots appear in Fallout 4 and its add-ons Automatron and Nuka-World.
Behind the scenes
The eyebot resembles the Sputnik-era satellites, predominately the Sputnik 1, an artificial Earth satellite launched by the Soviet Union in 1957.
Gallery
References
↑ 1.0 1.1 REPCONN headquarters placard: ""The 'I' in 'Eyebot.'""
"RobCo's always had an eye for robotics, and this little fellow is no different! This robotic marvel can not only recognize your face and voice with advanced facial and auditory recognition technology, it can also broadcast video and audio as well! Think of it - all the sights and sounds of your radio and TV in your living room at home blasted directly at you on the street, subway, bathroom, or wherever you may be! Never fear, you'll never miss a news bulletin or presidential address again, no matter where you are! Exhibit Brought to You By Your Friends at RobCo."
(Fallout: New Vegas message box transcriptions)
↑ Fallout 4 Vault Dweller's Survival Guide : "Eyebots are designed for reconnaissance and surveillance, but they're often used to broadcast information and propaganda to remote areas. The Minutemen and Brotherhood of Steel sometimes utilize Eyebots for such reasons."
Non-game
↑ Fallout: The Roleplaying Game Rulebook p.359: "The eyebot is one of the smaller robots designed by RobCo Industries. Their spherical, hovering forms are a common sight in the wasteland. Despite their compact size, they are outfitted with a number of useful technologies; long range antennas that allow them to receive radio broadcasts even in subway stations or other underground sites, facial and voice recognition for use in security applications and even a laser weapon. In pre-War America they were used to broadcast radio transmissions, announcements, and news bulletins. Now these eyebots are in use by the likes of the Brotherhood of Steel to promote propaganda and by the Minutemen for surveillance. Others can are roaming the wastes still following their original programming and broadcasting the local radio station, military chatter on repeat or mysterious messages and frequencies from unknown sources. While often friendly when encountered, they will defend themselves if attacked and the degradation to their systems leads some units to be hostile on site."
West Coast
Automated turret

 ·

Auto-cannon

 ·

Eyebot (ED-E, ED-E, Medical eyebot , Repair eyebot , Sunset Sarsaparilla eyebot)

 ·

Festus

 ·

Floating eye bot

 ·

Gun turret

 ·

Maintenance robot (Mobile facial recognition scanner)

 ·

Mister Gutsy (Hardened Mister Gutsy, Mr Steel, Ironbelly )

 ·

Mister Handy (Crazed Mister Handy, Mr. Janitor, PYTHON, Rhonda, Tour guide, Unit 462, Sparks )

 ·

Mister Orderly (Doctor Orderly MD PHD DDS )

 ·

PDQ-88b securitron (Jane, Marilyn, Victor, Yes Man, 010011110110111001100101 , Muggy )

 ·

Protectron (Bohr, Fisto, Primm Slim, Protect-O-Bot, Vendortron, Sunset Sarsaparilla security, Construction drone foreman , The Custodian )

 ·

Robobrain (Super-Ego )

 ·

Robo-scorpion (X-42 giant robo-scorpion)

 ·

Sentry bot (Hardened sentry bot, RY-589 Ultimo bot )

 ·

Think tank

 ·

Walking eye
Capital Wasteland
Android

 ·

Automated turret

 ·

Eyebot

 ·

Liberty Prime

 ·

Mister Gutsy (Cerberus, Deputy Steel, Sergeant RL-3, Sawbones, Hoover)

 ·

Mister Handy (Andy, Godfrey, Mister Buckingham, Milo, Wadsworth)

 ·

Protectron (Button Gwinnett, Dean Dewey, Deputy Weld, Shakes, Thomas Jefferson)

 ·

Robobrain (Masterbrain)

 ·

Sentry bot (Sparky)
Commonwealth
Assaultron (Atom's Wrath, Iron Maiden, KL-E-0, Lady Lovelace, Predictive Analytic Machine)

 ·

Automated turret

 ·

Automatron (Ada )

 ·

Duelbot

 ·

Eyebot (Ol' Rusty, Peepers, Sonya, Sparks )

 ·

Gorilla

 ·

Junkbot

 ·

Mister Gutsy (The Boston Blaster, The Director)

 ·

Liberty Prime

 ·

Mister Handy (Assistant manager Handy, Atomic Dreamz, Bean, Bob's Your Uncle, Bosun, Cannery robots, Codsworth, Cook Handy, Crisp, Danny, Deezer, Front desk attendant, Fusion's Folly, Goodfeels, Greeter, Jasper , Kingpin, Lane, Maxwell , Nukatron

 ·

Oceanological instructor, Old Rusty, Penny , Percy, Piece o' Junk, Reg, Rupert , Sandy Coves attendant, Sebastion , Split, Sprocket, Strike, Supervisor Brown, Supervisor Greene, Supervisor White, Tenpin, The Champ, Torte, Waitron, Wellingham, Whitechapel Charlie)

 ·

Miss Nanny (Curie, Miss Edna, Molly, Pearl)

 ·

)

 ·

Protectron (Buddy, Eagle , First mate, Hawk , Hurtz , N.I.R.A. , One-Eyed Ike , Phosphate , Takahashi, The Giddyup Kid , Ticket taker , Tin Man, Tour Bot)

 ·

Robobrain (Bert Riggs , Ezra Parker , Gilda Broscoe , Jezebel , Julianna Riggs , Keith McKinney , Santiago Avida , Spencer Lords )

 ·

 ·

Sentry bot (Ahab , Gus, Ironsides, Porter , Sarge, Startender )

 ·

Swarmbot

 ·

Synth

 ·

Tankbot

 ·

Trashbot

 ·

Turretbot
Appalachia
Assaultron (Aloe, Flauresca, Lotus, Vera)

 ·

Automated turret

 ·

Cargobot

 ·

Eyebot (JES-2R , Levenson, Rover)

 ·

Liberator (Recalibrated Liberator )

 ·

Mr. Farmhand

 ·

Miss Nanny (Alexis, Bubbles, Carolyn, Cheryl, Chloe, Clarice, Cynthia, Miss Annie)

 ·

Mister Gutsy (Flintlock, Friedrich)

 ·

Mister Handy (Alderton, Beckham, Billingsley, Cavendish, Chief, Confederate guide, Crowley, Crutchley, Cunningham

 ·

Stratford)

 ·

Protectron (Antoine, Auto-Miner (D3-B, H4N-K, J03-L, DU-K3, J-0ULE, L4R-E), Bernie, Blackwater Auto-Foreman, Boomer, Cap'n Kidd, Census taker, Mr. Fluffy)

 ·

Motherlode

 ·

Robobrain (Biv

 ·

The Boss)

 ·

Sympto-Matic

 ·

Sentry bot

 ·

Vertibot

 ·

Supervisor Chattingham

 ·

Quercus

 ·

SODUS
Midwest
Auto-cannon

 ·

Behemoth robot

 ·

Hover robot

 ·

Humanoid brain bot

 ·

Humanoid robot (Gloating robot, HR 1205)

 ·

Laser turret

 ·

Loadlifter robot

 ·

Pacification robot

 ·

Scurry robot

 ·

Security robot

 ·

Tank track robot
Texas
Assistant robot

 ·

Gun robot

 ·

Kamikaze robot

 ·

Laser robot

 ·

Maintenance robot

 ·

Service robot

 ·

Tesla robot

 ·

Turret robot
Alien
Alien turret

 ·

Experimental weapons drone

 ·

Guardian drone

 ·

Support drone