The ESS Quetzel[1][2], also known as The Shuttle[3] is a reusable nuclear-powered[4] spacecraft built before the Great War. There is one located in the ruins of San Francisco, at Golden Gate, though it lacks either rocket boosters or an external fuel tank; a quest involves finding fuel for it.[5]
There are two endings for the Hubologists regarding the shuttle that are inaccessible due to incomplete scripting. If the Chosen One does not get them fuel, the Hubologists use a cheap alternative, resulting in the shuttle blowing up during liftoff.[6] If they get fuel, the liftoff is without complications, but the shuttle's air insulation is damaged, resulting in the Hubologist crew suffocating in space.[7] Finally, if the spacecraft is both repaired and properly fueled, they launch without issue, perishing due to not accounting for the use of recycled air on board.[8]
Appearances
Edit
The ESS Quetzel appears only in Fallout 2.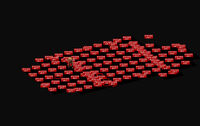 Pressing the 5 key at the San Francisco map will bring you to a location with an "UNUSED ART" room - the shuttle interior. Attempting to examine certain things will make it say there is a shuttle wall. It is impossible to leave this area other than reloading an earlier save.[verified]
References
| | | |
| --- | --- | --- |
| Natural Satellites | | The Moon |
Community content is available under
CC-BY-SA
unless otherwise noted.