Fallout Interactive Experience
Play Sound
| | |
| --- | --- |
| | For an overview of dogs, see dog. |
"
The Wasteland is home to a variety of dogs, from vicious wild curs to trained attack hounds.
"
— Loading screen
Dogs are animals that can be found in the Commonwealth, the Island, and Nuka-World in 2287.
Background
Some dogs are wild, plaguing the wastes and killing livestock, but tame versions are necessary for many struggling wastelanders. There are also rare cases of domestic breeds that act as companions towards their bipedal counterparts. Humans and super mutants are the only species known to truly tame and domesticate these canines.
Characteristics
They are fiercely loyal to their owners. Before the war many of them had fur, but now many of them have lost it and their pink skin is visible. Some mongrels will attack on sight but can be pacified. There are a few different distinct breeds of dogs. Dogmeat for example, is a German Shepherd dog that may be a companion to the Sole Survivor.
Biology
Through the 200 years since the Great War, dogs have remained relatively unaltered by radiation. Two mutated counterparts of dogs can be found in the Commonwealth: the ghoulish mongrels and the FEV-exposed hounds.
Gameplay attributes
Dogs, unlike in previous Fallout games, have special animations where they can grapple enemies down to the ground and hold them in place allowing their masters a brief advantage in combat.
Variants
Attack dog

Attack dogs are domesticated dogs, with a degree of training. They are usually seen in raider camps or with Gunners, Minutemen or Brotherhood of Steel patrols. They are sometimes equipped with various pieces of dog apparel.
Name (Form ID)
Statistics
Behavior
Abilities
Items
Attack dog


000B2BF2

Attack dog


001CF296

Attack dog


001CF297

Attack dog


001CF298
Pack dog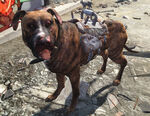 Found in the Bradberton Amphitheater, these dogs are owned by the Pack. They will turn hostile if The Pack is attacked. These dogs can either be mongrels or junkyard dogs, and often have dog armor equipped. They can spawn battling in the cage fight arena against other entities, such as Pack captives, or be wandering around the amphitheater.
Name (Form ID)
Statistics
Behavior
Abilities
Items
Pack dog


xx

056067
Notable dogs
Notes
Finding armor on killed attack dogs, normally found accompanying raiders, will allow one to equip it on Dogmeat. However, no resistance is gained by equipping them.
dog cages included as part of Wasteland Workshop. Caught dogs will increase a settlement's happiness and defense levels. Mongrels, on the other hand, will decrease happiness and increase defense.
Dogs can be caught for a settlement using
Some pack dogs are trained mongrels, while others are simply junkyard dogs.
Creation Club: Black Labrador, Chocolate Labrador, Yellow Labrador, Shiba Inu, Rottweiler, Pitbull, Husky, Great Dane, Golden Retriever, Dalmatian, Boxer, and Border Collie.
There are 12 additional (non-follower) dogs available for purchase from the
There is also a device that can be bought from the Creation Club called a 'transDOGrifier' which gives four new coat options for Dogmeat as well as letting one change his breed to any of the above that have been purchased.
Appearances
Dogs appear in Fallout 4 and its add-ons Far Harbor and Nuka-World.
Gallery
West Coast
(Fallout, Fallout 2, Fallout: New Vegas)
Alien

 ·

Bighorner (Bighorner bull, Bighorner calf)

 ·

Bird

 ·

Bloatfly (Legendary bloatfly)

 ·

Brahmin

 ·

Cazador (Young cazador, Legendary cazador)

 ·

Centaur (Evolved centaur)

 ·

Coyote (Coyote alpha male, Coyote den mother, Coyote pup)

 ·

Deathclaw (Baby deathclaw, Young deathclaw, Blind deathclaw, Deathclaw alpha, Mother deathclaw, Intelligent deathclaw, Legendary deathclaw)

 ·

Dog (Cyberdog, Legion Mongrel, Vicious dog)

 ·

Fire ant (Fire ant worker, Fire ant soldier, Ant queen)

 ·

Floater

 ·

Fly

 ·

Gecko (Hunter gecko, Fire gecko, Golden gecko, Little gecko)

 ·

Ghost people (Ghost harvester, Ghost seeker, Ghost trapper)

 ·

Ghoul (Feral ghoul roamer, Feral ghoul reaver, Glowing one, Feral trooper ghoul)

 ·

Giant ant (Giant worker ant, Giant soldier ant, Giant ant queen)

 ·

Giant catfish

 ·

Giant rat (Mole rat, Pig rat)

 ·

Human (Dwarf

 ·

Lobotomite)

 ·

Lakelurk

 ·

Mantis (Giant mantis, Giant mantis nymph, Giant mantis female)

 ·

Marked man

 ·

Night stalker (Young night stalker, Den mother, Legendary night stalker)

 ·

Radroach

 ·

Radscorpion (Bark scorpion, Bark scorpion hunter, Small radscorpion, Giant radscorpion, Radscorpion queen)

 ·

Raven

 ·

Slags

 ·

Spore carrier (Spore carrier savage, Spore carrier brute, Spore carrier runt)

 ·

Spore plant

 ·

Super mutant (Mariposa) (Super mutant master, Nightkin)

 ·

Wanamingo

 ·

Tunneler (Tunneler queen)

 ·

Wolf

 ·

Yao guai
East Coast
(Fallout 3, Fallout 4, Fallout 76, Fallout Tactics 2)
Abomination

 ·

Alien

 ·

Alien squid

 ·

Alien worm

 ·

Angler

 ·

Beaver

 ·

Bee swarm

 ·

Bird

 ·

Bloatfly

 ·

Bloodbug

 ·

Bloodworm

 ·

Brahmin

 ·

Brahmiluff

 ·

House cat

 ·

Cave cricket

 ·

Centaur

 ·

Chicken

 ·

Crow

 ·

Deathclaw

 ·

Dog (Mongrel)

 ·

Fire ant

 ·

Firefly

 ·

Flatwoods monster

 ·

Fly

 ·

Fog crawler

 ·

Fox

 ·

Frog

 ·

Gatorclaw

 ·

Gazelle

 ·

Ghoul (Feral ghoul, Feral ghoul reaver, Feral ghoul roamer, Glowing one, Swamp ghoul)

 ·

Appalachian Floater

 ·

Ghoulrilla

 ·

Giant ant (Giant ant queen)

 ·

Giant catfish

 ·

Gorilla

 ·

Grafton monster

 ·

Gulper

 ·

Hermit crab

 ·

Honey beast

 ·

Human

 ·

Lamprey floater

 ·

Manowar tendril floater

 ·

Mega sloth

 ·

Mirelurk (Mirelurk hunter, Mirelurk king, Nukalurk, Swamplurk, Swamplurk queen)

 ·

Mole rat

 ·

Mole miner

 ·

Mothman

 ·

Mutant crocodile

 ·

Mutant hound

 ·

Mutant wanamingo

 ·

Needle tooth floater

 ·

Opossum

 ·

Rad chicken

 ·

Radgull

 ·

Rad rabbit

 ·

Rad-rat

 ·

Radtoad

 ·

Radroach

 ·

Radscorpion (Albino radscorpion, Giant radscorpion)

 ·

Radstag

 ·

Scorched

 ·

Scorchbeast

 ·

Sea creature

 ·

Snallygaster

 ·

Squirrel

 ·

Stingwing

 ·

Tick

 ·

Super mutant (Vault 87) (Super mutant behemoth, Super mutant brute, Super mutant master, Super mutant overlord)

 ·

Super mutant (Institute)

 ·

Super mutant (Huntersville)

 ·

Swampfolk

 ·

Trog

 ·

Wendigo

 ·

Wolf

 ·

Yao guai
Midwest
(Fallout Tactics, Van Buren)
Badger

 ·

Boom bug

 ·

House cat

 ·

Brahmin

 ·

Dog

 ·

Electro-beetle

 ·

Endless walker

 ·

Gehenna

 ·

Ghoul (Born ghoul, Feral ghoul, Glowing one)

 ·

Giant albino ant (Giant albino ant queen)

 ·

Giant leech

 ·

Giant rat

 ·

Giant wasp

 ·

Hairy deathclaw (Baby hairy deathclaw)

 ·

Human

 ·

Komodo dragon

 ·

Molech

 ·

Mountain lion

 ·

Mutant cannibal

 ·

Raccoon

 ·

Radroach

 ·

Radscorpion

 ·

Radtoad

 ·

Trog

 ·

Super mutant (Mariposa)

 ·

Wolf
Texas
(Fallout: BoS, Fallout: BoS 2)
Brahmin

 ·

Coyote

 ·

Dog

 ·

Experimental deathclaw (Baby experimental deathclaw)

 ·

Ghoul (Glowing one)

 ·

Giant rat (Mole rat)

 ·

Human

 ·

Radbug

 ·

Radscorpion (glowing radscorpion, spitting radscorpion, large giant radscorpion)

 ·

Small rat

 ·

Giant rat

 ·

Super mutant (Mariposa)
Project V13
Ghoul

 ·

Human

 ·

Mutant mantis shrimp

 ·

Super mutant (Project V13)
Fallout Shelter
Bat

 ·

Deathclaw

 ·

Feral ghoul

 ·

Ghoul

 ·

Human

 ·

Mole rat

 ·

Cat

 ·

Dog

 ·

Parrot

 ·

Radroach

 ·

Radscorpion

 ·

Super mutant