Fallout Interactive Experience
Play Sound
Daily Ops is a PvE game mode in Fallout 76, introduced in the One Wasteland For All update. Using the game's instancing technology, Daily Ops aim to provide challenging, randomized and repeatable dungeon-clearing missions for experienced players. Daily Ops rotate every day at 1:00pm EST.
Overview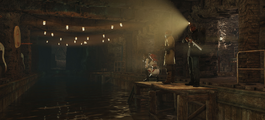 "
With Daily Ops, we're aiming to bring more repeatable and challenging content to the game that you can jump into on a regular basis, which has been highly-requested by some of our more experienced players.
"
— Inside the Vault; September 11, 2020
Daily Ops take place in an instanced dungeon, randomized each day. They can be completed solo or with teammates in groups of up to four. If the mission is successfully completed, the participants will be rewarded according to their completion time. The operation is repeatable, though certain rewards may only be available once per day.
The objectives, locations, enemies and their mutations are randomized each day. Enemy mutations are powerful effects, exclusive to hostiles in Daily Ops, which have a significant impact on gameplay. Some mutations cause enemies to always detect sneaking players, while others grant healing abilities.
Background
The narrative of Daily Ops is light on the details but heavy on the action. Players complete various jobs for Vernon Dodge, a member of Appalachia's original Brotherhood of Steel, while he chats over a radio. Although Daily Ops are introduced into the plot during the quest Breaking Radio Silence, completion of the quest is not a requirement in order to join Daily Ops.
Gameplay
Uplink
Default mutation: Piercing Gaze
Activate a signal repeater and calibrate uplinks before drawing out an enemy leader by eliminating its forces.
Decryption
Default mutation: Savage Strike
Disable radio interceptors by taking down Code Carriers.
Player equipment condition is drained 50% slower during a Daily Op.
Enemies encountered during a Daily Op cannot be crippled, staggered, or pacified. They cannot spawn as Legendary enemies. Killing an enemy during a Daily Op will grant -50% XP.
Daily Ops enemies drop ammunition matching what is used by the player's ranged weapons at the time of their death.
Using the Daily Op Public Team will provide bonus XP during Daily Ops, with +25% bonus XP to start, and +100% bonus XP for a fully bonded, four-person team.
Joining an instance is always possible, even if overencumbered. Upon completion of the instance, the player is returned to the last location fast traveled to prior to joining the instance.
The uplinks during Uplink fill faster the more players are within the objective area:[verification needed]
| | |
| --- | --- |
| 0 players | 600 seconds |
| 1 players | 150 seconds |
| 2 players | 120 seconds |
| 3 players | 110 seconds |
| 4 players | 90 seconds |
Intel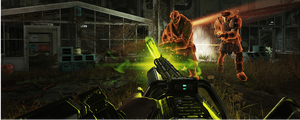 Every aspect of Daily Ops is randomized to provide a unique, dynamic experience. On one day, players may be hunting down exploding Mothman cultists with armor penetrating attacks in order to deactivate signal interceptors around the Burrows. The next day may require players to set up uplinks around Watoga High School and survive a constant stream of fast-moving Scorched with automatic detection.
The second expansion brought the total number of possible combinations to 980 for regular Daily Ops, and introduced Double Mutation Weekends which offer 1,120 combinations.
Enemy mutations
Active Camouflage
Enemies will be cloaked when not attacking.
[note 1]
Freezing Touch
Enemy attacks will freeze players, slowing them down considerably if damaged in succession.
[note 2]
Group Regeneration
Enemies heal nearby enemies.
[note 3]
Piercing Gaze
Enemies have greatly enhanced perception of players, and will automatically detect nearby players, regardless of their stealth.
[note 4]
Resilient
Enemies can only be killed by a melee attack.
[note 5]
Savage Strike
Enemies bypass armor resistances.
[note 6]
Swift-Footed
Enemies have increased movement speed.
[note 7]
Toxic Blood
Enemies create toxic hazards upon death.
[note 8]
Volatile
Enemies will explode on death, dealing damage.
[note 9]
Bosses
Each enemy gang encountered during a Daily Op will feature a powerful boss enemy near the conclusion of the mission. They have a large amount of HP and carry unique and dangerous weaponry.
Double Mutations
Double Mutation Weekend community events are special, more challenging Daily Ops featuring enemies with a unique combination of two different Mutations - for a total of three. These Ops will typically be available every other weekend, from Thursday to Monday (1:00 PM EST).
These events offer additional incentives and rewards for the first and all subsequent Daily Ops playthroughs:
Double Mutations
Blistering Cold
Freezing Touch + Swift-Footed
Chilling Mend
Freezing Touch + Group Regeneration
Clouded Toxins
Active Camouflage + Toxic Blood
Relentless
Resilient + Group Regeneration
Stinging Frost
Freezing Touch + Toxic Blood
Swift Stalker
Active Camouflage + Swift-Footed
Unstable
Volatile + Swift-Footed
Vaporous
Volatile + Active Camouflage
Rewards
Daily Ops will provide greater rewards if they are quickly completed, detailed in the after-action report. There are three tiers based on completion time, each offering its own pool of rewards.
Initiate (16 minutes or less)
Paladin (12 minutes or less)
Elder (8 minutes or less)
Note that attaining a higher tier will reward items from lists of all previous tiers, provided those tiers weren't already earned. For example, earning "Elder" rank on the first Op of that day will reward all 3 pools - Initiate, Paladin, and Elder. The rare Daily Ops item[1] rewards may only be obtained once each per day. Following the release of Steel Reign, completing a Daily Op for the first time within Elder par time unlocks an achievement/trophy.

Note: Items marked with * may only be received if that plan has not already been learned.
Notes
Attaining Elder rewards from a Daily Op unlocks the Smooth Operator achievement/trophy.
Once a Daily Op is completed, the dungeon may be explored and looted for 5 minutes before closing.
Any Muzak or sound effects which normally play in a dungeon, such as Valley Galleria, are disabled during Daily Ops.
The supporting enemies that spawn alongside the boss will not respawn.
Behind the scenes
Steve Massey, a lead level designer on Fallout 76, led the development of Daily Ops alongside lead UX designer Don Etgeton.[2]
The Vault Raids feature was scrapped in favor of the broader Daily Ops feature.[3]
Damage, +200 Damage Resistance)
Mutation: "Vengeful Rage" - killing enemies buffs up to 6 nearby allies for 20 seconds (+100%
Changelog
Upon release, there were 48 possible combinations for Daily Ops. The first expansion increased the count to 588. The second expansion brought the total combinations to 980 during regular Daily Ops, and 1,120 during Double Mutation Weekends.
Prior to Patch 25, the Elder reward tier only had an 80% chance to grant a Daily Op item as opposed to being a guaranteed drop.
Patch 30 introduced a countdown timer to track when Daily Ops rotates its challenge.
Prior to Patch 30, Group Regeneration would incorrectly apply its heal due to server latency.
Prior to Patch 30, Active Camouflage occasionally would not properly activate or deactivate the stealth field when enemies change attack states.
Prior to Patch 30, the explosion created by the Volatile mutation had hit box issues. In addition to correcting the bug, the explosion was reworked to deal 15 Fire Damage (reduced only by Damage Reduction) and to subtract 5% of the player's max HP.
Prior to Patch 30, alien blaster rounds did not drop as contextual ammo.
Bugs
[verified]
Once a Daily Op is completed, the countdown timer to leave the instance may sometimes not appear.
camera film, flares, mini nukes, missiles, paddle ball string and Syringer ammo.[verified]
The follow ammunition will not drop, even if the player is holding a weapon that uses it:
5mm rounds will not drop when using miniguns or Gatling guns.[patched]
As of patch 30,
The following are not considered "melee attacks", and will not smite enemies with the Resilient mutation:
Active Camouflage may occasionally attack while stealthed, or may decloak while reloading or not attacking.[verification needed]
Enemies with
the Burrows and Vault 94.[verification needed]
Enemies may occasionally spawn out of bounds in
[patched]
Prior to patch 30, the Volatile explosion hitbox prevented it from correctly dealing damage at all angles.
Gallery
Icon resources
External links
References
↑ Daily Ops item: what we call the Daily Ops tiered rewards pools on Nukapedia.
Mutation technical notes