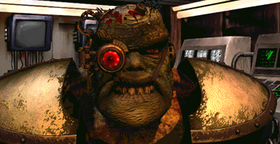 A cybernetic organism, more commonly known as a cyborg is a biological organism, (human, ghoul, super mutant, dog etc.) whose physical or mental abilities are extended beyond normal limitations by either electronic, mechanical or robotic elements built into the body (i.e. implants).
The use of prosthetics and other implants was substantial before the Great War, with prosthetic organs[1] and more extensively with military and police equipment.[2] Pre-War prosthesis and implants were often more detrimental to those being implanted and doctors recommend their surgeries only for life-saving emergencies[3][4] (or sheer necessity)[5] and experimental life extension procedures left little to no autonomy to the end-users.[6] Advancements into organic preservation with bio med gel allowed for more radical full-body prosthesis being possible through brain extraction, though the brain extraction was largely designed for mass-produced robobrains and cyberdogs, experiments from various scientific and medical facilities would be conducted on the use of human mind preservation with many producing results just prior to the Great War.[7] Prosthesis research would be continued post-War by more scientifically inclined factions such as The Institute who would make considerable breakthroughs with life extension procedures and less invasive implants.[8][9] While the use of prosthesis has wained because of insufficient surgical knowledge, those with a functional Auto-Doc can still run the operation procedure to perform implant surgery.[10]
While it is possible to replace a limb with a prosthetic, experiments into cloning were being done by Vault-Tec on completely regrowing a new limb negating the need for mechanical attachment surgery.[11][12]
Fallout seriesEdit
Cyberdogs - dogs with at least a mechanical part and an organic part. Their physical and mental abilities have been modified robotically and cybernetically, creating a kind of canine-robot hybrid. Unique models include Gabe (enhanced with a huge intake of psycho) and K-9 (with enhancements to the brain and vocal organs). Notable cyberdogs include Robodog (pet of Dr. Henry), Rex (pet of The King) and Roxie (temporary companion of the Courier).
Robobrains - robots that use the brains of criminals[13] or chimpanzees[14] suspended in bio med gel as their organic central processing unit.[15] CODE conditioning procedure would be performed to flush the former sense of self from the extracted brains before implanting.[16][17] Unique models include Masterbrain (control robobrain of the Vault-Tec Headquarters) and Skynet (advanced AI system). Notable robobrains include Super-Ego (a powerful robobrain in Big MT).
Fallout 2Edit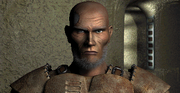 Fallout 3Edit
Fallout: New VegasEdit
Robert House - Kept alive for over two hundred years via a hermetically sealed life support chamber, House controls the computers and PDQ-88b Securitrons through his "command helmet" which is bolted into the top of his skull.[19] Several tubes and apparatuses are attached to his body.
Christine Royce - Forcefully implanted at the Big MT Research and Development Center, Christine has had several cybernetic modifications implanted to her brain increasing her intellect and processing capabilities and allowing her to do complicated equations and math relatively easily. However, complications during surgery have affected parts of her brain, such as the Broca's area and primary visual cortex, possibly giving her Broca's aphasia as she is unable to comprehend reading or writing and is completely unable to write a simple sentence.
Think tank - A special type of brain bot and the invention of the Big MT company. A Think Tank consists of hovering, robotic spheres housing a human brain suspended in bio med gel with three monitors coming down from the main body, two monitors depict eyes (that also function as optic sensors) and one below that displays a mouth. There are only six Think Tanks in the world, and those include, Doctors Borous, Dala, Klein, Mobius, 0, and 8.
Courier - Forcefully turned into a cyborg after their visit to Big MT. The brain, heart, and spine have been removed and replaced by high-tech artificial mock-ups of the organs adding durability to the Courier. Because of the implants essentially turning the Courier into a lobotomite, the Courier is also under the influence of the Pacification field of Big MT.
Lobotomites - Humans captured by the Big MT and surgically altered with "enhancements" such as the complete removal of the brain replaced with artificial components, like Tesla coils. This has removed any semblance of the person they were before and left them with only the most base instincts and motor functions. Notably, aggression and the sex drive are extremely heightened.
Fallout 4Edit
Conrad Kellogg - A century-old mercenary who works for The Institute had undergone several cybernetic procedures to extend his life, enhance his brain and limbs with a brain augmenter and a limb actuator, as well as a cybernetic pain inhibitor for more work-related issues. This is just the surface of Kellog's implants, however. Further updates would include synthetic eyes[20]
Vault 118 dwellers - Inhabited by custom-built robobrains that have retained their original personalities. These robobrains are almost entirely made up of self-centered celebrities and wealthy billionaires from before the Great War, however, because of the imperfect nature of extracting a human brain from a body and keeping it in a robot frame has made their personalities become evermore skewed and exaggerated. This includes Santiago Avida, Gilda Broscoe. Keith McKinney, Ezra Parker, Bert Riggs and Julianna Riggs.[21][22]
John-Caleb Bradberton - Once the powerful founder and CEO of Nuka-Cola Corporation is now nothing but a cryonically-preserved head kept alive by machines created for the LEAP-X Program. The procedure to keep Bradberton preserved like this has left him with no autonomy and only the ability to talk and operate doors in his personal holding vault. Bradberton views himself as a monster now trapped in a living hell of his own making.[23][24]
Fallout 76Edit
Fallout TacticsEdit
Fallout: Brotherhood of SteelEdit
Attis - Possesses a mechanical eye instead of his right eye.
Psycho ghouls - The high members of the Church of the Lost all have an electronic targeting eye in place of their right eye.
In Fallout, Fallout 2 and Fallout: New Vegas, the player character can make themselves a cyborg by buying implants from Dr. Lorri in Fallout, from various doctors in Fallout 2 or Dr. Usanagi in Fallout: New Vegas. Also, in Fallout 3, the Lone Wanderer can become one with a unique perk. In Van Buren and J.E. Sawyer's Fallout Role-Playing Game, the player character would have been able to obtain the NEMEAN and PHOENIX implants.
Appearances
Edit
Cyborgs appear in every Fallout game.
References
Edit
Community content is available under
CC-BY-SA
unless otherwise noted.