| | |
| --- | --- |
| | This is an overview article, focusing on background information and cross-game comparisons. |
The Cryolator is a weapon inFallout 4, Fallout 76 and Fallout: New California. The Fallout 3 version was cut.
Variants
Cryolator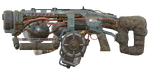 The Cryolator is similar to the flamer, but propels super-chilled nitrogen gas instead of flammable liquid fuel.[1][2] Consistent exposure to the cloud of cryonic material will eventually freeze most enemies.
References