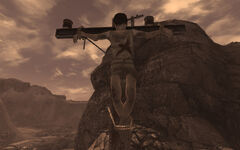 Crucifixion is a form of execution used by Caesar's Legion.
Characteristics
Edit
Caesar utilizes this cheap and easily arranged form of execution, seen frequently throughout the Mojave Wasteland as a means to kill those who oppose him, fail him, and as a fear tactic.[1][2][3]
Victims are tied to makeshift crosses made of readily available materials such as powerline poles and left to die, simultaneously killing the individual slowly and sending a message to anyone who happens upon them at a later date, such as was done with members of the Twisted Hairs along I-40.[4][5]
Instances
Edit
The Courier can put crucified people out of their misery for no Karma loss. These "kills" do not give XP, even if the crucified person is a member of an enemy faction such as the Powder Gangers, but they do count toward kill total and progress toward such perks as Lord Death. The only thing that can be scavenged from the corpses is their clothing.
With a few exceptions, such as the three crucified NCR soldiers in Nelson and the Great Khan drug runner Anders at Cottonwood Cove, crucified victims cannot be set free alive (Anders can only be freed as part of a quest).
Benny can also be crucified if the Courier chooses after they go into the bunker underneath Fortification Hill for Caesar. This seems to be the only way of killing Benny that actually frightens him.[6]
Behind the scenes
Edit
Joshua Sawyer mentions the use of crucifixion in the game, stating, "F:NV features two major powers engaged in an extremely brutal conflict with myriad small groups (like the Fiends) taking advantage of the chaos. They engage in a full spectrum of cruelty against each other including crucifixion..."[7]
References
Edit
Community content is available under
CC-BY-SA
unless otherwise noted.