Creature taming is a gameplay mechanic in Fallout 76.
Introduction
Creature taming allows player characters to tame a specific creature, and subsequently, use it as a means to defend their C.A.M.P. as an alternative to traps and turrets. Unlike previous iterations of taming, the creature in question cannot be controlled or directed like a traditional companion. At one's C.A.M.P., the creature will patrol and defend against any hostiles it detects, acting as defense, similar to a turret.
Only creatures encountered in the "Scene" category of special random encounters can be tamed. These creatures are easily identified by their passive nature. While most creatures in the wild will be hostile by default, tamable creatures will not.
Requirements
The following are required to tame a creature:
The Animal Friend perk equipped (see list of creatures below for perk level requirement).
A deployed C.A.M.P. (must be placed on the current server)
The player character's level must be at least the same as the tamable creature.
Note: Tamed animals do not require available budget.
Methodology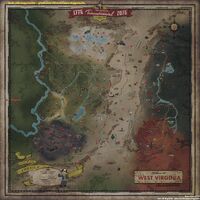 Tameable creatures may only spawn as part of a scene-encounter (marked in red on the map). These encounters may only occur if the player has the Animal Friend perk equipped upon triggering the encounter. The creatures will always spawn alone and unaggressive.
In order to tame a creature, one can approach it and select the "tame" prompt. Alternatively, a creature can be tamed at range by aiming-down-sights with either an iron or reflex sight. A firearm with a scope that has a zoom magnification will not work.
Once tamed, an additional prompt will appear to direct the newly tamed creature back to the C.A.M.P. Once confirmed, the creature will immediately traverse there and does not require an escort. Escorting the creature can result in it engaging hostiles along the way, potentially causing its death.
Tamable creatures
The following creatures can be tamed using the Animal Friend perk. Listed below are minimum levels (i.e. all creatures listed under Animal Friend 1 can be tamed by Animal Friend 1 or Animal Friend 2 and Animal Friend 3 can tame all creatures listed under Animal Friend 1 and 2:
Notes
Taming is distinguished from pacifying, a similar but separate gameplay mechanic. While most creatures can be pacified (temporarily rendered friendly to the player character), only select creatures can be tamed.
Tamable creatures may spawn with special prefixes such as legendary or scorched, and keep their status indefinitely after they are tamed.
A newly tamed creature will not spawn enemies on its way to the C.A.M.P. unless player characters are nearby.
Tamed creatures are treated as C.A.M.P. objects and cannot attack or be attacked by players unless their owner is presently engaged in PvP.
Tamed creatures regenerate lost health shortly after combat.
Tamed creatures have a shorter aggression range than usual.
When killed, tamed creatures will not respawn. A new creature must be tamed.
When killed, tamed creatures drop their usual loot.
Tamed creatures are shared between all C.A.M.P. slots, similar to Shelters.
If a tamed creature is at a C.A.M.P. that is then relocated, it will have to travel to the new location.
If present, the Flatwoods monster may take control of tamed creatures.
Tameable beavers and radstags cannot spawn if there are too many enemies spawned in the game world.[1]
Changelog
Prior to patch 1.1.4.3, deathclaws, mega sloths, mirelurks, and scorchbeasts could be pacified with Animal Friend, and mutant hounds could not.
Bugs
[verified]
Tamed creatures will not properly despawn when a C.A.M.P. loadout is disabled. They will remain in the area until the player leaves the server or the creature is killed. If a different C.A.M.P. is enabled, the creature will manually travel to the second location.

[verification overdue]

Tamed creatures may suddenly disappear.

[verification overdue]

Relocating one's C.A.M.P. may cause tamed creatures to disappear.
[verified]
Sometimes after login, tamed creatures may permanently spawn as a completely different creature type.
[verified]
Tamed creatures will spawn in before all structures and furnishings and may become stuck.
patch 1.0.6.0, tamed creatures that had been killed would continue to permanently consume C.A.M.P. budget.
Prior to
patch 1.1.2.9, tamed creatures would attack C.A.M.P. objects such as generators.
Prior to
Plague Walker mutation.
Prior to patch 1.1.2.9, tamed creatures would become aggressive if the player character had the
References
↑

This value cannot be determined through datamining.
↑ If the area is "scorched" or a blast zone, then nothing will spawn. If too many encounter wave system NPCs are spawned in the game world, then nothing will spawn.
↑ May only spawn in blast zone as glowing radstag. If the area is "scorched", then nothing will spawn. If too many encounter wave system NPCs are spawned in the game world, then nothing will spawn.
00090E56