Fallout Interactive Experience
Play Sound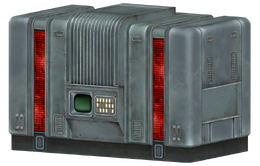 A computer is a machine that manipulates data according to a set of instructions.
Background
Both desktops and networks exist throughout the series, working in conjunction with video screens, commonly referred to as terminals and terminal commands.[1] Computers were utilized as early as the 1960s, and remnants of them, working or for parts, are commonly found after the war.[2][3][4] In addition, radios could interface with some machines, so long as they did not use high-frequency bands utilized only by robots.[5]
Some computers are advanced and mainframe computers and networks were utilized both before and after the war. For example, the Vault City central computer is capable of communication with voice commands and can reformat/update Pip-Boys via a slot designed for them. It also has the ability to produce cartoon animations with sound for its various computation events.[6] Touchscreens were also utilized as a part of a computer's interface.[7]
List
Individual
Mainframe
Networks
Software
Gallery
References