The combat shotgun is a weapon in Fallout 4.
Background
A combat shotgun is a shotgun that is intended for use in an offensive role, typically by a military force. While limited in range, the multiple projectiles typically used in a shotgun shell provide increased hit probability unmatched by other small arms, usually utilized in close-range combat.[Fallout 2d20 1] Most combat shotguns are fully automatic and have a drum magazine, giving them a definite advantage over break-action double-barrel shotguns.
Characteristics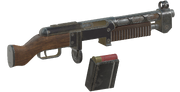 The default combat shotgun utilizes an 8 round box magazine but can be upgraded with a 12 round extended magazine or a 32 round drum magazine. The weapon is semi-automatic, and being magazine fed it does well in clearing out rooms and ripping apart enemies at close range. As indicated by the metal stamping on the weapon's bolt, the combat shotgun is chambered for 12 gauge shotgun shells. Each shell holds 7 (shot) pellets by default.
The combat shotgun can, however, be upgraded to be a fully automatic weapon at the expense of reduced range (in contrast to other weapons where fully automatic modification mainly reduces damage per shot and only has a small effect on the range). But the automatic receiver fires barely faster than (manually) rapid-firing the semi-automatic version. In fact, the hair trigger and advanced semi-auto receivers fire faster than the various automatic receivers, apart from the rapid automatic receiver.
Like double-barreled shotguns, combat shotguns suffer very severe damage penalties when fired outside of the listed range. The range-based damage penalties are five times greater than for other types of weapons. This is in addition to the consequences of pellet spread at range, which will cause more pellets to miss as the range increases.
The weapon features a rather heavy recoil; even when fully optimized with modifications for recoil control it still remains considerable, which can limit the weapon's ability to accurately make rapid follow up shots anywhere outside of point-blank range.
On the plus side, when hip firing outside of V.A.T.S., unlike other weapons, shotguns suffer no penalty to the aiming reticle size when moving the weapon laterally. This is similar to the effect of finned barrels on pipe guns.
The combat shotgun and combat rifle share nearly identical models, with only a few differences.
Weapon modifications
Receiver
Barrel
Stock
Magazine
Sights
Muzzle
Variants
Locations
Notes
The two-shot variant fires 7x2=14 projectiles, instead of 7+1=8 projectiles.
Adding the advanced receiver adds an extra projectile per shot.
When equipped with a drum magazine, full stock, front sight ring, long barrel, and compensator, this weapon closely resembles the combat shotgun seen in Fallout 3. The only major difference is the placement of the magazine, which in Fallout 3 was placed in front of the ejection port.
As with other high volume-of-fire weapons, the weapon becomes ludicrously dangerous when paired with the "explosive" legendary effect. Common enemies cannot withstand this amount of firepower even at ranges where other shotguns would be useless, but users can inflict serious damage upon themselves by firing at point-blank targets.
Because the bleed damage is applied per projectile, a combat shotgun with the "Wounding" prefix inflicts massive damage per shot. The bleed damage will continue to stack with successive shots. With an advanced receiver, the weapon will deal 200 additional damage per shot over 5 seconds, if all projectiles hit the target.
The automatic receiver fires just one round in V.A.T.S., with no increase in damage compared to the single-shot receiver, while also adding 25% increased action points cost.
Bugs
The damage of the explosive legendary variant of the combat shotgun is labeled wrong, while V.A.T.S. adds 15 damage to the total damage, the added damage is actually increased per pellet. (7 pellets*15=105 Base, 120 W/ advanced receiver. Ranking up the Demolition Expert perk increases the explosive damage independently from direct hit damage.) [verified]
Gallery
References
↑ Fallout: The Roleplaying Game Rulebook p. 98: "Combat shotguns are shotguns intended for an offensive role, typically by a military force; they're ideal for close-range fighting in tunnels, within buildings, or through the ruined streets of old cities."
Pistols
.44 pistol (Eddie's Peace, The Gainer, Kellogg's pistol)

 ·

10mm pistol (Deliverer, Wastelander's Friend)

 ·

Classic 10mm pistol (Ultimatum )

 ·

(Acid Soaker )

 ·

Flare gun

 ·

Western revolver
Shotguns
Combat shotgun (Le Fusil Terribles, Justice)

 ·

Double-barrel shotgun

 ·

Handmade shotgun (Triple-barrel handmade shotgun )
SMGs
Submachine gun (Silver submachine gun, Spray n' Pray)
Rifles
Anti-materiel rifle

 ·

Assault rifle

 ·

Combat rifle (December's Child , Overseer's Guardian)

 ·

Handmade rifle (Splattercannon, The Problem Solver)

 ·

Hunting rifle (Reba II, Tinker Tom Special)

 ·

Lever-action rifle (Old Reliable, Lucky Eddy)

 ·

Manwell carbine (Manwell rifle)

 ·

Radium rifle (Kiloton radium rifle, Radical Conversion)

 ·

Railway rifle (Prototype railway rifle)

 ·

Syringer
Heavy weapons
(Broadsider)

 ·

Fat Man (Big Boy, Nuka-nuke launcher , The Striker )

 ·

Harpoon gun (Admiral's Friend, Skipper's Last Stand)

 ·

(Junk Jet)

 ·

Minigun (Ashmaker)

 ·

Missile launcher (Death From Above, Partystarter)
Other
Paddle ball

 ·

Pipe bolt-action

 ·

Pipe gun

 ·

Pipe revolver

 ·

Thirst Zapper
Cryo
(Cryolator)
Laser
(Salvaged Assaultron head )

 ·

Institute laser (Virgil's rifle)

 ·

Laser musket

 ·

Laser gun (Good Intentions, Old Faithful, Protectron's Gaze , Prototype UP77 "Limitless Potential", Righteous Authority, Survivor's Special, Wazer Wifle)

 ·

Gatling laser (Final Judgment, Aeternus )
Plasma
(BFG 9000 )

 ·

Plasma gun (Experiment 18-A, Sentinel's Plasmacaster)
Other
(Alien blaster pistol (Hub's Alien Blaster )

 ·

(Alien atomizer )

 ·

(Alien disintegrator )

 ·

(Cosmic cannon )

 ·

Flamer (Sergeant Ash , Heavy incinerator )

 ·

Gamma gun (Lorenzo's Artifact gun, Zeta gun)

 ·

Gauss rifle (The Last Minute)

 ·

(Prototype Gauss rifle )

 ·

(Solar cannon )

 ·

(Tesla rifle )

 ·

Thunderbolt
Parentheses () denote unique weapon variants.