Referenced rewrite needed (several references stating what games they are in, this does not support claim, needs review)

To meet Nukapedia's quality standards, the following section requires the addition of relevant references and/or speculation removal.
| | |
| --- | --- |
| | This is an overview article, focusing on background information and cross-game comparisons. |
Combat armor is a general term for any suit of personal body armor employed before the Great War by the United States Armed Forces.
Background
A diverse family of personal body armor with varying degrees of sophistication, providing balanced protection against both energy and ballistic damage.[1] A wide variety of such armor can be found throughout the wastelands, ranging from the early iterations developed by the United States Army to the cutting-edge riot gear that came into use prior to the Great War.[2]
Pre-War
The United States Armed Forces were the principal operator of the entire family of combat armors before the Great War, although some were provided to law enforcement agencies. It was not available to civilians without a special permit provided by the BADTFL.[3]
Post-War
Variants
Combat armor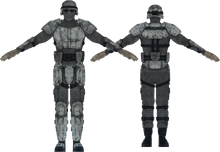 New California
Even with the widespread deployment of standard combat armor, work continued on more advanced suits of combat armor. The largest and most successful model was a high-tech armor using advanced defensive polymers to provide a high degree of protection.[25][26] The advanced model represented a new approach to design, doing away with the modular construction of its predecessors, and was hailed as an advanced personal armor for the 22nd-century police officer or soldier.[3] Highly effective against most types of damage and lightweight. Unlike older models, materials used in the advanced combat armor also provided limited protection from radiation by default.[27] Some variants incorporated forms of camouflage.[28]
The basic component of this advanced armor is a long-sleeve jumpsuit, incorporating thermal dissipators and general-purpose dissipative membranes.[29] It is worn underneath the actual combat armor, manufactured from polymer impact plates providing concussive protection and incorporating additional dissipation cells and membranes.[30][31] The Brotherhood of Steel also fashioned its own variant, recognizable due to polished rivets incorporated into its pauldrons and blue trim on the edges.[12]
Capital/Mojave Wastelands
An early type of combat armor developed by the United States Army, the combat armor consisted of individual armored plates attached to standard load-carrying equipment of the infantryman. The individual components included a combat helmet issued with matching goggles in hazardous environs, front and back ballistic plates, and a pair of axillary protectors. Additional forearm protectors were issued to frontline troops.[32] The lower body was protected by a pair of thigh plates, worn together with a groin and kidney protector. The shins, knees, and feet were covered by frontal plates worn over standard combat boots.[33]
The armor was typically worn in conjunction with standard Army fatigues, as seen in the Commonwealth, or specialized uniforms. It was manufactured in various solid color camouflage patterns including arctic white, coyote brown, and olive drab. Rank indicators were typically painted about the shoulders,[34] with the Army insignia and identification numbers printed on the back plate.[35][33]
Boston
The success of the Army combat armor paved the way for superior models such as a standard-issue variant[36] combat armor issued to military units nationwide.[37][38] The new combat armor was manufactured in three different variants, for wearing with the standard armed services uniform: Light, medium (sturdy), and heavy. The modular suit of armor was manufactured from alloys that offer balanced protection from conventional firearms and energy weapons[39] and provide load-bearing functionality in combat.
Appalachia
The armor was at times provided to servicemembers relegated to domestic and garrison duties.[40]
Combat armor, reinforced
Advanced combat armor was manufactured alongside standard combat armor, providing additional variants. The combat armor mark II is a heavier set designed for use by shock troops and Special Forces, incorporating additional armor plating and increasing its protective qualities.[12]
Marine armor

An advanced model of combat armor designed for the United States Marine Corps,[41] the Marine armor serves to completely protect users, levels above even that of the heavy combat armor. Outclassed only by Power Armor, every piece of was designed to provide exceptional protection in nearly every battlefield scenario.[42]
Riot gear

Another advanced design fielded before the Great War, riot gear was a specialized model of combat armor used by the United States Marine Corps,[43] Army units in the American West,[44] and select law enforcement agencies, such as the Los Angeles Police Department.[45]
The helmet is a rounded shell that protects the head from incoming gunfire, while the lamps on the right side of the helmet.The armored mask designed to be worn with the helmet is necessary to use the IR lamp, due to the low-light optics integrated into the lenses.[46][47] Some upgraded models also include communications gear and upgraded filtering apparatus.[48]
Gallery
Concept art
Renders and game assets
References