"
Freedom Doesn't Freeze
"
— Cold Steel game board
Cold Steel or Armor Ace and the Power Patrol in Cold Steel is the fourth season in Fallout 76. It began on April 27, 2021 with the release of the Locked & Loaded update.
Background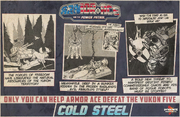 Cold Steel is a board game based on the fictional cartoon adventures of Armor Ace and his companions, the Power Patrol. It was created and published by Dynamite Animation Company.
In the wake of the American "liberation" of the Yukon territory, a damaged Assaultron uploads its consciousness into a suit of T-45 power armor and is reborn as Commissioner Chaos. The rogue A.I. forms the Yukon Five, a group of anti-imperialist robots which threaten to halt the march of Manifest Destiny.
Rewards
Fallout 1st-exclusive rewards. The subscription need only be active at the time the exclusive reward is claimed.
Note: Items denoted with this icon are
Armor Ace and the Power Patrol in Cold Steel
Rank
Image
Unlock(s)
Description
Rarity
Form ID
2
Cold Steel Player Icon
Stand with Armor Ace against the Yukon Five with the Cold Steel Player Icon.

Common

005FD9BC

3
Medium Vault-Tec supply package x1
A medium collection of useful materials to help you survive in the Wasteland, from your friends at Vault-Tec.

Common

005C6BF7

4
Carry weight booster x1
Drink this and you'll gain +50 Carry Weight for a half hour!

Common

005FE71F

5
Beehive
How sweet it is to harvest your own Honey!
This item cannot be built inside of a Shelter.

Rare

005FD9C0

Lunchbox x3
Open for you and your friends! You and those who are close by get an XP Boost and a random effect for 1 hour!
- LUNCHBOXES WILL BE GRANTED TO THE CHOSEN CHARACTER.-

Common

005B02ED

6
Platinum backpack flair
Show your love for Armor Ace and Erin Moses with the Platinum Backpack Flair!
Flairs can be applied to most Backpacks.

Rare

005FD9CB

7
Sugar-free Nukashine x3
All the taste and pleasure of traditional Vintage Nukashine, but now with 100% less Blackouts!

Common

005FD9AE

8
Tree branch chandelier
Add some earthy, cozy light to your favorite nook with this Tree Branch Chandelier.

Rare

005AD5DA

9
Tadpole badge x3
Begin your journey ever upwards with this Tadpole Badge!

Common

005FE722

10
Atoms x150
Some Atoms to spend at your leisure in the Atomic Shop!
-ATOMS ARE AWARDED TO YOUR ACCOUNT-

Common

005C7638

11
Caps x1000
Some caps to use in Appalachia!
-SUBJECT TO PER CHARACTER MAX-

Common

005B030D

12
Hunting Lever Action Rifle Paint
Stand out in the Wasteland with this intricately detailed Hunting Paint for the Lever Action Rifle.

Rare

005B710C

13
Large Vault-Tec supply package
A large collection of useful materials to help you survive in the Wasteland, from your friends at Vault-Tec.

Common

005C6BF8

14
Mister Shivers Player Icon
Join the fight against Armor Ace with the Mister Shivers Player Icon.

Common

005FD9BD

15
Perk card pack x1
A pack with four perk cards (and a bubblegum joke)!
-PERK CARD PACKS WILL BE GRANTED TO THE CHOSEN CHARACTER.-

Common

005B02FA

Slalom pose
Hit the slopes with the Skiing Pose

Rare

00602127

16
Vault tile checkered floor
Decorate your C.A.M.P. or Shelters with these Vault Tile Checkered Floors!

Rare

005EE815

17
Lunchbox x3
Open for you and your friends! You and those who are close by get an XP Boost and a random effect for 1 hour!
- LUNCHBOXES WILL BE GRANTED TO THE CHOSEN CHARACTER.-

Common

005B02ED

18
Yukon Five power armor T-45 paint
Freeze those who stand in the way of your freedom with this Yukon Five T-45 Power Armor.

Rare

005FD9B2

19
Scrap kit x3
When you can't make it back to your C.A.M.P., a Scrap Kit can scrap all your junk and then send it directly to your stash!
-SCRAP KITS WILL BE GRANTED TO THE CHOSEN CHARACTER.-

Common

005B02EC

20
Atoms x150
Some Atoms to spend at your leisure in the Atomic Shop!
-ATOMS ARE AWARDED TO YOUR ACCOUNT-

Common

005C7638

21
Legendary Scrip x250
A Legendary Scrip to exchange with Mumurgh!
-GRANTED WHEN ENTERING ADVENTURE MODE. SUBJECT TO PER CHARACTER MAX-

Common

005B02F8

22
Brickhouse backpack flair
Show off your Armor Ace pride with the Brickhouse Backpack Flair for your backpacks!
Flairs can be applied to most Backpacks.

Rare

005FD9C5

23
Fireworks x10
Celebrate in the world with these Multi-Color Trail Fireworks! Be careful not to shoot indoors or too close to enemies.

Common

005C770F

24
Perfectly preserved pie x1
The only guaranteed way to your favorite preservative filled treat!
*Sponsored by Port-A-Diner

Rare

005FE724

25
Mannequin set
Show off all your wonderful outfits with this Basic Mannequin Set! Includes a Male and Female variant for the Mannequin.

Legendary

005DCA34

Lunchbox x3
Open for you and your friends! You and those who are close by get an XP Boost and a random effect for 1 hour!
- LUNCHBOXES WILL BE GRANTED TO THE CHOSEN CHARACTER.-

Common

005B02ED

26
Perk card pack x1
A pack with four perk cards (and a bubblegum joke)!
-PERK CARD PACKS WILL BE GRANTED TO THE CHOSEN CHARACTER.-

Common

005B02FA

27
Basic repair kit x3
When you're short on materials or time, a Basic Repair Kit can be used to repair any Armor, Weapon or Power Armor. Repairs can even be done right in the field!
-REPAIR KITS WILL BE GRANTED TO THE CHOSEN CHARACTER.-

Common

005B02EB

28
Yukon Five power armor T-51 paint
Freeze those who stand in the way of your freedom with this Yukon T-51 Power Armor. Usable in Nuclear Winter Mode.

Rare

005FD9B3

29
Starburst brick floor and foundations
Decorate your C.A.M.P. or Shelters with the Starburst Brick Floor and Foundations set!

Rare

005FD9BF

30
Atoms x150
Some Atoms to spend at your leisure in the Atomic Shop!
-ATOMS ARE AWARDED TO YOUR ACCOUNT-

Common

005C7638

31
Gold bullion x250
There's always money in gold! Some gold bullion to buy from the various vendors of the world!
-GRANTED WHEN ENTERING ADVENTURE MODE. SUBJECT TO PER CHARACTER MAX-

Common

005DCA32

32
Beekeeper outfit
This Beekeeper Outfit is the perfect attire for harvesting delicious honey.

Rare

005FD9D4

33
Carry weight booster x1
Drink this and you'll gain +50 Carry Weight for a half hour!

Common

005FE71F

34
Beekeeper Hat
This Beekeeper Hat is the perfect headwear for harvesting delicious honey.

Rare

005FD9D3

35
Perk card pack x1
A pack with four perk cards (and a bubblegum joke)!
-PERK CARD PACKS WILL BE GRANTED TO THE CHOSEN CHARACTER.-

Common

005B02FA

Hot dog pose
Hit the slopes with the Skiing Pose.

Rare

00602128

36
Death's Breath Skin (Flamer)
Add a little fear to your flames with this Death's Breath Flamer skin.

Rare

005FD9C9

37
Lunchbox x3
Open for you and your friends! You and those who are close by get an XP Boost and a random effect for 1 hour!
- LUNCHBOXES WILL BE GRANTED TO THE CHOSEN CHARACTER.-

Common

005B02ED

38
Yukon Five power armor Excavator paint
Freeze those who stand in the way of your freedom with this Yukon Five Excavator Power Armor.

Rare

005FD9B1

39
Perfect bubblegum x1
This new Perfectly Preserved Bubblegum will replenish your hunger and thirst, and you will not go hungry or thirsty for an hour!

Common

005EFC25

40
Atoms x150
Some Atoms to spend at your leisure in the Atomic Shop!
-ATOMS ARE AWARDED TO YOUR ACCOUNT-

Common

005C7638

41
Caps x2500
Some caps to use in Appalachia!
-SUBJECT TO PER CHARACTER MAX-

Common

005B030E

42
Power Patrol Red Beret
Continue to plant the seeds of liberty in this Power Patrol Red Beret!

Rare

005DC0B1

43
Basic repair kit x3
When you're short on materials or time, a Basic Repair Kit can be used to repair any Armor, Weapon or Power Armor. Repairs can even be done right in the field!
-REPAIR KITS WILL BE GRANTED TO THE CHOSEN CHARACTER.-

Common

005B02EB

44
Canonball pose
Make a splash with the Cannonball Pose!

Rare

005FD9B9

45
Perk card pack x1
A pack with four perk cards (and a bubblegum joke)!
-PERK CARD PACKS WILL BE GRANTED TO THE CHOSEN CHARACTER.-

Common

005B02FA

Lunchbox x3
Open for you and your friends! You and those who are close by get an XP Boost and a random effect for 1 hour!
- LUNCHBOXES WILL BE GRANTED TO THE CHOSEN CHARACTER.-

Common

005B02ED

46
Armor Ace Paint (Handmade rifle)
Battle against the Red Vipers with the Armor Ace Paint for the Handmade Rifle.

Rare

005DB90A

47
Sugar-free Nukashine x3
All the taste and pleasure of traditional Vintage Nukashine, but now with 100% less Blackouts!

Common

005FD9AE

48
Yukon Five power armor T-60 paint
Freeze those who stand in the way of your freedom with this Yukon Five T-60 Power Armor.

Rare

005FD9B4

49
Atoms x150
Some Atoms to spend at your leisure in the Atomic Shop!
-ATOMS ARE AWARDED TO YOUR ACCOUNT-

Common

005C7638

50
Nuka-Cola Collectron Station
Having a bad day, have a Nuka-Cola! Don't have any Nuka-Cola, let this Collectron find some for you! This item cannot be built inside of a Shelter.

Rare

005FD9C1

51
Atoms x150
Some Atoms to spend at your leisure in the Atomic Shop!
-ATOMS ARE AWARDED TO YOUR ACCOUNT-

Common

005C7638

52
Legendary Scrip x250
A Legendary Scrip to exchange with Mumurgh!
-GRANTED WHEN ENTERING ADVENTURE MODE. SUBJECT TO PER CHARACTER MAX-

Common

005B02F8

53
Carry weight booster x1
Drink this and you'll gain +50 Carry Weight for a half hour!

Common

005FE71F

54
Commisioner Chaos Player Icon
Lead the fight against Armor Ace with the Commissioner Chaos Player Icon.

Common

005FD9BB

55
Perk card pack x1
A pack with four perk cards (and a bubblegum joke)!
-PERK CARD PACKS WILL BE GRANTED TO THE CHOSEN CHARACTER.-

Common

005B02FA

Dungeon Wallpaper
Cover your walls in solid brick with the Dungeon Wallpaper!

Rare

00603266

56
Armor Ace Power Armor Station
Upgrade your Power Armor using this Armor Ace Power Armor Station.

Rare

005DCA3D

57
Lunchbox x3
Open for you and your friends! You and those who are close by get an XP Boost and a random effect for 1 hour!
- LUNCHBOXES WILL BE GRANTED TO THE CHOSEN CHARACTER.-

Common

005B02ED

58
Yukon Five power armor X-01 paint
Freeze those who stand in the way of your freedom with this Yukon Five X-01 Power Armor.

Rare

005FD9B7

59
Scrap kit x6
When you can't make it back to your C.A.M.P., a Scrap Kit can scrap all your junk and then send it directly to your stash!
-SCRAP KITS WILL BE GRANTED TO THE CHOSEN CHARACTER.-

Common

005B02EC

60
Atoms x150
Some Atoms to spend at your leisure in the Atomic Shop!
-ATOMS ARE AWARDED TO YOUR ACCOUNT-

Common

005C7638

61
Gold bullion x250
There's always money in gold! Some gold bullion to buy from the various vendors of the world!
-GRANTED WHEN ENTERING ADVENTURE MODE. SUBJECT TO PER CHARACTER MAX-

Common

005DCA32

62
Power Patrol Fatigues
Continue to plant the seeds of liberty in these Power Patrol Fatigues!

Rare

005DC204

63
Nuclear keycard x5
Who needs a Key to the city when you have these?!
-GRANTED WHEN ENTERING ADVENTURE MODE. SUBJECT TO PER CHARACTER MAX WEIGHT-

Common

????????

64
Icebreaker Player Icon
Close in on the Yukon Five with the Icebreaker Player Icon.

Common

005FE78A

65
Perk card pack x1
A pack with four perk cards (and a bubblegum joke)!
-PERK CARD PACKS WILL BE GRANTED TO THE CHOSEN CHARACTER.-

Common

005B02FA

Lunchbox x3
Open for you and your friends! You and those who are close by get an XP Boost and a random effect for 1 hour!
- LUNCHBOXES WILL BE GRANTED TO THE CHOSEN CHARACTER.-

Common

005B02ED

66
Icebreaker (Power fist)
Leave your foes red, white, and blue all over.

Rare

005FD9C8

67
Basic repair kit x6
When you're short on materials or time, a Basic Repair Kit can be used to repair any Armor, Weapon or Power Armor. Repairs can even be done right in the field!
-REPAIR KITS WILL BE GRANTED TO THE CHOSEN CHARACTER.-

Common

005B02EB

68
Yukon Five power armor Ultracite paint
Freeze those who stand in the way of your freedom with this Yukon Five Ultracite Power Armor.

Rare

005FD9B6

69
Gold toilet
Impress the best with the Gold Toilet.

Rare

005FD992

70
Atoms x150
Some Atoms to spend at your leisure in the Atomic Shop!
-ATOMS ARE AWARDED TO YOUR ACCOUNT-

Common

005C7638

71
Caps x2500
Some caps to use in Appalachia!
-SUBJECT TO PER CHARACTER MAX-

Common

005B030E

72
Armor Ace backpack flair
Stand with Armor Ace, the American hero, with this Armor Ace Backpack Flair.

Rare

005FD9CC

73
Carry weight booster x1
Drink this and you'll gain +50 Carry Weight for a half hour!

Common

005FE71F

74
Skiing Pose
Hit the slopes with the Skiing Pose.

Rare

005FD9BA

75
Perk card pack x2
A pack with four perk cards (and a bubblegum joke)!
-PERK CARD PACKS WILL BE GRANTED TO THE CHOSEN CHARACTER.-

Common

005B02FA

Red Viper Paint (Handmade rifle)
Prepare to do battle with the Power Patrol using this Red Viper Paint for the Handmade Rifle.

Rare

005D8222

76
Yukon Five power armor T-65 paint
Freeze those who stand in the way of your freedom with this Yukon Five T-65 Power Armor.

Rare

005FD9B5

77
Lunchbox x3
Open for you and your friends! You and those who are close by get an XP Boost and a random effect for 1 hour!
- LUNCHBOXES WILL BE GRANTED TO THE CHOSEN CHARACTER.-

Common

005B02ED

78
Cold Steel Floors
Create your own Armor Ace base with these Cold Steel Floors!

Rare

005FD9BE

79
Perfect bubblegum x3
This new Perfectly Preserved Bubblegum will replenish your hunger and thirst, and you will not go hungry or thirsty for an hour!

Common

005EFC25

80
Atoms x150
Some Atoms to spend at your leisure in the Atomic Shop!
-ATOMS ARE AWARDED TO YOUR ACCOUNT-

Common

005C7638

81
Legendary Scrip x250
A Legendary Scrip to exchange with Mumurgh!
-GRANTED WHEN ENTERING ADVENTURE MODE. SUBJECT TO PER CHARACTER MAX-

Common

005B02F8

82
Dungeon Floor and Foundations
Give your floors a medieval touch with the Dungeon Floor and Foundations set!

Rare

00603265

83
Basic repair kit x9
When you're short on materials or time, a Basic Repair Kit can be used to repair any Armor, Weapon or Power Armor. Repairs can even be done right in the field!
-REPAIR KITS WILL BE GRANTED TO THE CHOSEN CHARACTER.-

Common

005B02EB

84
Double Tap Player Icon
Take aim at the Yukon Five with the Doubletap Player Icon.

Common

005FE78B

85
Perk card pack x1
A pack with four perk cards (and a bubblegum joke)!
-PERK CARD PACKS WILL BE GRANTED TO THE CHOSEN CHARACTER.-

Common

005B02FA

Lunchbox x3
Open for you and your friends! You and those who are close by get an XP Boost and a random effect for 1 hour!
- LUNCHBOXES WILL BE GRANTED TO THE CHOSEN CHARACTER.-

Common

005B02ED

86
Armor Ace Paint (Plasma Gatling)
The Yukon Five will not be prepared when the Power Patrol brings this level of firepower.

Rare

005FD9CA

87
Sugar-free Nukashine x3
All the taste and pleasure of traditional Vintage Nukashine, but now with 100% less Blackouts!

Common

005FD9AE

88
Commissioner Chaos power armor paint
Reign in chaos as the leader of the Yukon Five with the Commissioner Chaos Power Armor Paint. This is a unique skin that completely alters the appearance of your Power Armor. It can be equipped on the Excavator, Raider, T-45, T-51, T-60, T-65, Ultracite and X-01 Power Armors.

Rare

005FD9D2

89
Cold Steel Wallpaper
Secure your perimeter with the Cold Steel Wallpaper.

Rare

005FD9C3

90
Atoms x150
Some Atoms to spend at your leisure in the Atomic Shop!
-ATOMS ARE AWARDED TO YOUR ACCOUNT-

Common

005C7638

91
Gold bullion x250
There's always money in gold! Some gold bullion to buy from the various vendors of the world!
-GRANTED WHEN ENTERING ADVENTURE MODE. SUBJECT TO PER CHARACTER MAX-

Common

005DCA32

92
Flamethrower Tanks Backpack
Keep your gear hot with the Flamethrower Tanks Backpack!

Rare

005FD9CD

93
Lunchbox x15
Open for you and your friends! You and those who are close by get an XP Boost and a random effect for 1 hour!
- LUNCHBOXES WILL BE GRANTED TO THE CHOSEN CHARACTER.-

Common

005B02ED

94
Cold Steel Beer Stein
The only thing better than Cold Steel is a cold ale in this Cold Steel Beer Stein!

Rare

005FEB26

95
Perk Coin (x50)
Some Perk Coins to help you become even more Legendary!
-GRANTED WHEN ENTERING ADVENTURE MODE. WILL BE GRANTED TO THE CHOSEN CHARACTER.-

Common

????????

Atomic Ranger Power Armor Skin
Survey the Wasteland for threats new and old as the Atomic Ranger.
This is a unique skin that completely alters the appearance of your Power Armor. It can be equipped on the Excavator, Raider, T-45, T-51, T-60, Ultracite and X-01 Power Armors
Note: may also be equipped on the T-65 and Strangler Heart Power Armors.

Rare

005639F5

96
Power Patrol Blue Beret
Continue to plant the seeds of liberty in this Power Patrol Blue Beret!

Rare

005FD9C6

97
Carry weight booster x3
Drink this and you'll gain +50 Carry Weight for a half hour!

Common

005FE721

98
Icebreaker Outfit
Get up close and personal with the Yukon Five in the Icebreaker Outfit

Rare

005FD9C7

99
Brotherhood of Steel Infantry Statue
All guts, all glory. Decorate your C.A.M.P. with this life-sized Brotherhood of Steel Infantry Statue.

Rare

005FD9CE

100
Complete Chaos power armor paint
Don't hold back in the final showdown against Armor Ace with the Complete Chaos Power Armor Paint. This is a unique skin that completely alters the appearance of your Power Armor. It can be equipped on the Excavator, Raider, T-45, T-51, T-60, T-65, Ultracite and X-01 Power Armors.

Legendary

005FD9D1

Framed Cold Steel Gameboard
Reminisce about your battles against the Yukon 5 with the Framed Cold Steel Gameboard.

Legendary

005FD9C2

Complete Chaos Player Icon
Celebrate the final confrontation with the Complete Chaos Player Icon.

Legendary

005FD9D0

Atoms x500
Some Atoms to spend at your leisure in the Atomic Shop!
-ATOMS ARE AWARDED TO YOUR ACCOUNT-

Legendary

005C7638
Gallery
External links