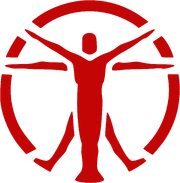 Code Defender was a revolutionary security program developed by the Commonwealth Institute of Technology. It formed the basis of the Institute's own security systems, developed by the SRB. Despite that, even version 1.0 of the system remains largely uncrackable centuries after its release, a testament to the longevity of the design.[1]
Code Defender is mentioned only in Fallout 4.
↑ Liam Binet: "

Just a few high security doors, right?

Controlled by cutting-edge SRB security tech. Yeah. A head on hack is the sucker play. So we go at them sideways.

You're willing to help, right? I can't do this alone.

"
The Sole Survivor: "What do you need help with?"
Liam Binet: "

Our core security architecture hasn't fundamentally changed from the old CIT days.

The original security program was called Code Defender. Revolutionary stuff. We still have terminals running version 1 mothballed in storage.

With some persuasion, I can get an old terminal to interface with the new security terminals. Enough to open doors, at least.

Problem is I can't even crack version 1. So I need a good old fashion username and password, and that's nowhere to be found in the Institute.

But if you could get me a pre-war admin password from the surface, I could log right in.

"
The Sole Survivor: "Where would I find that?"
Liam Binet: "

Unfortunately, I don't know. The obvious place won't work.

The CIT Ruins were picked clean years ago. But some of the admins had to live off campus.

Ask your friends in the Railroad. I need those login credentials.

"
(Liam Binet's dialogue)
Community content is available under
CC-BY-SA
unless otherwise noted.