Fallout Interactive Experience
Play Sound
"
Life is a Race... Win!
"
— Promotional slogan
The Chryslus Cherry Bomb was a sports car produced by Chryslus Motors[Non-game 1][2] prior to the Great War.[1]
Characteristics
The Cherry Bomb is a single-seat, commercial-grade vehicle whose design is dictated by one desire: To break the sound barrier. Every aspect of the car is tuned towards that goal, with a body designed to minimize air resistance without losing traction, and a single-piece cockpit to minimize turbulence. Although promoted in cherry red paint, it was also available with light blue, mint green, yellow, and black paints, each with a joystick for steering and onboard screen.[1]
Powered by a 950 horsepower atomic V8 engine, it was capable of accelerating from 0 to 60 miles per hour (96 km/h) in 0.3 seconds, and reaching top speeds "once reserved for Army Space Troopers". The flexi-glass dome is rated not only as shatter-proof, but also capable of stopping small arms fire, making it safe "from the golden fields of Oklahoma to the streets of downtown Boston".[Non-game 1]
Locations
The Cherry Bomb is commonly found on the East Coast, with 216 found in the Boston metropolitan area, 27 on Mount Desert Island, and five in the ruins of Nuka-World, one of which is perfectly preserved car in Bradberton's private vault.[3] The Cherry Bomb was prolific in Appalachia, with a total of 256 found in several variants across the region.[4] Specific locations include:
Appearances
The Cherry Bomb appears in Fallout 4.
Behind the scenes
The Cherry Bomb was created late into development, as designers wanted to include a "sleek sports car" before the end of the project.[Non-game 2]
The vehicle resembles the Firebird 3, a concept car created in 1959.[Non-game 3]
The Cherry Bomb was added to Forza Motorsport 6 as part of a crossover promotion. It is called Chryslus Rocket 69, in reference to the classic Rocket 69 song, and was accompanied by a trailer styled after contemporary vehicle advertisements. Anyone who played or bought either Forza Motorsport 6 or Fallout 4 on Xbox One through May 2016 would have received a promotional code that would unlock the 2069 Chryslus Rocket 69 pack. It was subsequently released for purchase as a regular Forza DLC, either bundled or standalone.
Gallery
Videos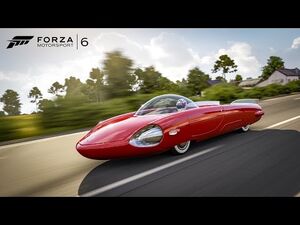 References
↑ 1.0 1.1 1.2 "First car to break the sound barrier" promotional billboard and in-game appearance
↑

References to SportsCar01_Static (and 02, 03, 04 variants) in Commonwealth worldspaces: 97 + 32 + 56 + 31; in Island worldspaces: 14 + 7 + 6; in Nuka-World worldspaces: 1 + 2 + 1; Bradberton's uses a separate entity.

↑

SportsCar01_Prewar_Clean (20), CarSportsCar01-11 (135), SportsCar01_Static 01-04 (81), SportsCar_Postwar_Cheap01 01-04 (20)
Non-game
↑ 1.0 1.1 1.2 Forza Motorsport 6 cross-promotional 2069 Chryslus Rocket 69 pack: "When Chryslus first unveiled the Corvega, it quickly became not only the fastest-selling vehicle in our company's history, but America's favorite luxury sedan. Sleek, comfortable, with an MSRP of only $199,999,999 - making it an affordable necessity for any Tom, Dick, or Harriet with a family and a full-time job. Now, Chryslus takes that know-how and automotive engineering expertise of the past and paves the way for your future. Presenting: The Rocket 69. The ultimate expression of American individuality. With a 950 horsepower advanced atomic V8 engine capable of going from 0-60 miles an hour in just 0.3 seconds, the Rocket 69 will propel you across this great nation at speeds once reserved for Army Space Troopers. Afraid of civil unrest? Don't be. Thanks to a shatter-proof Flexi-glass dome capable of stopping small arms fire, you'll be safe no matter where you go, from the golden fields of Oklahoma to the streets of downtown Boston. You've taken care of your family - now, take care of yourself. The Chryslus Rocket 69: 2 doors, one seat, limitless possibilities."
↑ The Art of Fallout 4, p. 260: "SPORTS CAR
This was created near the end of the project; we really wanted to get a sleek sports car in there."