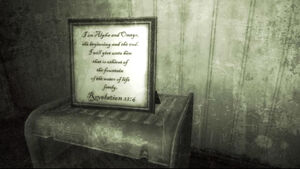 "
By the rivers of Babylon, there we sat down, yea, we wept, when we remembered Zion. Remember, O Lord, the children of Edom in the day of Jerusalem who said, "Raze it, raze it, even to the foundation." O daughter of Babylon, who art to be destroyed. Happy shall he be, that rewardeth thee as thou hast served us. Happy shall he be, that taketh and dasheth thy little ones against the stones.
"
— Joshua Graham quoting the Bible
Christianity is a pre-War religion, practiced both before and after the Great War.
Christianity has survived in post-War America, now practiced across the former nation alongside other religions that have been established. New Christian groups found after the war include Saint Monica's Church in Rivet City and the Abbey of the Road, a Christian monastery somewhere west of the Commonwealth. Mormonism is still practiced by the New Canaanites in Zion Canyon and other areas in the Mojave Desert region.
Christianity is based on the real world religion of the same name.
Community content is available under
CC-BY-SA
unless otherwise noted.