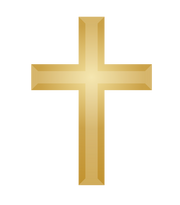 Christianity is a pre-War monotheistic religion based on the life and teachings of Jesus of Nazareth as presented in the gospels and other New Testament writings.
Background
Edit
Although Christianity still exists in post-War America, its overall influence seems to have waned. Many new religions have sprung up in its place, and only a few mention Christianity in any context as more substantial than profane. Thomas Eckhart of the Appalachian Enclave used his position as president to establish authority over the Enclave's supporters, believing that soldiers and statesmen only recognized two powers - God and the President of the United States.[1]
Where Christianity still holds sway, it has scattered into even more splinter groups, such as the Catholicism-derived Saint Monica's Church in Rivet City and the Abbey of the Road, a Christian monastery somewhere west of the Commonwealth. Mormonism still exists as well, predominately in the town of New Canaan.
Christian characters
Edit
Jack Smith identifies as a Christian and quotes the Bible.[2][3]
James and his wife were particularly fond of Revelation 21:6 from the Christian New Testament: "I am alpha and omega, the beginning and the end, I will give unto him that is athirst of the fountain of the water of life freely." They later used this as an inspiration for Project Purity.
John Cassidy has at least some knowledge of Christianity, noting that the "good book" does not mention the possibility of the Garden of Eden coming in a kit.
Marcella is a Christian missionary located at Point Lookout.
Monica is the topic of Father's Clifford's sermon, based on the real world Saint Monica.
O'Hanrahan, a private in the New California Republic Army, was raised as a Christian.
The New Canaan settlement is Mormon, as are Bert Gunnarsson, Joshua Graham and Daniel. Daniel is also a missionary, who leads and teaches Christianity to the Sorrows tribe in Zion Canyon.
Joshua Graham, also a Mormon missionary from the New Canaanites, who was one of the founders of Caesar's Legion. After losing the First Battle of Hoover Dam however, he was lit on fire and thrown into the Grand Canyon. He survived and this experience caused him to be reconverted to Mormonism. He leads the Dead Horses tribe in Honest Hearts.
Pastor Clements is Diamond City's serving priest, having been converted by some of the locals when he arrived. While he and his chapel are welcoming of all beliefs, and Clements himself is unsure of which god his church belongs to, Clements makes reference to the Parable of the Good Samaritan, which is from the Gospel of Luke.
Father Gabe, a non-feral ghoul, appears to have been a pastor and is found defending his church from an intruding pack of feral ghouls.
Reverend Delbert Winters was a minister that lent his church in Flatwoods to the Responders after the Great War.
Caleb Fisher was born and raised among the Amish, which is a group of traditionalist Christian communities. After the Great War, he began to lose his faith, as many church leaders saw their survival as a vindication of their beliefs. Not wanting to be associated with such a mindset, Fisher used his Rumspringa, an Amish coming-of-age process, to leave the church.[5]
Father Donald, a Christian priest of Cold Water.
The evangelist brain is one of eight brains that are wired to the Calculator. It used to belong to a prominent pre-War evangelist, and the brain still maintains its faith in Christianity.
References
Edit
Community content is available under
CC-BY-SA
unless otherwise noted.