| | |
| --- | --- |
| | This is an overview article, listing content appearing across multiple games. |
Chinese pistols are sidearms produced by the People's Republic of China.
Models
Chinese pistol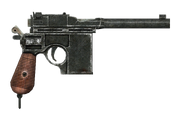 Zhu-Rong v418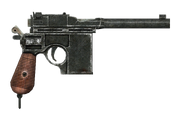 Simulation Chinese pistol
A Chinese pistol found only in the Operation Anchorage simulation. Within the simulation, Chinese pistols are carried by Crimson Dragoons guarding the listening post, however they are never seen using them in combat.
Notes
The Chinese pistol appears as a non-interactive object in Fallout: New Vegas, seen on display on the far wall of the hidden "special inventory" room in Mick and Ralph's. Most of the resources for this weapon remain in the game's files, however no completed version of the weapon exists within the game itself.
Gallery