| | |
| --- | --- |
| | For a cross-game overview, see Cat. |
Cats are creatures found in Appalachia.
Background
Before the Great War, domestic cats were a popular household pet. They were known for their companionship and for hunting common household pests, such as rats. Cats survived the nuclear holocaust, subsequently existing in reduced numbers, found commonly throughout the regions of Appalachia. Similar to before the war, cats are usually found near human habitation.
Characteristics
Small, four-legged felines that meow and purr. Cats have a long, flexible tail, pointy ears and whiskers. There are different breeds of cats, varying slightly in fur color, pattern, and size. They are agile and can jump short distances, such as from the ground to a countertop. Some cats live independently in their home of choice, and others are the pets of wastelanders.
They will flee when confronted with combat situations, returning to their homes after the threat has dissipated. They will resume spending time on their favorite activities, including but not limited to licking their cat bowl or taking naps. Cats appear as either unique variants or a generated cluster of three level 1's with different breeds as their names, tabby equating to house cat.
Variants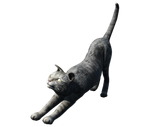 A common house cat found all across Appalachia. They may either be grey, black or tabby.
Name (Form ID)
Abilities
Items
House Cat


000C9AD3


EncCritterCat01Template
Black Cat


004F411C


EncCritterCat02
Tabby Cat


004F411A


EncCritterCat03
House Cat


00544675


EncCritterCat01PetTemplate
CAMP Cat


00544D14


EncCritterCat02Pet
Locations
Named cats
Related quest
Notes
Cats may not become Scorched.
Appearances
Cats appear in Fallout 76.
Gallery