Fallout Interactive Experience
Play Sound
"
There are Blood Eagles here, so I need you to be brutal. Remember, they chose this life. They will show no mercy to you, ever.
"
— Beckett
The Blood Eagles are a raider faction in Appalachia.
Background
The Blood Eagles' origins are somewhat conflicted, and a source of rumor among Appalachian wastelanders. Some claim that they originated from old biker gangs, with no desires to make friends with anyone in the wasteland.[1] However, Beckett, a former member of the gang, says that they were formed by a tattered group of con-men and other criminals. Soon, increasingly violent addicts joined the gang and quickly took control from the inside out, resulting in the gang's current leadership.[2][3] Since then, they have become a cruel and sadistic army of raiders who are the largest hostile force in Appalachia as of 2103, staking a claim on most of the Ash Heap, Savage Divide, and Cranberry Bog. Repurposing many of the old raider camps littering the region, their massive numbers and high-tech weaponry make them a consistent thorn in the side of everyone who isn't with them. They revel in violence and bloodshed, and generally attack on sight, with little regard for their own safety,[4] something seen in their gang code.
They are led by a triumvirate of three powerful raider leaders: The Blood, the Eye, and the Claw; this allows the Eagles to survive if one, or even two of their leaders are killed, as there will always be the last of the trio alive to rebuild. The rank of Blood, Eye, or Claw are earned and override the specific names of any leader. Any Eagle can climb up the hierarchy by formally challenging more higher ranking members in a game of their choosing. These games are taken seriously, even if the game of choice is an actual tabletop game,[5] and no cheating will be tolerated, with best 2 out of 3 games determining the winner for non-lethal games. If the loser is the higher ranking member, they must step down willingly or they will be executed if still alive.[6] Thanks to the anarchic nature of their gang, leaders are often challenged and rarely have long lifespans.[7]
The Blood Eagles recruit members through capitalizing on their addictions. They will actively monitor chem addicts, offer them a spiked, highly addictive dose of Buffout, and withhold the drug from the victim unless they pledge to join. Sometimes, they'll even capture non-addicts and force them to ingest the pills, just to trap them into their ranks.
Most of the time, members will not be in a state of lucidity on account of all the chems they have ingested, and those who get sober cannot enjoy it for long. Anyone showing signs of clarity or a strong will to leave the group will be captured, and publicly tortured as a sport. Most victims don't survive.
They exhibit an unparalleled affinity towards taming and hacking, often using robots and attack dogs to further fill their legion. The entire Watoga Underground robotic security detail was hacked and put under Blood Eagle control, including Assaultrons and Mister Gutsies, and they will regularly send tamed dogs and mongrels into battle as the forward scouts and diversions, while the humans close the gap.
They often prey on Blue Ridge Caravan Company trading parties coming through Big Bend Tunnel, and will do anything to stop them from coming through their territory.
Blood Eagle camps are equipped with alarm systems, so if a member gets attacked or detects an intruder and manages to reach the alarm to activate it, all Blood Eagles in the camp are alerted and engage the threat until the alarm stops or they lose sight of the target for an extended period of time. The alarm also sends out Blood Eagle attack dogs to engage the intruder as well. Leaders of Blood Eagle camps can sometimes be seen wearing a Power armor chassis with unique raider power armor painted in Blood Eagle colors on it.
Locations
Members
Related notes and holotapes
Interactions with the player character
Blood Eagles will always be hostile to everyone and everything, serving as a raider faction throughout the region. It is not currently possible to join the Blood Eagles.
Gameplay attributes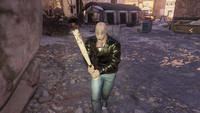 Blood Eagles typically ambush their victims at their smaller checkpoints along roads and highways, but may also be found at one of their many strongholds across Appalachia. They are armed with anything from low damage-inducing or slow-firing weapons like pipe guns or hunting rifles to high-tech energy weapons like the Gatling plasma. They will frequently patrol roads looking for unsuspecting Vault Dwellers.
Variants
Name (Form ID)
Abilities
Items
Blood Eagle


????????

Weapons (Normally handmade, laser)
Ammo
Stimpaks

Blood Eagle wretch


????????

Blood Eagle bruiser


????????

Blood Eagle cutthroat


????????

Blood Eagle spotter


????????

Blood Eagle slayer


????????

Blood Eagle tormentor


????????

Blood Eagle predator


????????

Blood Eagle flayer


????????

Blood Eagle executioner


????????
Blood Eagle thief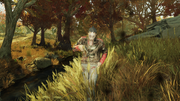 Normally found during the daily quest for the Settlers, "Vital Equipment", the Blood Eagle thief carries the equipment stolen from Foundation. They either have to be killed, or are already dead from other enemies in the area where they are found. They will usually have a couple other Blood Eagles protecting them as well.
Name (Form ID)
Abilities
Items
Blood Eagle thief


????????
Blood Eagle captain
Blood Eagle Captains lead the raiding parties in Big Bend Tunnel during Event: Riding Shotgun.
Blood Eagle destroyer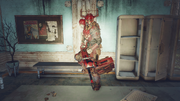 Only appears as the boss Blood Eagle in Daily Ops

. The destroyer is dressed in a skull lord mask and outfit (formerly the Quack outfit) and armed with an auto grenade launcher to attack enemies from long range but will not hesitate to use it in close quarters.
Name (Form ID)
Abilities
Items
Blood Eagle destroyer



005D1C0E




005DB5C7




005DB5C8
Notes
Blood Eagles have their own, unobtainable paintjobs for the combat armor, trapper armor and the Raider power armor.
Appearances
The Blood Eagles appear only in Fallout 76, introduced in the Wastelanders update and expanded upon in the Steel Dawn and Steel Reign updates.
Behind the scenes
The "blood eagle" is a ritual method of execution, detailed in late skaldic poetry. According to the two instances mentioned in the sagas, the victims were placed in a prone position, their ribs severed from the spine with a sharp tool, and their lungs pulled through the opening to create a pair of "wings."
Gallery
References