Fallout Interactive Experience
Play Sound
| | |
| --- | --- |
| | For an overview of bloatfly variants, see bloatfly. |
"
One of the Wasteland's most disgusting creatures, the Bloatfly shoots its maggots as projectiles, and often explodes upon death.
"
— Fallout 4 loading screen
Bloatflies are creatures found in the Commonwealth in 2287.
Background
An example of the mutations caused by the Great War, the bloatfly is an evolution of either the Musca domestica (common housefly)[1] or Tabanus genera of biting horse fly.[2] Tentatively classified as part of the Tabanidae family in the order Diptera, class Insecta, phylum Arthropoda and kingdom Animalia by the Enclave, it is a major divergence from its evolutionary forebears.[2][3]
Characteristics
Biology
The standard bloatfly has a green and brown carapace and is significantly larger and more tenacious than its predecessors. Its size inhibits previous flight characteristics and agility, making it impossible to feed like pre-War horse flies did. Instead, it uses its engorged stinger and pupae gestating within its abdomen to incapacitate prey.[2] The stinger is capable of launching mature larvae with a barbed sting at the end. These latch onto the target and deliver a neurotoxin capable of incapacitating larger prey, allowing the bloatfly and its larvae to feed.[2]
Its neurotoxin is ineffective against humans and larger targets, causing only localized necrosis.[2] As a result, the bloatfly serves as prey rather than predator among wastelanders who utilize its meat for food.[2] Bloatflies can resort to scavenging in situations where prey or other sources of sustenance are scarce.[4] It adapted to its enlarged size with a unique gland that enables it to balance and maintain speed despite its size.[5] The gland itself may be toxic to consume.[3][6]
Gameplay attributes
Bloatflies attack at long range by peppering their prey with spine-bedecked larva launched from its abdomen. They tend to attack in groups, and may pose an additional threat based on their ability to attack from a distance. Bloatflies in the Commonwealth will crawl on surfaces and display more aggression than their counterparts in other wastelands. Although they generally attack at long range, at times they will fly close to their target. They can be found near bodies of water and throughout swampland, often attacking alongside bloodbugs and stingwings.
Variants
Bloatfly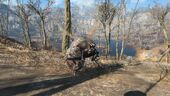 The standard variant, common throughout the Commonwealth. Usually found in groups of up to three.
Name (Form ID)
Statistics
Behavior
Abilities
Items
Bloatfly


00029469
Black bloatfly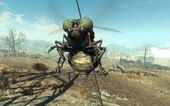 A slightly stronger variation, likewise frequently traveling in a group. Featuring a darker carapace, this variant is sometimes seen with other creatures such as stingwings or bloodbugs.
Name (Form ID)
Statistics
Behavior
Abilities
Items
Black bloatfly


001423B0
Festering bloatfly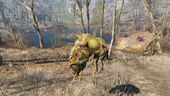 A bloatfly variant with a higher number of Hit Points. Can be found alone or in a group of other bloatflies or with different types of creatures.
Name (Form ID)
Statistics
Behavior
Abilities
Items
Festering bloatfly


001423B1
Glowing bloatfly
Glowing bloatflies are a hardier variant whose body emits a green glow caused by massive radiation exposure. Upon death a glowing bloatfly will explode with irradiated matter causing radiation damage to nearby life forms and may even damage and irradiate nearby crops giving them a radioactive glow.
Name (Form ID)
Statistics
Behavior
Abilities
Items
Glowing bloatfly


001423B2

Melee (7 )

Rad field (20 )
Locations
Related quests
Notes
Bloatflies are often seen stationary, clinging to objects such as trees, walls, and pipes. They also can be found in sewers, in homes and buildings, or in parks or wooded areas.
Bloatflies and bloodbugs do not seem to be hostile towards each other and will attack the player character at the same time.
When the Sole Survivor is attempting to pacify a bloatfly utilizing the Wasteland Whisperer perk, they will address the creature by saying, "Hey, buzz buzz." In order to have the bloatfly attack on their behalf, they will make insect buzzing noises and then yell, "Kill! Infest!" When giving commands to the bloatfly, they will say, "There's a good fly."[7]
Bloatfly larva syringes can be used to farm legendary bloatflies. The bloatflies themselves are the source of materials for the syringe.
Bloatfly larvae can carry disease in Survival mode.
Originally bloatflies were meant to drop an item called bloatfly maggots upon death, however this was cut from the game. [citation needed]
Appearances
Bloatflies appear in Fallout 4.
Gallery
References
West Coast
(Fallout, Fallout 2, Fallout: New Vegas)
Alien

 ·

Bighorner (Bighorner bull, Bighorner calf)

 ·

Bird

 ·

Bloatfly (Legendary bloatfly)

 ·

Brahmin

 ·

Cazador (Young cazador, Legendary cazador)

 ·

Centaur (Evolved centaur)

 ·

Coyote (Coyote alpha male, Coyote den mother, Coyote pup)

 ·

Deathclaw (Baby deathclaw, Young deathclaw, Blind deathclaw, Deathclaw alpha, Mother deathclaw, Intelligent deathclaw, Legendary deathclaw)

 ·

Dog (Cyberdog, Legion Mongrel, Vicious dog)

 ·

Fire ant (Fire ant worker, Fire ant soldier, Ant queen)

 ·

Floater

 ·

Fly

 ·

Gecko (Hunter gecko, Fire gecko, Golden gecko, Little gecko)

 ·

Ghost people (Ghost harvester, Ghost seeker, Ghost trapper)

 ·

Ghoul (Feral ghoul roamer, Feral ghoul reaver, Glowing one, Feral trooper ghoul)

 ·

Giant ant (Giant worker ant, Giant soldier ant, Giant ant queen)

 ·

Giant catfish

 ·

Giant rat (Mole rat, Pig rat)

 ·

Human (Dwarf

 ·

Lobotomite)

 ·

Lakelurk

 ·

Mantis (Giant mantis, Giant mantis nymph, Giant mantis female)

 ·

Marked man

 ·

Night stalker (Young night stalker, Den mother, Legendary night stalker)

 ·

Radroach

 ·

Radscorpion (Bark scorpion, Bark scorpion hunter, Small radscorpion, Giant radscorpion, Radscorpion queen)

 ·

Raven

 ·

Slags

 ·

Spore carrier (Spore carrier savage, Spore carrier brute, Spore carrier runt)

 ·

Spore plant

 ·

Super mutant (Mariposa) (Super mutant master, Nightkin)

 ·

Wanamingo

 ·

Tunneler (Tunneler queen)

 ·

Wolf

 ·

Yao guai
East Coast
(Fallout 3, Fallout 4, Fallout 76, Fallout Tactics 2)
Abomination

 ·

Alien

 ·

Alien squid

 ·

Alien worm

 ·

Angler

 ·

Beaver

 ·

Bee swarm

 ·

Bird

 ·

Bloatfly

 ·

Bloodbug

 ·

Bloodworm

 ·

Brahmin

 ·

Brahmiluff

 ·

House cat

 ·

Cave cricket

 ·

Centaur

 ·

Chicken

 ·

Crow

 ·

Deathclaw

 ·

Dog (Mongrel)

 ·

Fire ant

 ·

Firefly

 ·

Flatwoods monster

 ·

Fly

 ·

Fog crawler

 ·

Fox

 ·

Frog

 ·

Gatorclaw

 ·

Gazelle

 ·

Ghoul (Feral ghoul, Feral ghoul reaver, Feral ghoul roamer, Glowing one, Swamp ghoul)

 ·

Appalachian Floater

 ·

Ghoulrilla

 ·

Giant ant (Giant ant queen)

 ·

Giant catfish

 ·

Gorilla

 ·

Grafton monster

 ·

Gulper

 ·

Hermit crab

 ·

Honey beast

 ·

Human

 ·

Lamprey floater

 ·

Manowar tendril floater

 ·

Mega sloth

 ·

Mirelurk (Mirelurk hunter, Mirelurk king, Nukalurk, Swamplurk, Swamplurk queen)

 ·

Mole rat

 ·

Mole miner

 ·

Mothman

 ·

Mutant crocodile

 ·

Mutant hound

 ·

Mutant wanamingo

 ·

Needle tooth floater

 ·

Opossum

 ·

Rad chicken

 ·

Radgull

 ·

Rad rabbit

 ·

Rad-rat

 ·

Radtoad

 ·

Radroach

 ·

Radscorpion (Albino radscorpion, Giant radscorpion)

 ·

Radstag

 ·

Scorched

 ·

Scorchbeast

 ·

Sea creature

 ·

Snallygaster

 ·

Squirrel

 ·

Stingwing

 ·

Tick

 ·

Super mutant (Vault 87) (Super mutant behemoth, Super mutant brute, Super mutant master, Super mutant overlord)

 ·

Super mutant (Institute)

 ·

Super mutant (Huntersville)

 ·

Swampfolk

 ·

Trog

 ·

Wendigo

 ·

Wolf

 ·

Yao guai
Midwest
(Fallout Tactics, Van Buren)
Badger

 ·

Boom bug

 ·

House cat

 ·

Brahmin

 ·

Dog

 ·

Electro-beetle

 ·

Endless walker

 ·

Gehenna

 ·

Ghoul (Born ghoul, Feral ghoul, Glowing one)

 ·

Giant albino ant (Giant albino ant queen)

 ·

Giant leech

 ·

Giant rat

 ·

Giant wasp

 ·

Hairy deathclaw (Baby hairy deathclaw)

 ·

Human

 ·

Komodo dragon

 ·

Molech

 ·

Mountain lion

 ·

Mutant cannibal

 ·

Raccoon

 ·

Radroach

 ·

Radscorpion

 ·

Radtoad

 ·

Trog

 ·

Super mutant (Mariposa)

 ·

Wolf
Texas
(Fallout: BoS, Fallout: BoS 2)
Brahmin

 ·

Coyote

 ·

Dog

 ·

Experimental deathclaw (Baby experimental deathclaw)

 ·

Ghoul (Glowing one)

 ·

Giant rat (Mole rat)

 ·

Human

 ·

Radbug

 ·

Radscorpion (glowing radscorpion, spitting radscorpion, large giant radscorpion)

 ·

Small rat

 ·

Giant rat

 ·

Super mutant (Mariposa)
Project V13
Ghoul

 ·

Human

 ·

Mutant mantis shrimp

 ·

Super mutant (Project V13)
Fallout Shelter
Bat

 ·

Deathclaw

 ·

Feral ghoul

 ·

Ghoul

 ·

Human

 ·

Mole rat

 ·

Cat

 ·

Dog

 ·

Parrot

 ·

Radroach

 ·

Radscorpion

 ·

Super mutant